| Skylar Black
The Ultimate Guide to Buying Swimwear Online
---
How to Buy Swimwear Online
---
Online shopping is one of the best conveniences to come out of the Internet age - being able to sit on your couch watching Netflix while buying almost anything from any shop is the ultimate in customer luxury. However, it can be a bit of a trial when you're buying something like clothing, especially lingerie and swimwear.
These pieces are notoriously form-fitting, and feeling good about a purchase often depends on its exact fit and how it sits on your body. Carelessly buying swimwear online can lead to disappointment, wasted cash, and a summer of sitting next to the pool in your old shorts.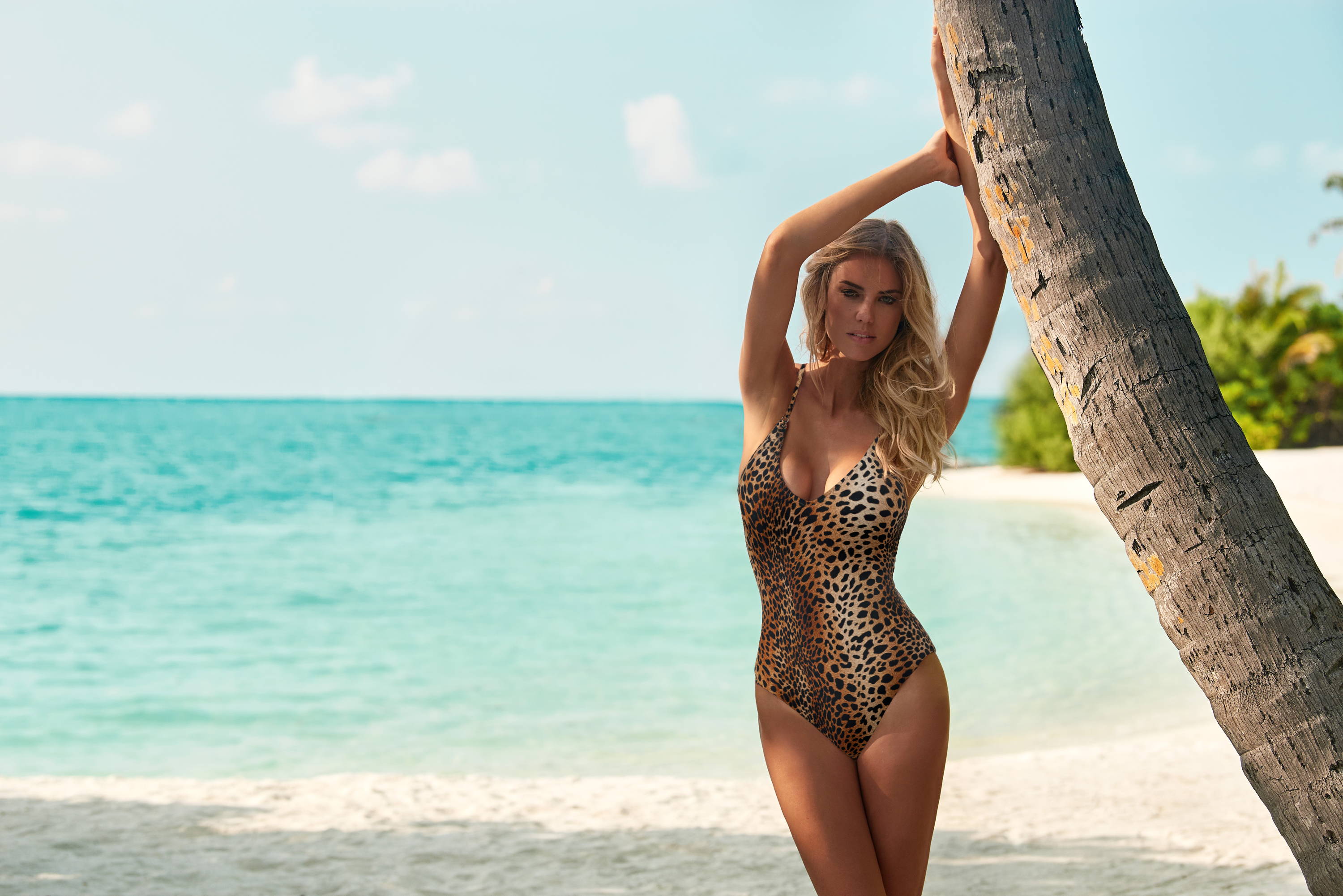 Fortunately, there are plenty of ways to ensure that any bathing suit you're buying online will fit your body and your aesthetic. All it takes is a bit of research and know-how to ensure that you're always fashion-forward by the pool or at the beach. Read on for our guide to buying the best online swimwear.
The first step in buying the perfect swimwear online is selecting the shop that you get it from. It's vital that you choose reputable shops that carry quality brands in a variety of sizes. In general, you should opt for swimwear brands that you trust, especially if you have concerns about your body type when shopping for mainstream swimwear. Some of the best swimwear brands online right now are:
However, smaller labels may not ship to your country or may not have stylists that can help you pick the best suit for your shape.

That's where multi-brand stores, like Sand Dollar Dubai, come in. Ideal for discovering new designers and putting together complete outfits. Multi-brand stores often ship faster, to more countries and have a more flexible returns policy than most single label stores. With over 80+ brands and experienced stylists available to help online, you'll have every bit of information available to help you make the right decision.
There are a few things to consider when choosing the best online shops for swimwear. We recommend checking the return policy before buying any sort of swimwear from an online shop. Many shops don't offer returns or exchanges on swimwear or lingerie, so it's essential to be as certain as possible about an item before you click "Checkout." Other shops do allow returns and exchanges, but only on pieces where the hygiene strip is intact and the tags are still attached.
Yet another thing to keep in mind when choosing an online shop is the available coupons and discounts. Many shops have sales around spring break, the beginning of summer, and Black Friday that can help you find a great deal on a high-quality swimsuit. We recommend shopping around multiple shops to find the best swimsuit for the best price.
Now that you've found a few good shops that you might want to get a bathing suit from, it's time to choose exactly which one you want. The bathing suit style that looks best on you depends on a wide range of factors - your body shape, your preferences about modesty, and what you'll be doing while wearing it.
For example, you're not going to want a suit with a tie-back if you're planning on lounging around the beach in it - the knots aren't going to be very comfortable to lay on. If you're into water sports, higher necked styles and non-slip leg openings for bottoms will help your swimsuit stay in place as you dive or swim. The actual function should always be your top priority when you're shopping for a bathing suit, especially when you can't try the piece on before buying it.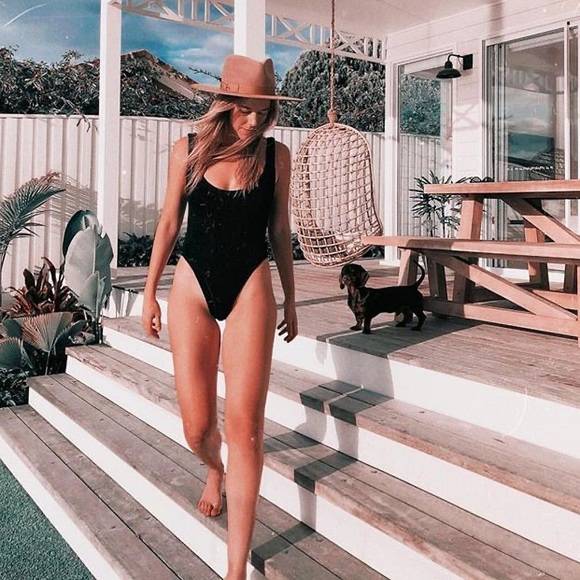 If you're curious about how a particular style would look on different body types, you can turn to social media to do a little research. Instagram is an excellent spot for this, but you could also check a brand's Facebook or Twitter profiles. We recommend visiting swimwear brands online and checking the photos that they've been tagged in to get a sense of how their products look on real women, not just the models they use in their product photos.
One of the main things to determine the type of bathing suit top that is right for you is your bust. Because swimwear is so form-fitting, you're going to want a piece that flatters your bust and makes you feel secure.
If you're working with a small bust, you may be tempted to add a bit of volume by buying a bathing suit with cup inserts. While this isn't necessarily a problem with high-quality swimwear, lower-quality suits may have cups that sit incorrectly on the chest or can be seen easily on the outside of the bathing suit.
If you're looking to add volume without cup inserts, search for bralette-style tops with front seams - these small notches add structure to the piece and can give the illusion of a fuller cup size without the hassle of added padding.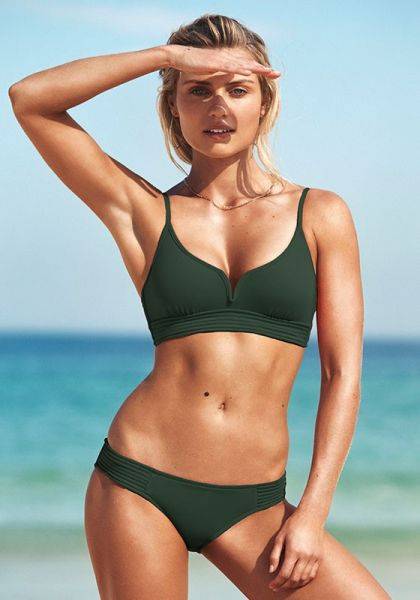 In the case of a larger bust, sport-style tops are great for adding support. However, this style of top tends to make some busts look a bit compressed and limit any cleavage enhancement. If you're seeking a swimsuit top that's fun while still supporting your chest, opt for a wider band underneath your bust and a tie-back closure that will criss-cross your back. These two elements eliminate pressure on your neck by distributing it evenly across your shoulders, ensuring that your top is comfortable while remaining stylish.
A lesser-known option for larger breasts is a shelf bra. These pieces of fabric are usually found in one-piece bathing suits and are typically regarded as a solution for smaller busts, but they're actually an excellent source of support for larger busts as well.
So you've found a bathing suit that you love. It's a great style, and it has all of the features you dream of in a swimsuit. Now how do you make sure that it fits without ever trying it on?
Your best bet to ensure that a swimsuit (or pretty much any piece of clothing that you buy online, actually) will fit you is to use the sizing chart. Most of the best online swimwear shops will provide charts that reference three body measurements - your bust, your waist, and your hips. Don't forget to check what units the sizing chart uses - local shops are likely to use UK sizes, but shops from abroad could be using US or European sizing standards.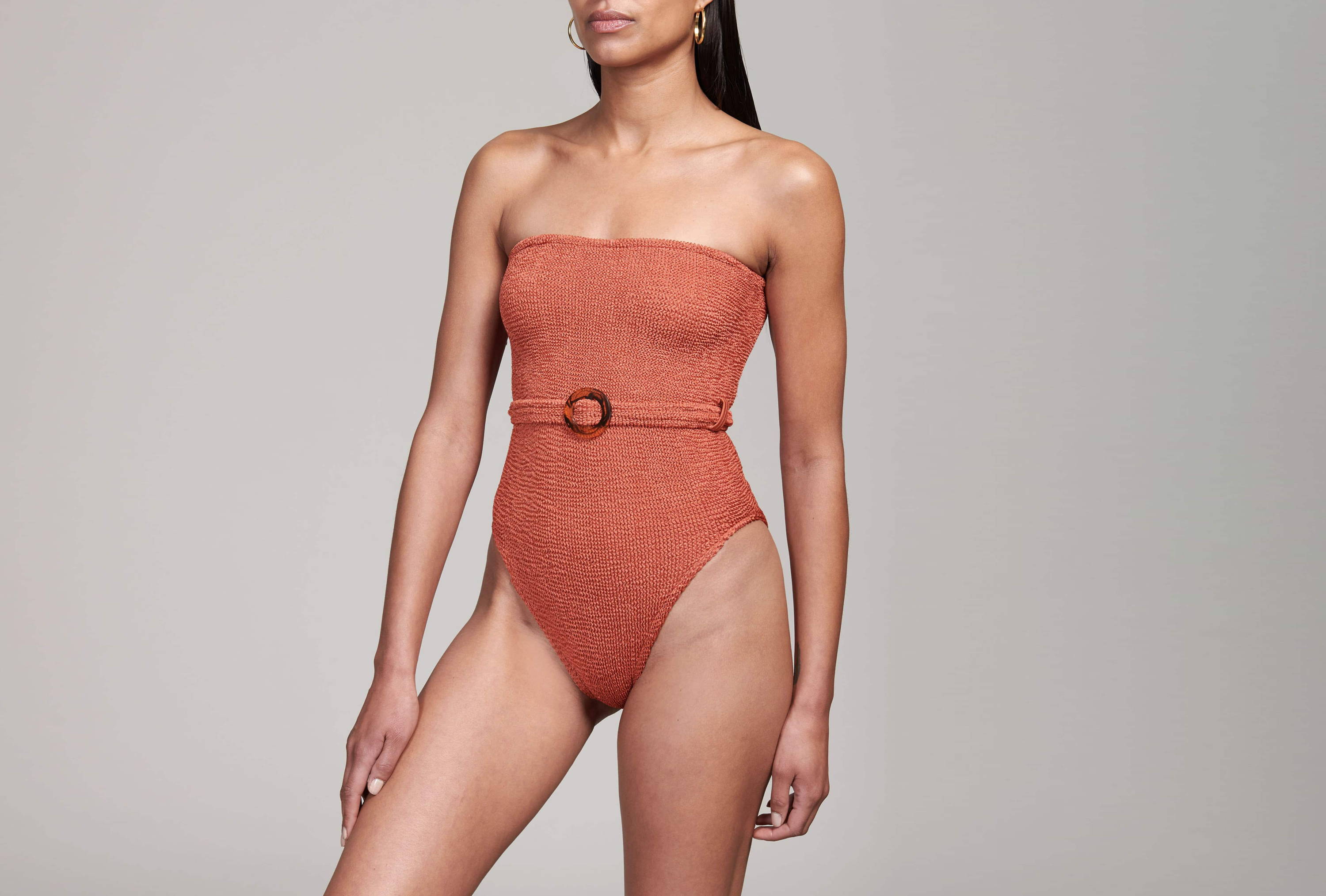 To best use a sizing chart, you need to know your own measurements. Taking your measurements is fairly simple, provided that you know what parts of your body to measure. Experts usually recommend that you take your bust measurement at the widest point of your bust, your hip measurement at the widest part of your bum, and your waist measurement at your natural waist. If you don't have a soft measuring tape on hand, you can use a piece of string and consult the length against a ruler or measuring tape.
For the most accurate reading, the tape should be resting comfortably against your skin - you should be able to move and breathe without your measurement tool digging into you. For women, it's also prudent to know your bra size, as similar measurements are often used in swimwear.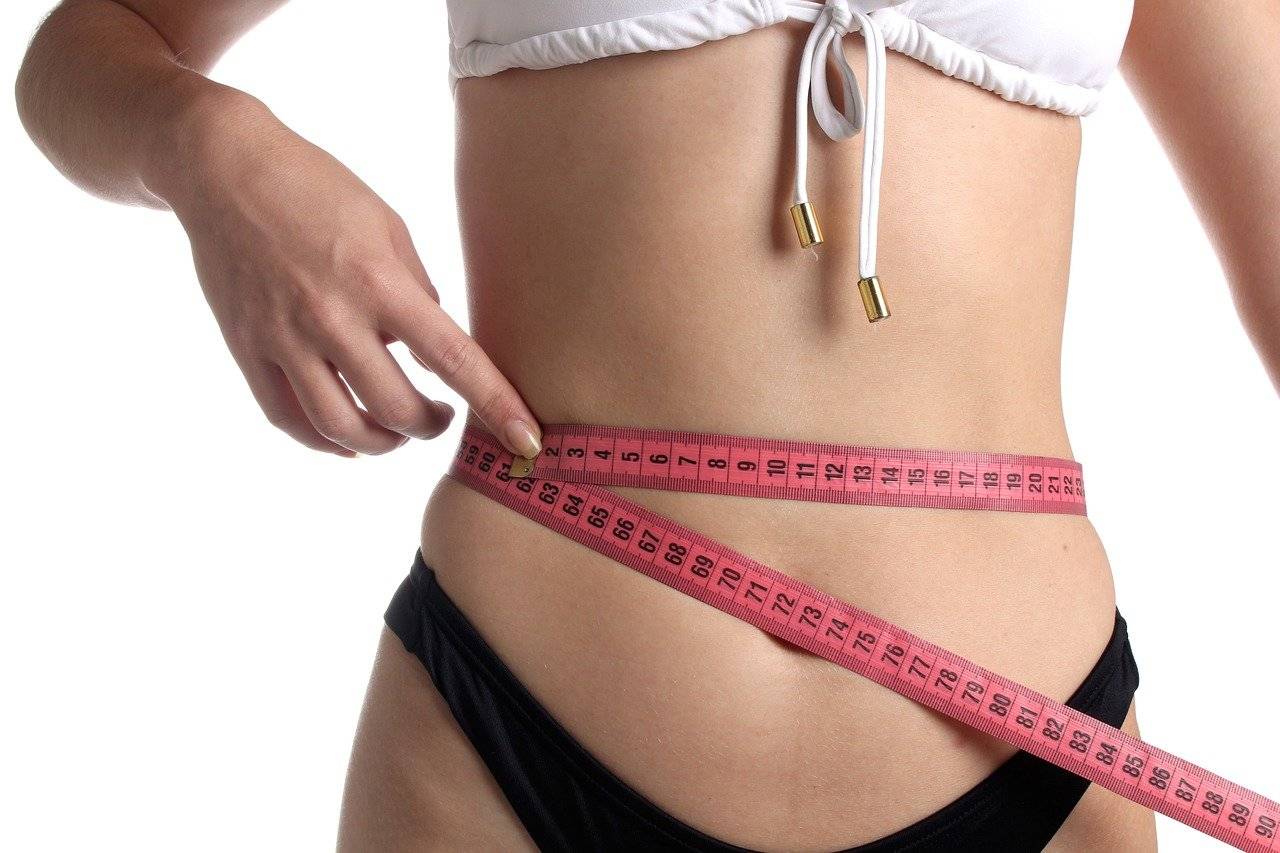 You should also check whether a product "runs big" or "runs small". This denotes how the sizing is reflected in the fabric and construction of a garment and should definitely influence the size you order.
If you're still not sure about how a piece will fit, you can always reach out to a shop's customer service department or stylist for guidance. This process usually involves answering some questions about how you'd like a garment to fit and perhaps sending recent photos of your body shape so that someone can recommend a size for you. The best swimwear brands online generally have at least one stylist on staff to help customers find the best piece for their preferences and budget.
You can also ensure a better fit by choosing a swimsuit that has adjustable features - being able to adjust straps or bands can significantly affect the range of people that a particular piece will fit. Pay attention to the product description to determine if a suit has adjustable elements. If you're buying a bikini, consider buying each piece separately, especially if there's a discrepancy between your top and bottom sizes. Buying separate pieces also allows you to mix and match prints and styles for a suit that's perfect for you.
A less affordable but perhaps more guaranteed strategy is to order multiple sizes of the same swimsuit to ensure that you receive a garment that fits. Of course, this is only advisable if a shop offers free returns, but it can help if you're between sizes or still confused after employing the other tips from this section.
And there you have it! We hope that our guide helps you buy swimwear online with confidence. It might take a few tries to get it right, but we hope that you eventually find a swimsuit that you love.