| Victoria Zurakowski
The Difference Between Swim Shorts and Board Shorts
---
Board Shorts vs. Swim Shorts
---
One might be forgiven for mistaking women's swimwear terminology - there are just so many terms, old and new, that are used to describe women's swimwear. But what about men's swimwear? While there aren't nearly as many types, styles, and cuts related to men's swimwear compared to women's - there's always one question that crops up. It is that of swim shorts - "is there any difference between swim shorts for men and board shorts?"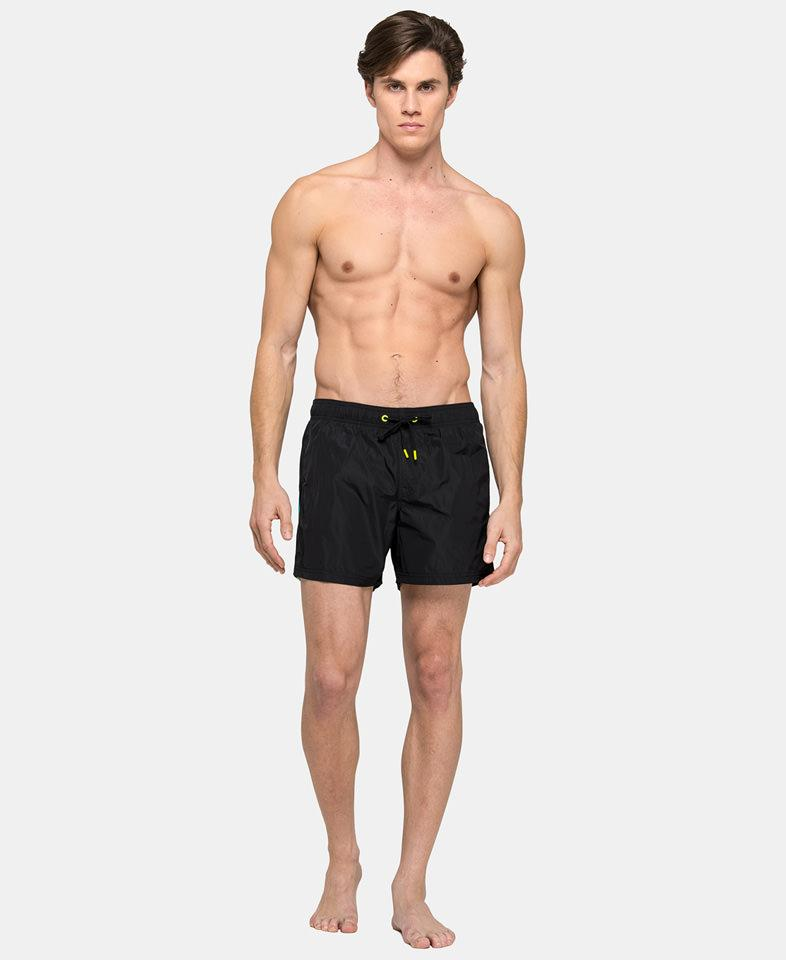 A novice would quickly state "no". But actually, there are a few differences that set swim shorts and board shorts apart, which has more to do with the latter's affiliation to cool Californian surfers with long, salty hair!
Yes, board shorts were designed with water activities that use boards in mind. Hence, the popularity among the surfing community. In comparison, swim shorts were designed for swimming. So, while there are a few similarities, there are also several differences that might go unnoticed by the untrained eye.
What are the differences between swim shorts and board shorts?
The number one difference between swim shorts and board shorts is length - swim shorts are shorter and fall well above the knee, while surf shorts are longer and often fall on or just below the knee. So why the difference in length? Easy - the latter was designed for surfing and act as a barrier between your skin and your surfboard to help prevent skin irritation such as rashes. In contrast, swim shorts are shorter for movement and flexibility purposes while swimming or messing about in the water for fun.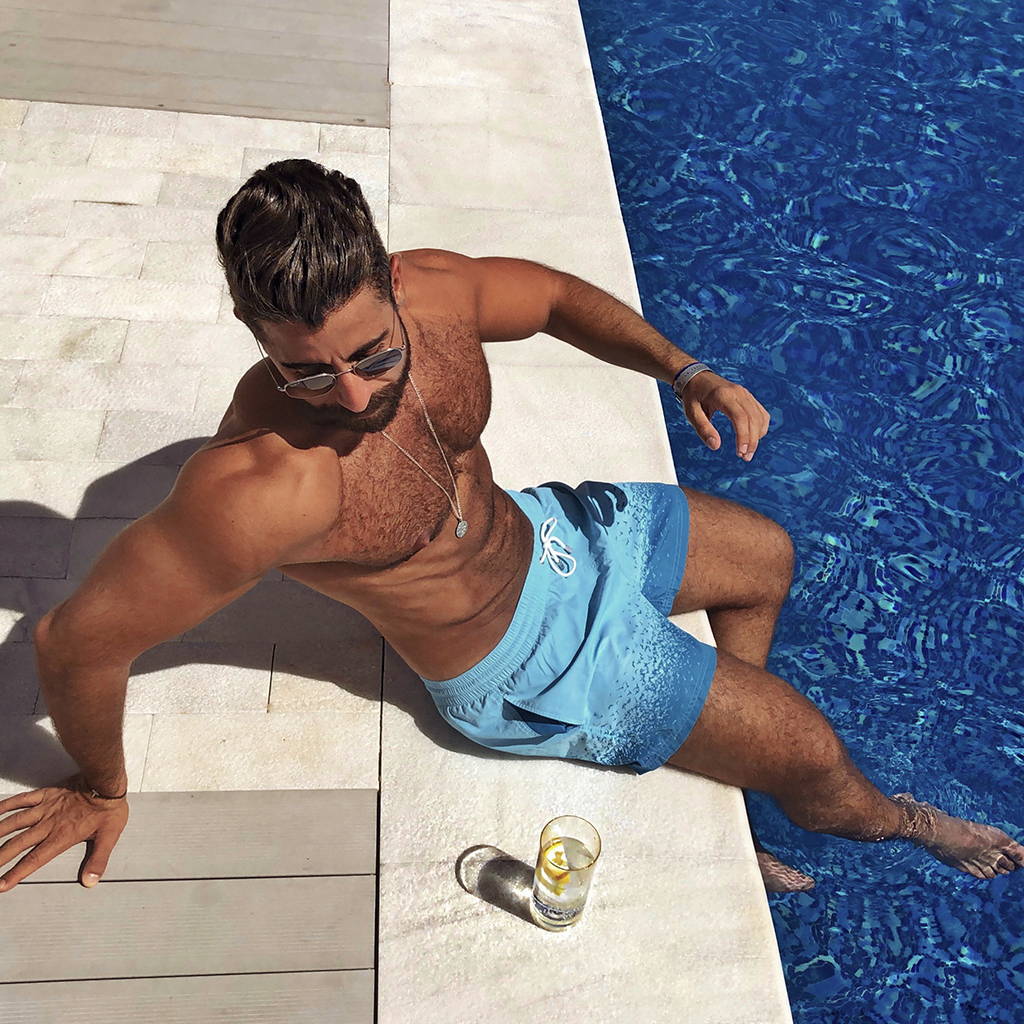 More often than not, the fabric used for swim shorts and surf trunks is also different. If you've ever been in a shop and touched a pair of swim shorts and a pair of board shorts, you'll probably have noticed a difference in the fabric's touch and texture. Swim shorts tend to be crisper and have a structured look, while real boardies are softer, ideal for surfers who are usually more prone to chafing and/or skin irritation. Also, swim shorts are typically made of polyester and therefore have better moisture-wicking properties, meaning they'll dry quicker.
One of the most identifiable traits of swim shorts is their mesh lining, thus removing the need for wearing underwear. It also helps prevent the wet fabric from sticking to your legs. Surf trunks, on the other hand, typically do not come with a sewn-in mesh lining. Therefore there's a need to wear underwear, whether it be y-fronts or boxers.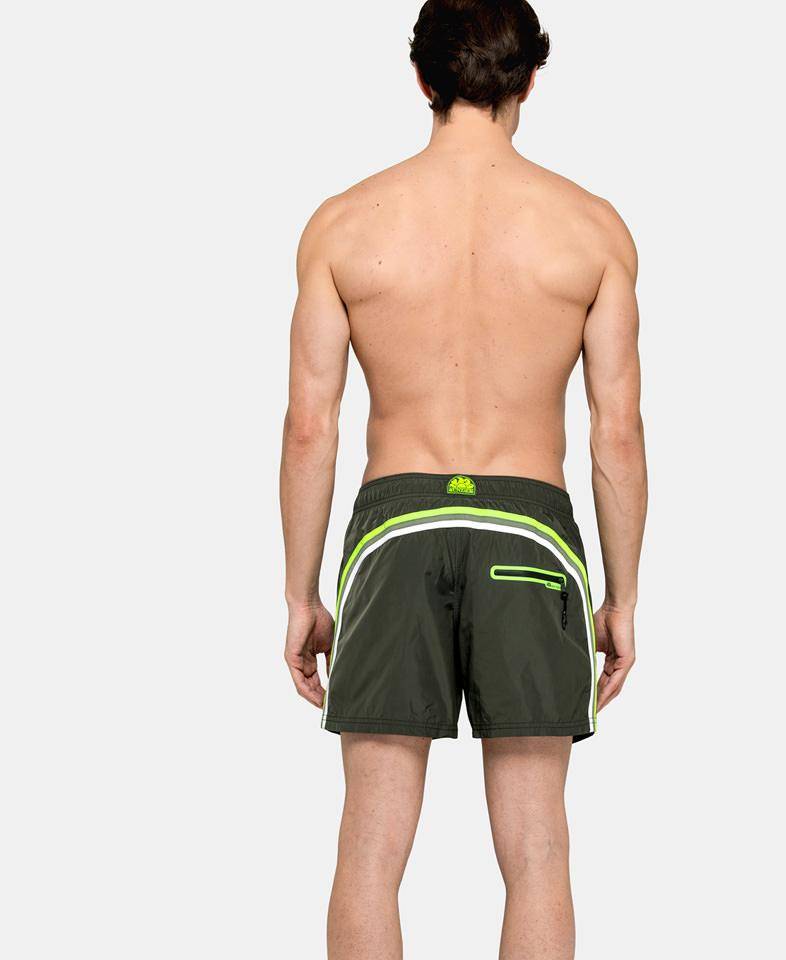 Traditional board shorts have a Velcro and drawstring closure instead of elastic waistbands. People often prefer swim shorts with elasticated waists as they offer more comfort and can also adapt to different body shapes.
Since board shorts are traditionally longer than swim shorts, there's less flexibility. What's more, swimming shorts typically have a wider leg that sits above the knees, which instantly offers more freedom of movement, making them perfect for casual beach days and swimming.
When out shopping and comparing boardies to swim shorts, you might also notice the price difference. Generally, board shorts are slightly more expensive than swim shorts due to their design and durability. This is why it's essential to bear in mind what they were designed to do in the first place - that is, heavy-duty water activities like surfing.
With board shorts for surfers, there's less chance of the fabric tearing due to the strong makeup of the design. Also, there's less chance of the colour fading, so in this sense, these shorts will give you more bang for your buck in the future.
When it comes to flexibility in style, board shorts are often preferred over swim shorts as they also look great out of the water and can also be worn as "casual wear". All you have to do is visit popular surfing spots in the US, New Zealand, Australia, Brazil, and South Africa to see them being worn as regular everyday summer shorts.
Swim Shorts X Board Shorts
But what if you want to get more bang for your buck? What if you're both into water sports and also like to chill at the pool?
This is when Sundeck board shorts come into play.
Ignore the label "Board shorts"? Sundeck board shorts are neither just board shorts as we know them nor are they swim shorts - they're indeed a mix, a hybrid if you will.
Hybrid swim shorts give you the best of both worlds. Sundeck swimwear for men takes into consideration every water activity and lifestyle and includes a few different features from both swim shorts styles. Coming in varying lengths, Sundeck swim shorts for men are made from polyamide, a durable and quick-drying fabric, perfect for both swimming and surfing. Not only this, the 3-needle stitching adds to the shorts' overall strength. And while traditional 'surf' shorts for surfers don't have mesh inserts, Sun deck ones do, removing the need to wear anything underneath. Stylish, cool, practical, and durable - these swim shorts with an inner keyring string and Velcro strap take the regular swim shorts and board shorts to the next level.
So, there's no right or wrong in the case of swim shorts versus boards shorts and their many differences. Instead, it depends on what you want to wear them for - what will be their purpose? If surfing or wakeboarding is your game, board shorts would be the better choice. Whereas if hanging out at the beach or pool and just swimming is more your style, swim shorts are the standard go-to for men's swimwear. Or if you want the best of both worlds and want to be bang on trend as well, there are also hybrid swim shorts versions like Sundeck board shorts.