This store requires javascript to be enabled for some features to work correctly.
Whether You're Returning From Dubai or Dublin, Abu Dhabi or Athens - We Make It Easy As 1, 2, 3 
We'll arrange free pick up of the item*
Refunds issued same day as processing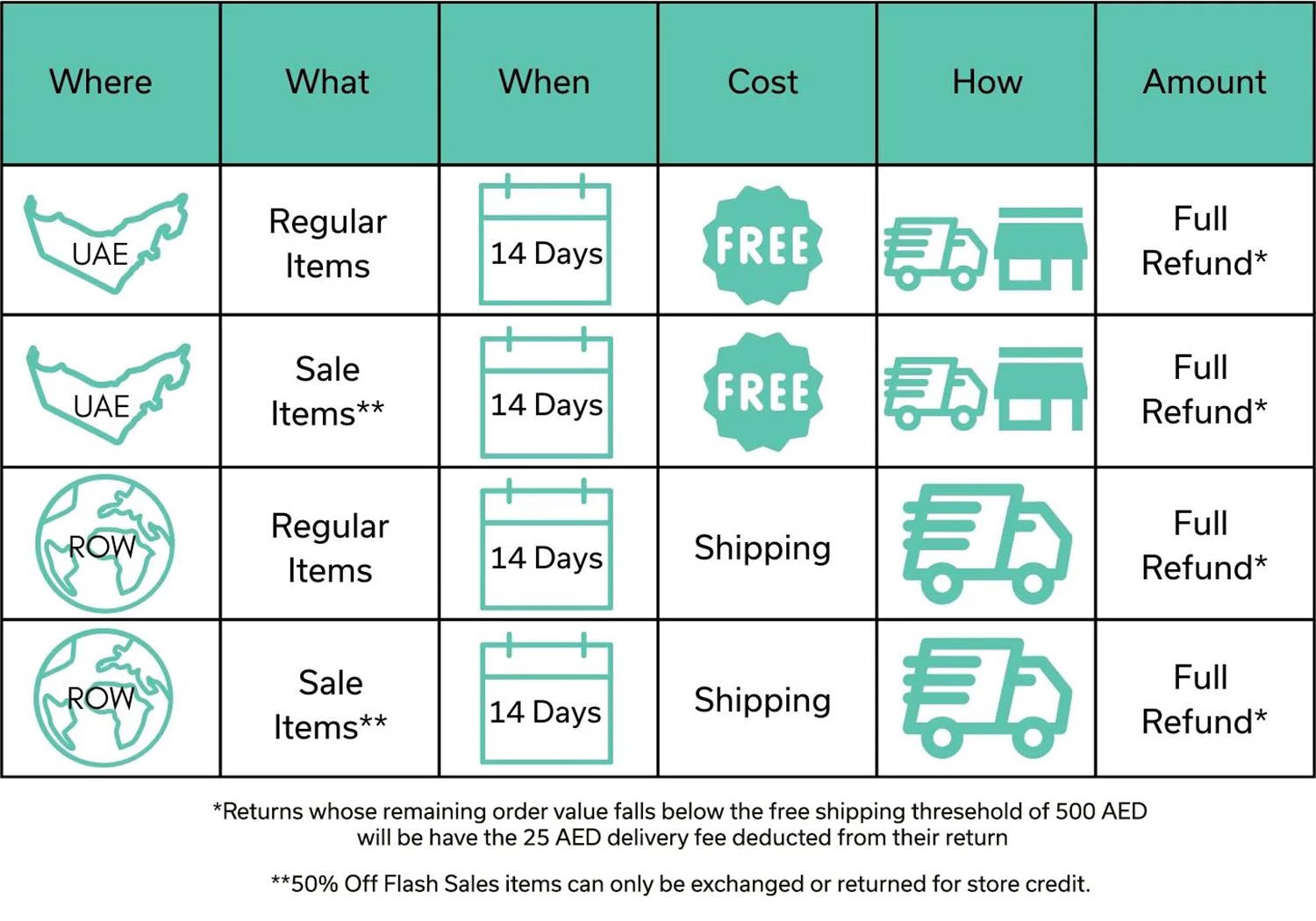 What's Your Return Policy?
*We offer FREE returns for UAE orders ONLY
Full refunds are available for all full priced and sale items within 14 days of receiving your order.
If you would like to make a return for a full refund, you will need to send us an email to let us know what it is you would like to return and we will arrange a FREE pick up for you.

If you would prefer, you can also return to our shop or head office at your own expense.

Any items returned to our head office after the 14 days will be denied any form of refund or store credit.

Any item that is being returned must be in their original condition including tags and sanitary labels. Once Sand Dollar Dubai has received your returned item, they will be inspected before a refund is issued.

Sand Dollar Dubai reserves the right to deny a refund if items are returned used, soiled, worn or damaged in any way or have any form of perfumes or scents on the fabric and will be sent back to the customer at their expense.

All items are quality controlled and checked before dispatching to a customer and so any detachable belts, designer packaging or dust bags etc must be included with your return. Items will arrive with security tags on, if returned without the security tag or if the seal has been broken, we will refuse the return.

Any excessive activity with regards to returning or exchanging items will be reviewed by Sand Dollar and can be refused at our discretion.

All refunds will be processed the same day we have approved your returned item and can take 10 working days to reach your account. The refund will be done only through the original mode of payment.
**Can I Return Sale Items?
Yes! Sale items are eligible for return within 14 days of delivery date.

**50% Off Flash Sales items can only be exchanged or returned for store credit.
What Items Are Non-Refundable?
We DO NOT accept refunds or exchanges on gift cards, sun creams and jewelry.
What If My Item Is Damaged?
If you were shipped the wrong order or a faulty item, please notify us immediately by contacting our Customer Care team at returns@sanddollardubai.com and quoting the order number and fault or incorrect item. We will send you the correct item upon receipt of proof that you have been sent a wrong or faulty item.
How Soon Will I Receive My Refund?
All refunds will be processed the same day we have approved your returned item and can take 10 working days to reach your account. The refund will be done only through the original mode of payment.
Is There A Restocking Fee?
No! As part of our commitment to unparalleled service, we do not charge our customers a restocking fee.
If you would like to exchange your order, you will need to email us and let us know what it is you would like instead and we can arrange a FREE pick up in the UAE. If you are based in Dubai, we will arrange our driver to deliver the item to you and at the same time you can give the item you want to return with our driver who will return it back to our head office. Any price difference can be paid upon delivery with cash or card. If an exchange is being done outside of Dubai, we will arrange DHL to collect the item and once received, we will send out the new item for you, any price difference must be prepaid online.
How Do I Return An International Order?
A Returns Sheet is provided with each order containing instructions on how to return or exchange your purchase within 14 days of receiving your item.

The cost of return shipping is at the customer's expense and is non-refundable. As we are based in Dubai you must return items through a courier service, as any returned items sent by local postal companies will not reach our address (returns address is below). Any items that are not received by Sand Dollar Dubai will not be issued a refund. We also recommend that customers ask for proof of postage at the time of posting returned items as the items are your responsibility until received by us. All duties and taxes that you might be charged are not at the responsibility of Sand Dollar.
Please mail returns to:
Sand Dollar Trading LLC
Office 2403
Smart Heights Building
Barsha Heights
Dubai
UAE
*Do You Adjust Shipping Fees?
We will not refund any delivery charges you may have incurred with the original delivery. If after returning your items you fall under the AED 500 threshold, we will deduct the AED 25 delivery fee off of your refund. This means, for example; if your original order comes to AED 600 and you weren't charged a shipping fee and you return one or more items from your order and after returning them your order value then falls to AED 400 we will then deduct the original delivery fee of AED 25 when processing your refund as you have fallen below the AED 500 threshold to redeem free delivery. For any clarification on this please do not hesitate to reach out to us on info@sanddollardubai.com
Customers can cancel their order/requested services within 1-2 hours; refunds will be made back to the payment solution used initially by the customer. Please allow for up to 4-5 days for the refund transfer to be completed.