| Victoria Zurakowski
Super Easy St. Patrick's Day Crafts For Kids
---
St Patrick's Day Crafts, Cookies & Clothes For Kids
---
St Patrick's Day 2021 is almost here. What better excuse to dress up in green and drink green beer? With its large Irish community and an unbelievable number of lively Irish pubs and bars, St Patrick's Day in Dubai is a longstanding tradition. But with nationwide restrictions and social distancing, it's likely going to be celebrated a little differently this year. Therefore, showing off your fancy footwork as you dance the Irish jig and belt out some dodgy Irish renditions of Molly Malone, Zombie and Where the Streets Have No Name will be strictly reserved for your home. Instead, the reality will most probably be rather different. It'll be Irish stew at home, DIY green cocktails and pints, and plenty of St Patrick's Day crafts for the kids.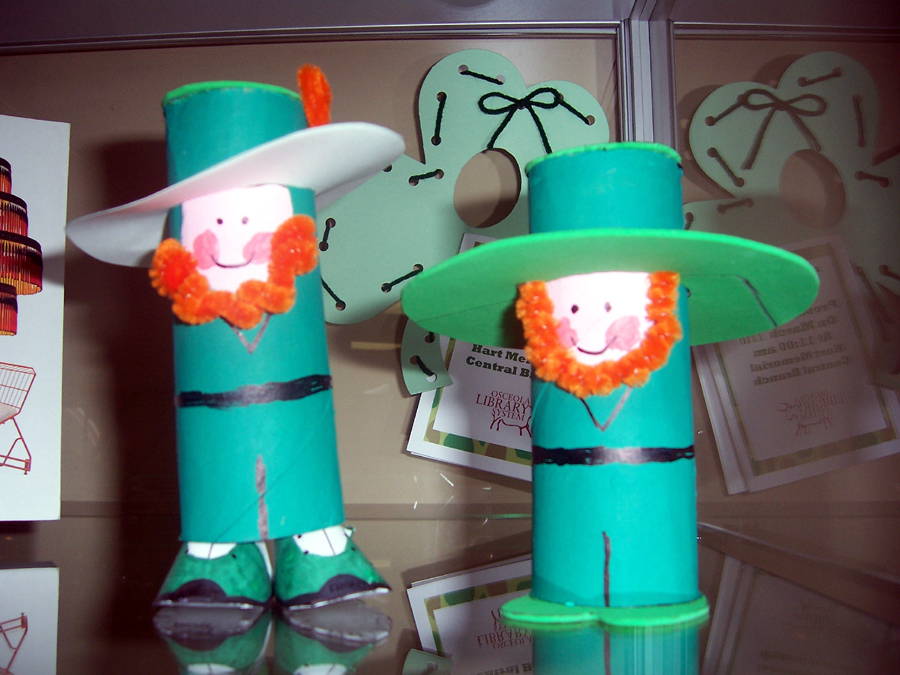 The usual Irish pub lock-ins won't go ahead, just like the many Dubai St Patrick's Day events for kids. Instead, the inaugural (virtual) "St Patrick's Day in the Gulf" will be launched. The online Dubai St Patrick's Day programme, run by the Irish Embassy, is planning on rolling out a digital communication programme aimed at uplifting and inspiring Dubai Irish expats and St Paddy's Day aficionados and showing off a positive image of Ireland. While adults might celebrate St Patrick's Day 2021 in Dubai by whipping up scrumptious Irish-inspired recipes like soda bread and cheesy beer and bacon soup while creating intoxicating green drinks and warbling Danny Boy, what about the little 'uns? Typically, Dubai's celebrations, dedicated to the patron saint of Ireland, involve fun for all, including St Patrick's Day activities for kids.
Having spent a year with restrictions, no parties and far too much time online, the kids need a break and a bit of entertaining. After all, St Patrick's Day in Dubai is one of the hotly anticipated festivals of the year, which, in the past, saw some of the best Irish bars and restaurants in Dubai booked up long before the big day. So, before you start tearing your hair out and wondering what you can do with your children this 17 March, we decided to help you out. Here are a few fun and easy Saint Patrick's Day crafts for kids (you'll thank us later).
We also understand how challenging making Saint Patrick's Day crafts for kids might be for you, especially when you've been homeschooling for the last year and trying to entertain them. We also recognise that very few families would have endless supplies of craft materials for X, Y and Z projects. This is why we've tried to only include Saint Patrick's Day decorations for kids that require basic materials.
St Patricks' Day Rainbow Craft for Kids

Here's an interesting fact – the Irish language has two phrases for rainbow
Bogha Báistí and Tuar Ceatha. If you've ever wondered why rainbows and St Patrick's Day go hand in hand it's because Christians have always seen the rainbow as a representation of God's promise never to destroy the world with a flood again - it's not just about the leprechaun's pot of gold at the end of it.
With paper plates, glue, crepe paper, and a bit of string you can create St Patrick's Day decorations with kids easily. This cloud and rainbow wall hanging simply requires you to cut the paper plate into a cloud, cut coloured crepe paper into strips and attach it to the back of the plate with glue. To hang this St Patrick's Day kids' craft, attach a small loop of string to the back of the decoration.
Kids' St Patrick's Day Hats

Frugal and thrifty kids' St Patrick's Day hats are quick and easy. Help your child recreate a classic leprechaun's hat with just a toilet roll, green craft paper, black card, a few gold sequins, glue, and scissors.
To make your kids' St Patrick's Day hats, take a toilet roll, cover it with some green card and put a strip of black card around the base to resemble a belt. Cut out a circle from the green card. Add craft glue to the bottom of the roll and place it on top of the circle. If you have sequins or anything small and shiny, these can be glued onto the black belt to form a buckle.
St Patrick's Day Crafts for Small Kids

If you have a printer, you can easily find a printable shamrock pattern online. If not, draw a shamrock pattern on a piece of card. These St Patrick's Day Crafts for kids are perfect for keeping toddlers entertained. Not only will it give them something to do, but it also encourages more creativity while developing their fine motor skills.
For this educational St Patrick's Day activity for kids, you'll need green paper/card, a printer or marker pen, glue, and bits and pieces to decorate the printable shamrock pattern, such as pipe cleaners, buttons, tinsel, glitter, sequins - as long as it's some shade of green.
Try to encourage your child's creativity by decorating the inside and outside of the printable shamrock shape.
St Paddy's Day Edible Rainbows

Red and yellow and green and blue…see a rainbow…eat a rainbow…Cut up some colourful fruit that represents the colours of the rainbow – strawberries, bananas, blueberries, kiwi fruit…and get your child to have fun with their food, creating an Instagram-worthy snap of an edible rainbow – this is just one of the many examples of St Patrick's Day activities for kids that involve food.
Hand Print St Patrick's Day Crafts for Kids

Another rainbow-inspired St Patrick's art idea (because we can't have enough rainbows in our lives, right?) is this simple yet effective colourful painted handprint rainbow, which might even be a fun St Patrick's Day activity for adults as well as kids.
To make a handprint rainbow, paint the palms of the hands using non-toxic colourful rainbow paints and, press your hands onto a large white piece of paper or card to form the arched shape of a rainbow. If you like, you can get creative and draw a pot of gold at the end.
St Patrick's Day Sugar Cookies

Cookies make the world a much better place, and there's always an occasion for baking cookies, including St Patrick's Day – who wouldn't want to tuck into delicious iced sugar cookies in the form of shamrocks, bowties, and hats?
And if you're stuck for St Patrick's Day activities for kids, there are always cookies. You can easily buy St Patrick's Day cookie cutters online from Amazon or if you can't get hold of any, print off some easy templates online to use.
There are plenty of online sugar cookie recipes for St Patrick's Day, but we recommend this one from Preppy Kitchen for a foolproof sugar cookie recipe. Once your St Patrick's Day sugar cookies have cooled on a wire rack, ice them with the appropriate greens, yellows, oranges, and blacks.
While you may be enjoying your pints of Guinness and green-coloured cocktails, why not get the kids to make their own St Patrick's Day drink recipe in the form of a green smoothie.
Add a banana, some frozen pineapple, a cup of milk, a splash of pineapple juice, a drop of vanilla essence, and a little bit of green food colouring to a blender and blend until smooth. Pour your St Patrick's Day green smoothie into a tall glass and garnish with whipped cream and hundreds and thousands sprinkles.
Now that you've tried making some St Patrick's Day crafts for kids, including a Saint Patrick's Day green smoothie, why not indulge and make your own "adult" St Patrick's Day drink?
Channel the luck of the Irish for St Patrick's Day 2021 in Dubai with your own stay-at-home Skinny Shamrock cocktail. For one St Patrick's Day Skinny Shamrock cocktail add 4 oz. of nectar girl cucumber mint, 2 oz. of cucumber vodka and ice to a cocktail shaker and shake well. Strain the liquid into a tall glass filled with ice and top up with sparkling or soda water. Garnish your Shamrock cocktail with cucumber and mint, and if you feel like being a bit fancy – shape your cucumber garnish into a shamrock.
This is a refreshing green cocktail, which we're certain you'll need during or after your St Patrick's Day crafts for kids sessions.
And just because St Paddy's Day 2021 in Dubai is a little different this year and you've been making endless St Patrick's Day decorations for kids and baking copious amounts of sugar cookies instead of heading out to The Irish Village or Fibber Maggee's, it doesn't mean you can't dress up and wear green at home. Green is hot right now and light green is one of the 2021 S/S colour trends, so why not?
We love St Patrick's Day in Dubai, and while it may not be the same this year, it doesn't mean the celebrations have to be completely cancelled. There are a lot of activities that you and your family can do from making St Patrick's Day crafts for kids to trying your hand at a bit of mixology. Make the most of this slowed down life and enjoy every moment with your loved ones at home this St Patrick's Day 2021.