| Victoria Zurakowski
Spring 2021 Bag Trends To Look Out For
---
These 2021 designer handbags will carry you and your belongings into next season and beyond
---
They say that behind every amazing woman is a wonderful handbag – and we'd have to agree. Handbags indeed have tremendous power. This is just one of the reasons we've been looking forward to learning more about the spring 2021 bag trends and sharing them with you. After this last year of having to endure constant lockdowns that prevented us from going out, we can't wait to get out and about. So what better time than now to invest in the latest spring 2021 bag trends?
The bag trends of spring 2021 have got us excited. Not only are we dreaming of dressing up and going out we also need a stylish trending bag (or three) to carry groceries, beachwear, and of course our bevvy of PPE.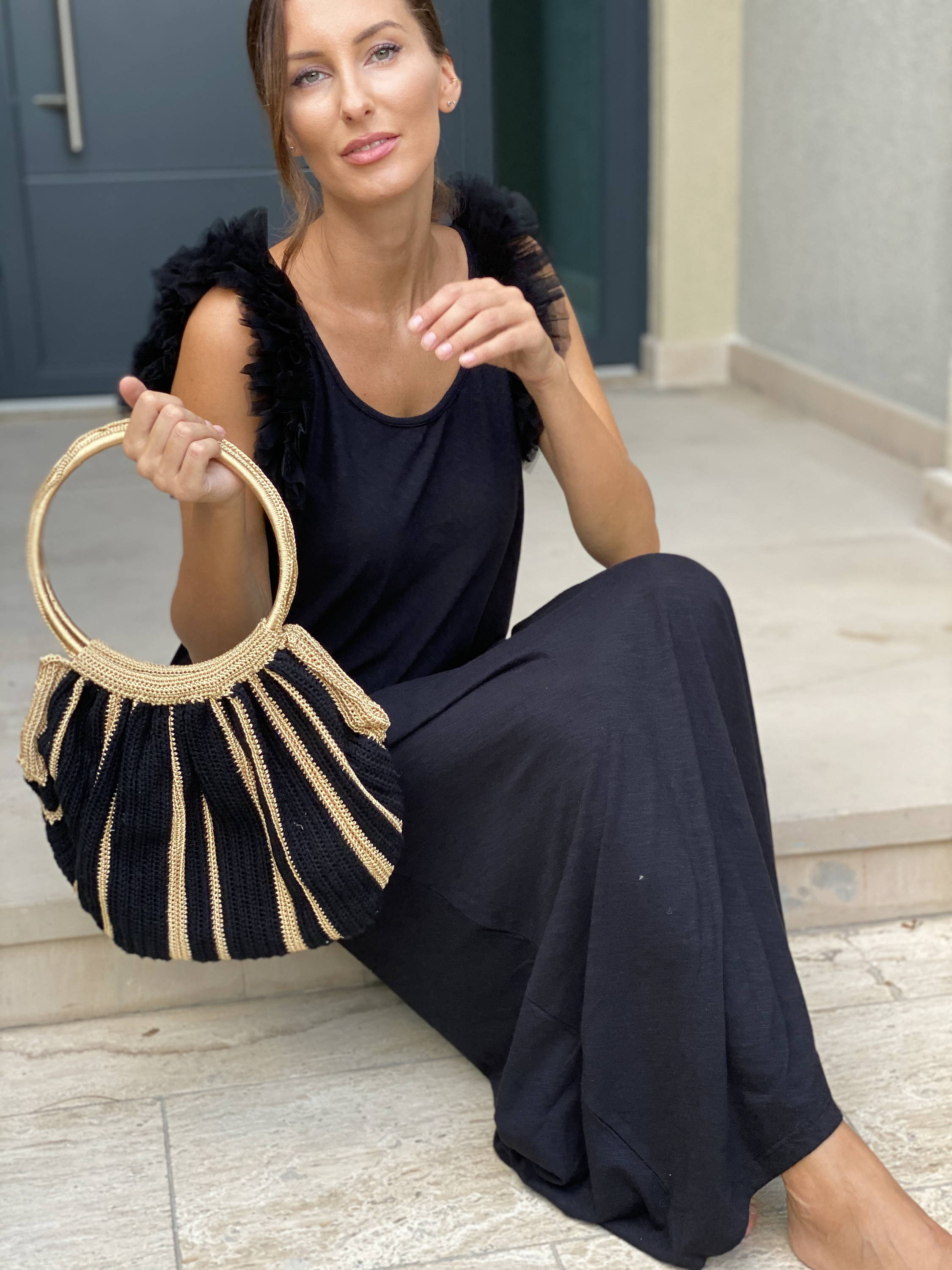 From ogling over the spring 2021 bag trends and handbag collections, it's clear that designers have taken the current circumstances into account, as there are many practical bags to be snapped up.
Handbag designers have revisited some previously loved handbag trends that have been tried and tested over the years. Unlike previous years, the bag trends of spring 2021 and beyond will be more functional – in other words, the latest must-have bags aren't destined to remain safely in their dust bags for the rest of their existence, instead, they can be used time and time again.
From bucket bag trends to handbag colour trends in 2021, let this be your guide to what's hot in terms of trending arm candy this season.
Another 2021 must-have bag is the straw bucket bag. Once loved by Jane Birkin and Audrey Hepburn, these woven bucket bags ooze serious style. Over the years, they've evolved and this spring 2021 handbag trend has risen in the fashion ranks. Today, it's a must-have fashion accessory. Once reserved for market shopping and hippies, the straw bucket bag is back with a vengeance. This season's bucket bag trends see these bags taken to the next level with intricate embellishments such as shells, beads, and tassels.
How to wear your straw bucket bag: Despite their Provençal market vibes, bucket bag trends are versatile. If you're a maxi-dress lover, you're in luck, as this trending bag adds a retro edge to a cute, flirty ensemble. When paired with some wedge sandals or a simple pair of flip flops, you'll have the prettiest spring/summer look ever.
Just when you thought tote bags couldn't get any bigger, they did. These extra-large totes aren't a new bag trend per se – they've been around for quite some time, but they're still as timely as ever, and they're definitely a little bigger. Grocery shopping, trips to the mall, and a day at the resort, there's something about a big bag that makes you feel safer. This is a case where size does indeed matter!
How to wear your tote bag: Being one of the biggest spring 2021 bag trends your extra-large tote bag will soon become your old faithful. When carrying your oversized tote, keep things as casual and as functional as possible. Style with sweaters, a pair of distressed jeans, trainers, and a beanie in early spring and then, as things heat up pair it up a short summer dress or something equally as flirty.
According to major fashion houses like Fendi and Gucci, embroidered bags are certifiable pieces of art. Dating back to ancient China, embroidery detail represents opulence and luxury, as it was once a symbol of wealth and rank. In 2021 designer handbags will feature intricate detailing, which will easily add more of a polished feel to your daytime look. As far as handbag colour trends in 2021 and the embroidered bag go, there are no rules. We're seeing this latest bag trend in a range of colours from happy eye-popping to more neutral tones.
How to wear your embroidered bag: In 2021, wear this bag trend with pride. This is certainly a case when you should let your bag do the talking. We envision bohemian-loving beach babes carrying their intriguing embroidered bag with a toned-down ethereal dress – think long floating white beach dresses and maxi skirt co-ords.
Another definitive 2021 spring bag trend is the decorated clutch. These sought-after bags are growing in demand, and with the right art-inspired clutch, you may even find yourself with a collectable bag later on down the line. Decorated clutches are worthy of their own exhibition, and we believe that they wouldn't look out of place in a gallery thanks to their aesthetic appeal that can be easily likened to art.
How to wear your decorated clutch: With this 2021 spring/summer bag trend, you've got freedom and inventiveness. These bags bring life to classic evening outfits in plain colours – we recommend picking a colour from your bag as your base outfit colour and also going for a classic colour block look.
Virtual runways are awash with ring handle bags. These 2021 spring bag trends have seen fashion aficionados forgo traditional straps for a more defining feature – a circular handle. If you're worried that this isn't a practical bag and are used to slinging your bag over your shoulder or forearm, do not fear, most ring handles are big enough to slide onto your wrist so you can continue to go hands-free.
How to wear your ring handle bag: We guarantee you'll see a lot of variations of these bag trends for spring/summer 2021. This type of bag suits anyone who adores curating an effortlessly chic look, which means this 2021 bag style will look amazing with anything you throw together from a boxy shirt and culottes to a cute playsuit. And if you envisage yourself to be a bit of a 60s glamour queen, channel your inner Audrey and accessorise further with an oversized floppy hat.
The tassel bag trend is a recycled style that is waiting for another summer showing. Dating back to the 16th century, this embellished bag trend has a long history. Often dubbed the queen of bohemian bags, this is a bag trend favoured by top models such as Kate Moss. From festivals to lunchtime brunches, it's easy to create many-a-look with this 2021 trending bag.
How to wear your tassel bag: With a touch of playfulness, tribal and bohemian, this 2021 spring bag trend is incredibly fun and effortlessly cool, making it perfect if you love a relaxed, laidback look. If you're the type who likes to add an air of luxurious nonchalance to your OOTD, we recommend adding a pop of colour with some of the handbag colour trends of 2021 – so the brighter the bag the better! Our festival-going girls love to wear theirs with oversized billowy peasant-inspired blouses, cut-offs, and cute beaded and embellished sandals.
---
If you're a big dreamer like us, you've probably got big plans for the rest of the year. As restrictions begin to ease, you may be dead set on travelling abroad for an all-inclusive luxury beach getaway or achieving that career growth you've been planning in your head since the beginning of lockdown. Your dreams could simply involve reacquainting yourself with old friends and family you haven't seen for what seems like ages or it could involve wining and dining at some of your favourite restaurants and bars. Whatever you've got mapped out for the rest of the year, there's one thing we're certain of – wherever it is you go, you will need the perfect sidekick in the form of a new bag.
We give the spring 2021 bag trends the big thumbs up. There are so many bag trends of spring/summer 2021 worthy of your wardrobe. And with the wide variety of seasonal it bags available at Sand Dollar, we guarantee there's a bit of arm candy for everyone! Shop All 2021 Bags Now