| Victoria Zurakowski
How Beachwear Influenced Summer Street Style
---
Exploring Six Boho Street Style Staples & Their Connection To Beachwear
---
A quick Google search for "summer street style" will leave you inundated with Pinterest board after Pinterest board. "470 summer street styles" the first headline reads, the next isn't too dissimilar "900+ Spring/Summer Street Style Ideas in 2021…" You get the gist.
The terms 'street style' or 'streetwear' conjures up images of casual unisex skater style fashion – think oversized tent dresses, skate shoes, and the like, but streetwear for women, more specifically summer street style for fashion, has evolved…and there's a curious trend emerging.
That archetypal skate style no longer governs the street style hashtags. Instead, we're seeing more boho street style creations flood Insta and Pinterest. And, after just a few minutes of scrolling, you'll notice that this coming summer season is taking inspiration from the beach and putting it on the street, making us incredibly excited that we can bring elements of our favourite bohemian beach styles into our everyday objects.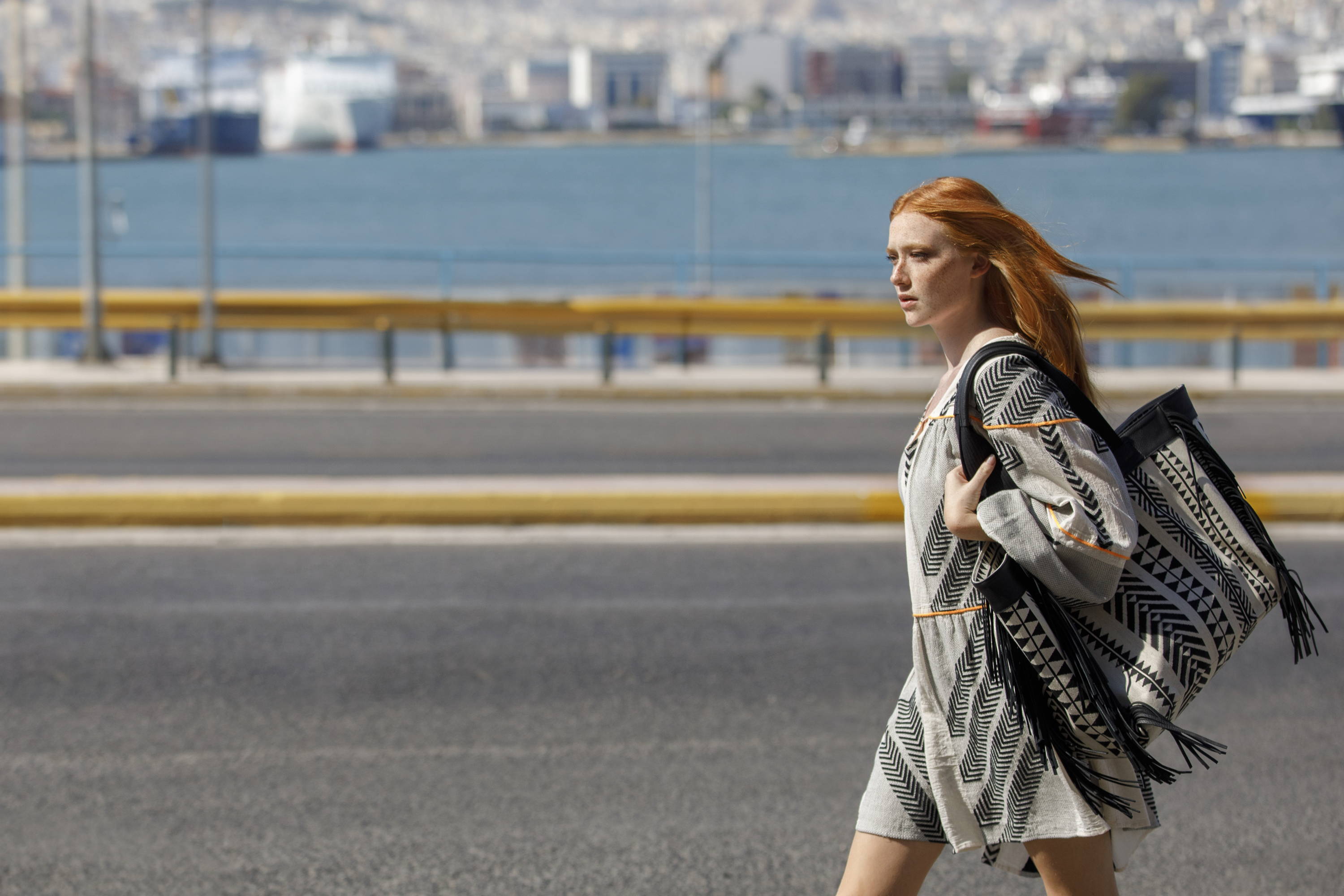 It may have been significantly quieter than usual on the fashion front, but designers have been unveiling some seriously stylish and bold designs - this year's boho summer street style is making up for everything we've lost in the last twelve months.
Boho girls are free-spirited, peaceful, and creative. Therefore, it's not surprising that this fashion trend is dominating the street style this summer. Read on to find out how beach and resort wear has played an integral role in Dubai street style this summer.
Did somebody say tunic dresses? Cute embroidered tunic dresses are a beach resort staple. Easy to throw on over a bikini and cute to wear with a pair of wedges or flip flops. But the summer street style of 2021 has proved that tunic dresses aren't just for the beach.
Girls that love donning tunic dresses to the beach are imaginative in all aspects of their lives, and sometimes a little quirky. Add a few cool accessories and an obligatory wide-brimmed hat to create an unforgettable boho summer street style that will get everyone talking for the right reasons
One can never have too many dresses, and it's unclear whether the 2021 shirtdress had its debut at the beach or on the street, but either way, we're seeing this outfit everywhere when searching for summer streetwear inspiration. Long or short, it's not important as this striking summer street style is huge – it will also take you from the beach to the street to the office or vice versa, and when it comes to sustainable fashion, recycling outfits is everything.
Our beach-loving shirtdress-wearing girls lead a balanced life – they know the difference between work and play, but they don't let this affect their bubbly personalities. Throw on a pair of trainers and transform your shirtdress into the ultimate boho summer street style outfit.
Wide-legged airy pants and culottes are synonymous with beach and resort wear. Easy to dress up and down, wide-legged pants can be both glamorous and understated – and we love them!
There are no festivals this year, and Coachella is certainly out of the question, but it's possible to combine a boho beach look and festival style to create the ultimate 2021 summer street style. The girl that loves wide-leg trousers errs on the side of drama, so have a little fun with your style and team your breezy wide- leg trousers with a baggy white linen shirt and a natural woven tote to create that matchless layered style that's dominating the Dubai street style scene this season.
Forget granny's doilies, one of the biggest S/S21 streetwear trends is crochet – anything crochet for that matter! Crochet dresses have always oozed a certain amount of sexiness – for years they've also been spotted at some of the coolest and most exclusive beach clubs and resorts, so it's not surprising that the fashionable women of Dubai beach street style have remained ahead of the game in terms of their fashion.
There's a certain sense of elegance that emits from women that wear beautifully crocheted dresses to the beach. So if you're a stylish and fashion-forward woman that knows her worth and you want to make a statement on the streets this summer, wear your crochet midi dress with a pair of killer combat boots or contrasting trainers. Don't forget those oversized sunglasses!
Maxi skirts are one of the originals when it comes to beach boho chic. Embroidered maxis have always been, and will continue to be, a beach holiday wardrobe essential, and now modern hippies are taking them to the street.
We're already seeing boho maxi skirts emerge on the Dubai street style scenes, and we're predicting this look is going to be huge this summer. Boho maxi skirts are often favourite pieces of artsy and earthy girls that adore beaded jewellery and the like. But when you take it to the streets, it's an entirely different story. Add some edge to your down-to-earth ensemble with a crop top, choker, and some chunky arm candy.
Last year, the ditsy print was one of the favourite go-to prints when it came to luxury beachwear trends. But that's nothing new at the beach and this print dates back to the 70s when free-spirited hippies, who believed in love and peace, rocked beautiful, almost romanesque, floaty dresses.
Ever the non-conformists, boho beach babes have now taken their style to the streets of Dubai and we're seeing more and more women incorporating ditsy print into their casual street style. Whether it's ditsy floral tops, skirts, dresses, or trousers, it doesn't matter, as this summer street style is all about being unorthodox, so get ahead of the game and wear this emerging trend with anything that's going to rock the status quo. Currently, we're lusting after ditsy floral print skater dresses, chunky platform trainers, and a clashing print clutch!
So, if you didn't get the summer street style memo while in quarantine, it's not too late to stock up on some tried and tested and, not to mention, emerging boho street style trends. The question is - what came first? Resort wear or streetwear? It's a bit like the old "chicken or the egg?" situations. But we're pretty certain that women have been donning flowing maxis and ditsy prints long before dresses and trainers became a thing…just saying!