| Victoria Zurakowski
Designer Beach Towels – The Unexpected Must-Have Beach Accessory
---
Learn How Sun Of A Beach Transformed Beach Towels From Boring Beach Accessory To Statement Piece
---
Vision and detail are tantamount to fashion and style, and beach accessories, more specifically designer beach towels, are no exception.
Choosing beach and resort outfits has never been so important (and fun), especially after having spent the last year not socializing and living in loungewear.
Summer 2021 will go down in history as one of the most fashionable seasons ever for good reason, which is why it is fundamental to complement your designer bathing suit or kaftan with the right beach and resort accessories to complete the look. Being summer promenade ready means embracing every aspect of fashion, and luxury beach towels are now part and parcel of a woman's beach arsenal. Gone are the days when designer swimwear was enough to earn your badges of elegance and charm, having some cool beach towels is also an unwritten requirement.
Whether you choose to match your designer beach towels to your cute holiday outfits or you want to make a statement, that is your prerogative, but when it comes to choosing the right beach towel, there are a few things to look out for to ensure your designer beach towels are excellent in quality as well as aesthetically pleasing, and there is one beach and resort accessory brand that never fails to delight – Sun of a Beach!
With one-off, unique designs, it is no wonder this luxury beach accessory brand's inception began on a Greek island beach.
The founders noticed that beach towels made up the majority of beach real estate, but unlike the attention that went into choosing the right designer bikini, little thought was put into the average beachgoer's choice of a towel. From cheap tourist beach towels bought in overpriced tourist shops to hotel bathroom towels, the beach seemed to be one big blanket of nothingness.  
Using the beach and sea as canvases and inspiration, Sun of a Beach designer beach towels also focus on quality as well as aesthetics. But, according to the brand's founders, there are a few things you need to look out for when choosing luxury beach towels.
When It Comes To Designer Beach Towels - Size Matters!
This is a case when size does matter! There is nothing worse than buying a beach towel that does not comfortably wrap around the body or having your body come into contact with hot sand or stones when lying on the beach.
The average beach towel measures approximately 80cm x 160cm, and this is where Sun of a Beach stands out among other designer beach towel brands. With extra-long measurements, Sun of a Beach's luxury resort towel is perfect for lounging around all day long.
And That Includes Thickness Too
There are plenty of designer towels out there that do not deserve the title simply due to the lack of quality and towel thickness.
To ensure their high-quality designer towels stand the test of time and all elements, Sun of a Beach carefully considers the GSM weave. Contrary to popular belief, your beach towel does not need to have the same thickness as a luxury bath towel. Instead, it needs to be designed with the sun, surf, chlorine, salt, wetness, and heat in mind.
Look for cool beach towels with a GSM ranging from 400 to 600. Any lower and it would be considered too thin and any higher would be too thick and would take too long to dry. Sun of a Beach advises to not only look out for the GSM but also to take into consideration fabric.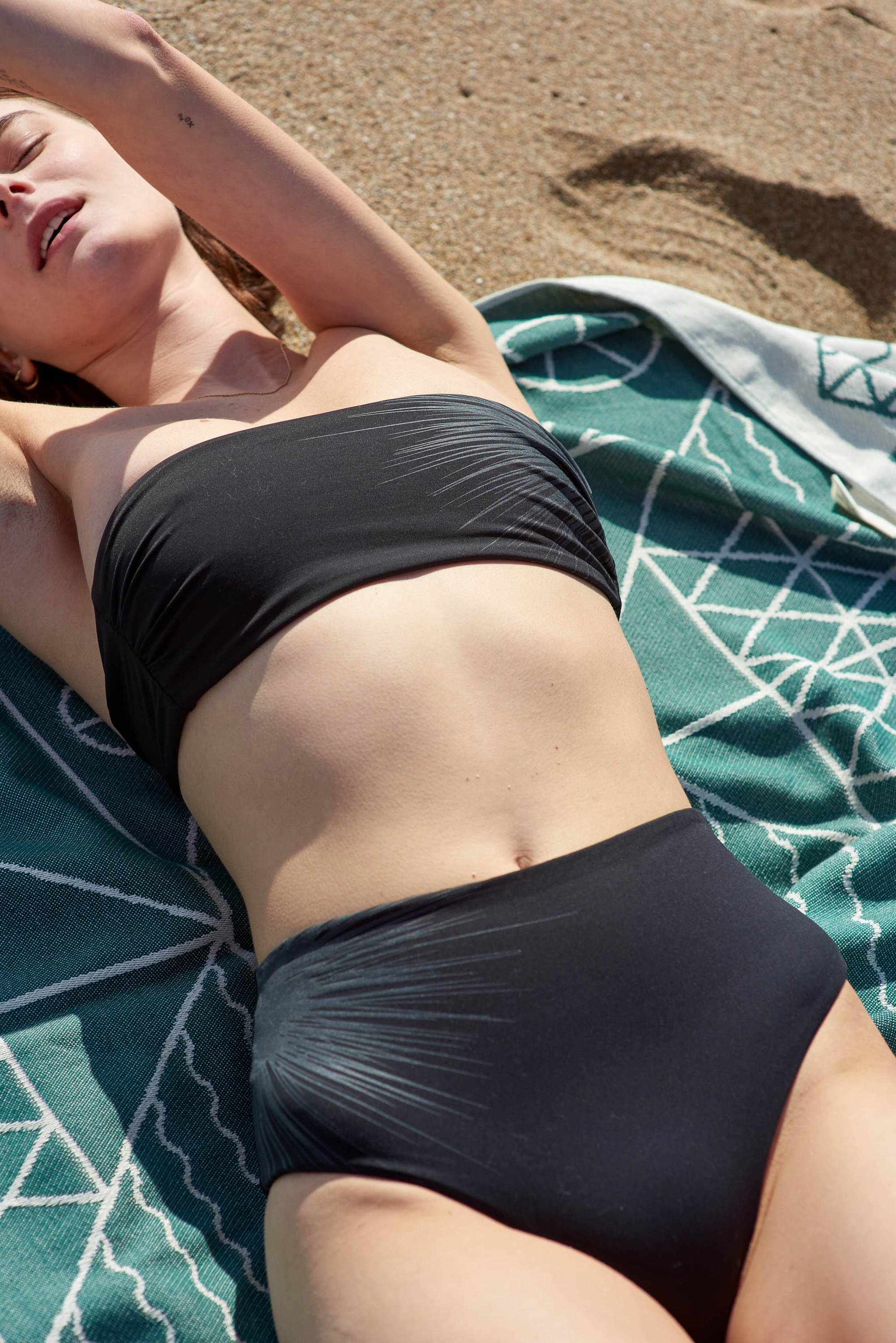 What's Your Cool Beach Towel Made From? Egyptian Cotton Anyone?
Combining the right GSM with quality fabric is what will ensure your cool beach towel print will not fade after a few uses, which is why Sun of a Beach uses 100% natural cotton for absorbency and quick-drying properties. Egyptian cotton beach towels are more porous and stronger, meaning they will not only withstand beach and resort conditions but are also more washing machine-friendly.
Stunning Designs & Beach Towels With Chic Prints
There is no denying it, beach towels play a much greater role in fashion than a few years ago and Sun of a Beach has a plethora of luxury beach towels to match your outfit, personality, or mood.
For those that prefer timelessness and minimal chic over fads, Sun of a Beach has a range of designer beach towels with classic designs. Stripes are perfect as they are simple, but still have the power to transport you to Mediterranean destinations. Then of course there are the simple two-toned luxury beach towels, which are so understated that they make a statement.
Tropical beach accessories have always been popular. Those lush, tropical designs that scream "beach" are ideal for beachgoers that love a pop of colour and exoticness – because, there is nothing quite like lying on a Sun of a Beach tropical print luxury towel and sipping on a fruity cocktail.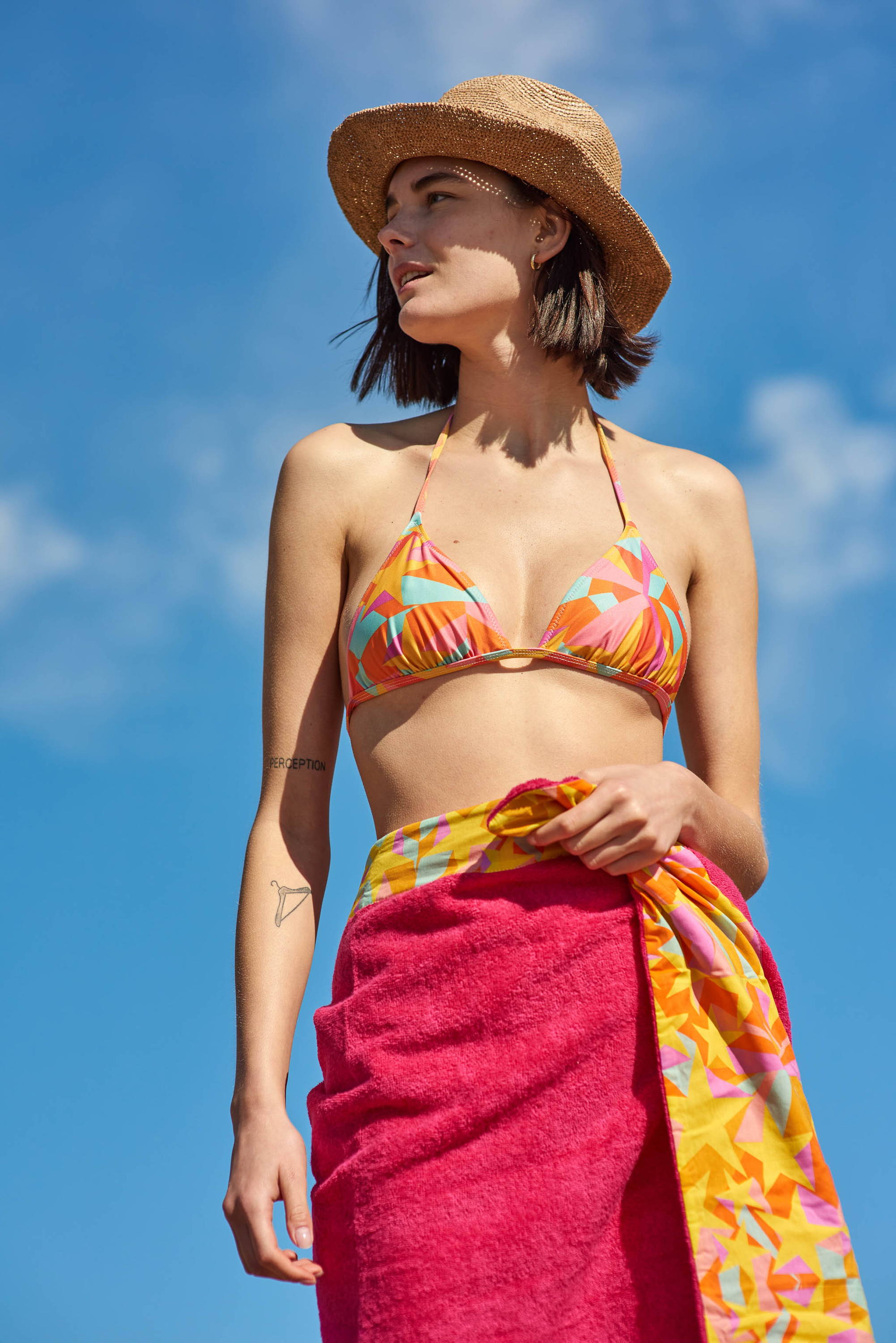 Bold people suit bold prints. Vibrant colors and graphic designs that are often reminiscent of pop-art images, vintage drawings, and retro shapes are fun just like this signature lobster towel.
Animal print is universal. Once deemed to be a passing trend, it is now clear that fashion forecasters were wrong, very wrong. Glamour queens and lovers of luxury will love the fun bright animal print designer beach towels that add a little edge to any look.
Gone are the days of throwing any old towel into a bag and heading to the beach. High-quality designer beach towels and beach accessories should be both functional and fashionable. Designer beach towels, thanks to leading luxury beach brands like Sun of a Beach, are this year's must-have beach accessory.