| Victoria Zurakowski
Cute Maternity Swimwear That You Can Even Wear After Pregnancy
---
Make a Splash With Cute Maternity Swimwear

---
Pregnant? Love to swim? Perfect...
...or so you thought.
Quite often, when women are pregnant, there is a fear when it comes to maternity swimwear. While this might seem slightly absurd today, it was not so long ago that you could not find a maternity swimsuit or bikini that was not A - ugly, B - unflattering, C - not see-through, and D - did we mention ugly?
Thankfully, fashion has progressed, and it has become more inclusive. It is possible to find functional and fashionable maternity swimwear in larger sizes, not necessarily branded as strictly "maternity".
Of course, you could try digging out your super cute pre-pregnancy swimsuit or bikini. But there's that risk it won't fit, or the quality, despite its cute factor, would not be enough to withstand the extra stretch, leaving you with an unsightly see-through swimsuit, which, post-pregnancy, would be most likely unwearable.
Then there's the other extreme - the women that go out and buy pricey designer maternity swimwear that is only made for pregnancy and cannot be worn post-pregnancy. Reason? The swimwear designers (for some unknown reason) haven't managed to come up with a decent concept that checks all the boxes!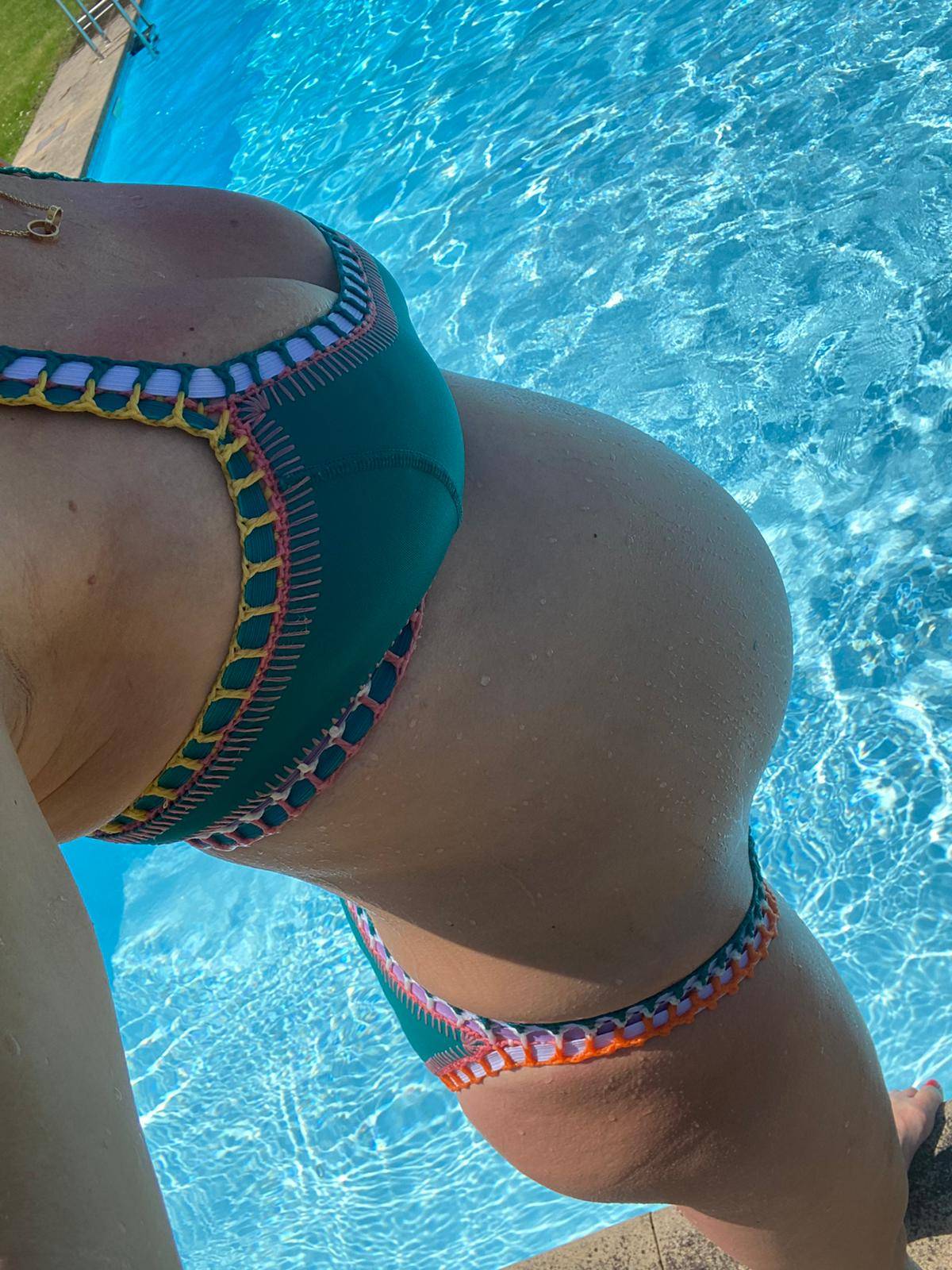 But does this mean that you shouldn't swim in a pool or mess about in the sea when pregnant?
Absolutely not! According to the American College of Obstetricians and Gynaecologists, Swimming is one of the safest forms of exercise a pregnant woman can do.
But what if we told you that you could find stylish maternity swimwear that you can wear pre, during, and post-pregnancy?
More about that later - let's first look at what constitutes functional (and cute) maternity swimwear that won't leave you embarrassed to drop the towel.
Maternity Swimwear - What to Look For
Today, there are plenty of cute maternity swimwear options. There is, of course, the traditional maternity one-piece swimsuit, but there are also maternity bikinis and maternity tankinis. There's even fashionable maternity swimwear with the extra detailing, such as frills and skirts. These are a few things that you need to keep on your radar when looking for a practical and cute maternity swimsuit.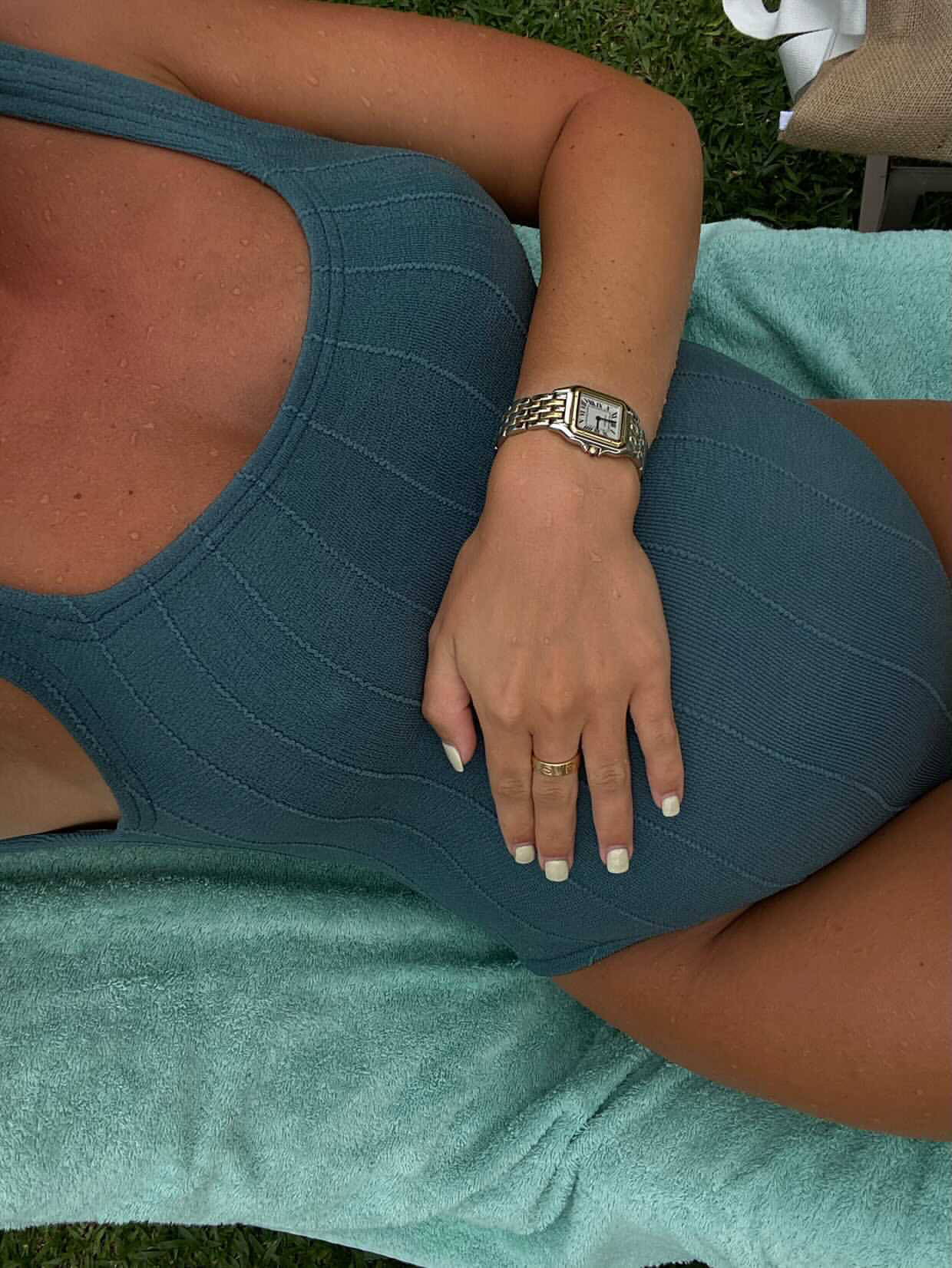 Extra support is a given. Any top part needs to be both supported and comfortable. Some women find cute maternity swimwear with built-in moulded cup bras or shelf bras helpful, but this is not entirely necessary if you've opted for a pregnancy swimsuit with supportive and durable fabric. Adjustable straps are also helpful, as these will allow your maternity swimsuit to adapt to your body as it grows throughout pregnancy.
As previously mentioned, fabric matters when trying to find the right (and fashionable) maternity swimwear. The fabric is almost non-negotiable - it needs to be stretchy and comfortable. Look for cute maternity swimwear made from Lycra, spandex, and nylon. The generic name for spandex and Lycra is elastane, which is usually blended with nylon when making high-quality, designer maternity swimwear. Avoid cheap polyester, which tends to be stiff and restrictive.
Here are some of our favourite designer maternity swimwear brands to check out.
When it comes to cute maternity swimwear, the British swimsuit brand Hunza G, which found fame with its iconic 80s-inspired swimwear, trumps. This sustainable swimwear label has adopted a one size fits all approach, meaning every woman, no matter what size she is, can enjoy wearing fashionable swimwear. Known for its bright colours, stretchy crinkle-cut material, and flattering necklines, Hunza G swimwear has been a favourite among expecting mothers.
Strapless Bardot one-piece swimsuits flatter almost every figure, and this is one style that will easily adjust to your changing form throughout your pregnancy. Thanks to its slightly ribbed Nile fabric, this style effortlessly hugs the body and provides a tighter fit, meaning that there will be no unsightly sag, which is common in other maternity swimwear brands.
The Hunza G square-neck swimsuit is its signature style. Perfect for all figures, this classic will last several years, not just your pregnancy, meaning that it's not just any old cute maternity swimwear; it's an investment. With a flattering neckline, this style particularly suits pear-shaped women, and when combined with wider straps, it's ideal for women with a larger bust.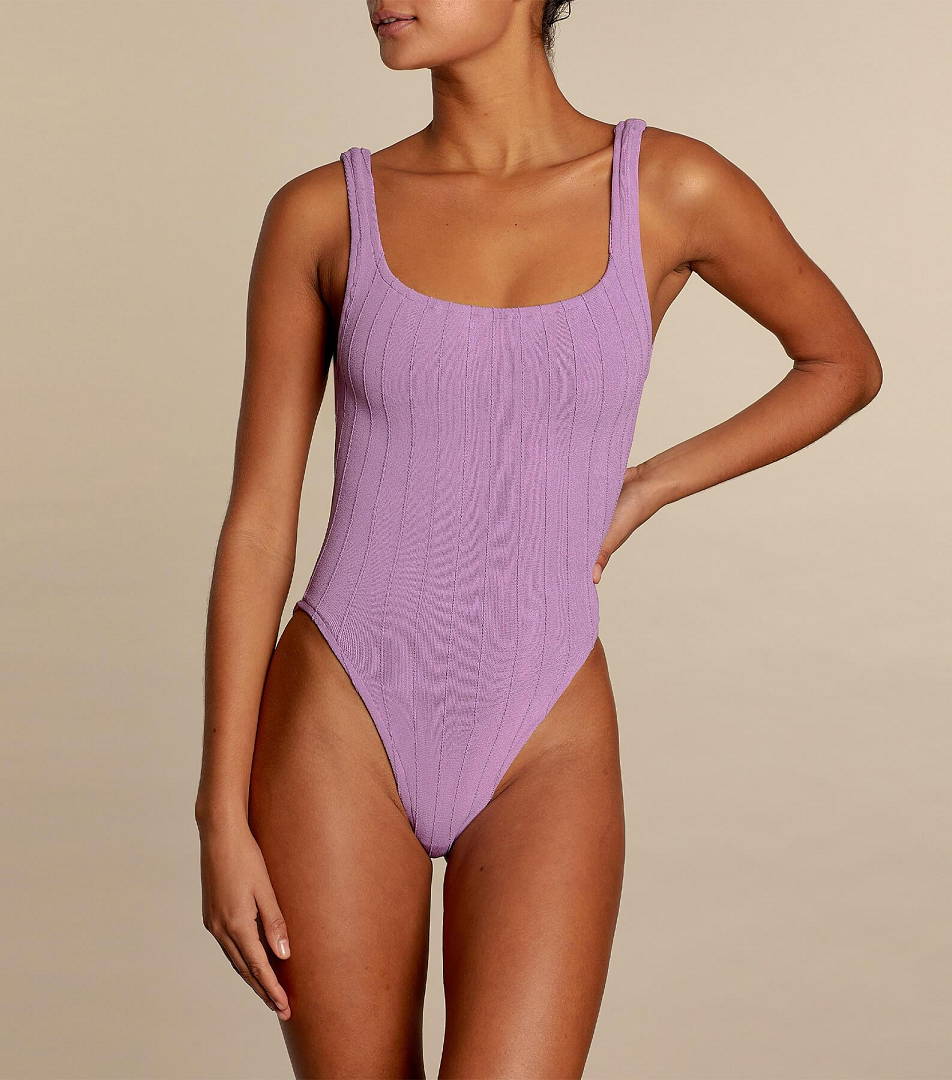 NYC is not somewhere you'd automatically associate with stylish maternity swimwear, but Kiini is an exception to the norm. Why do we love Kiini for cute maternity swimwear? It's easy - this swimwear is bold and fierce, just like our Sand Dollar Dubai babes. It's also colourful, but the best thing is, it's handmade.
Maternity bikinis and swimsuits don't have to look like maternity swimwear, and that's exactly why we love Kiini bikinis and swimsuits. With a distinctly playful and boho style with a modern twist, Kiini swimwear is made from high-quality fabrics, including its signature crocheted elastic trim.
Triangle bikini tops work well with bigger busts. With a simple cut that reveals just the right amount of skin, the classic Kiini bikini top comes in various sizes, including DD.
Right now, the fashion world has gone crazy for one-piece swimsuits, and Kiini has taken it to the next level with its one-shoulder version. This flattering one-piece also works as fashionable maternity swimwear and looks seriously elegant while relaxing poolside.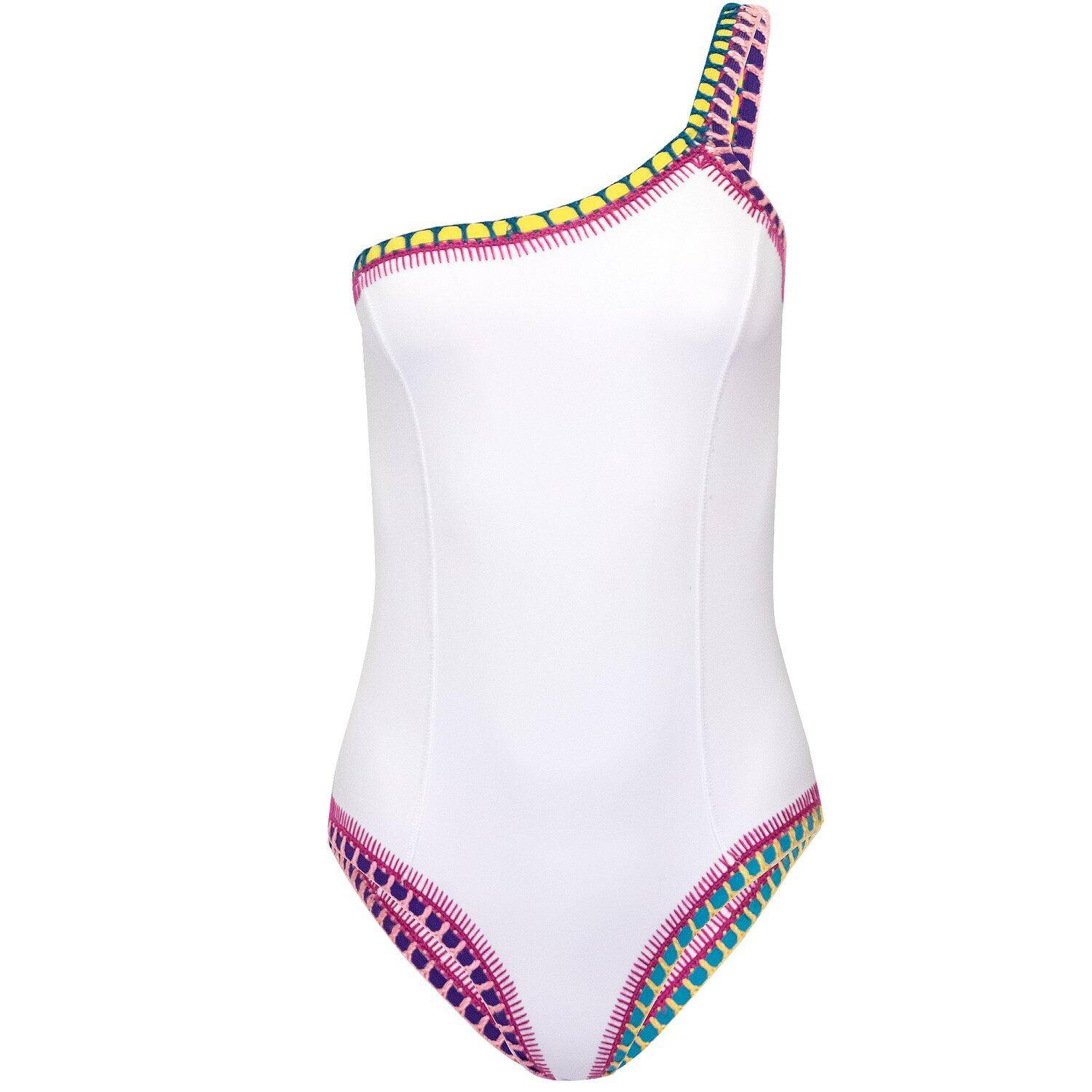 Naturally, Australian swimsuit brands always feature high on the list when it comes to the best designer maternity swimwear. But what sets Tacoola Swimwear apart from the rest of the Australian swimsuit designers? We may be biased, but we love the brand's uniqueness and high-quality handmade swimwear inspired by the original beach babes circa 1970.
With its slightly higher cut leg and skirted frill, this one-piece Tacoola swimsuit will not only elongate your legs but will also provide you with enough coverage to make you feel confident. You can use this as some cute maternity swimwear that you'll want to wear past your due date as well.
Designed to adjust to your body, this adjustable bandeau bikini top in a cute animal print allows you to be practical and fashionable with maternity swimwear. Throw it on under a strapless dress or top in place of a bra to allow you to easily transition from day into night without too much effort.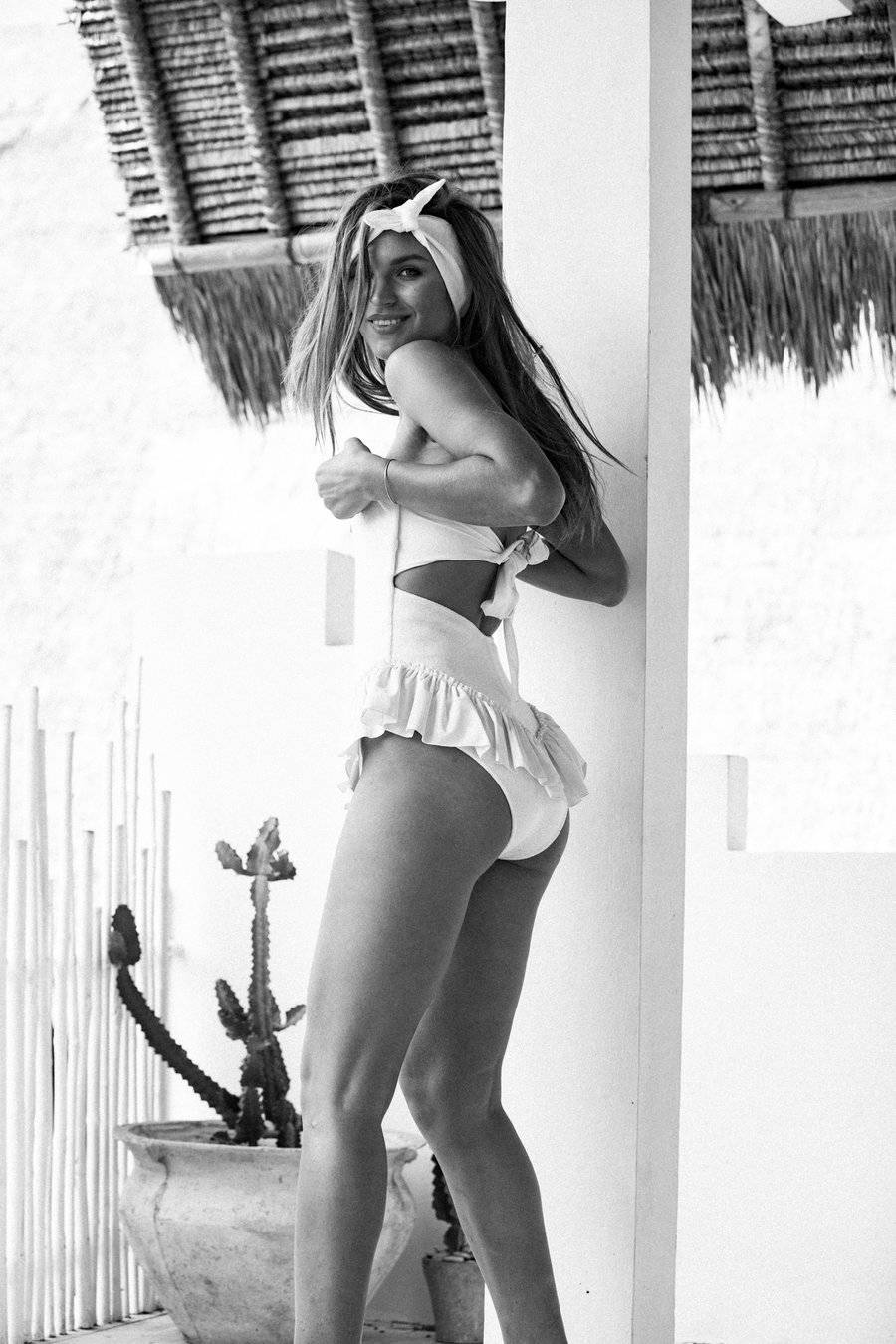 Cute maternity swimwear doesn't necessarily mean that the label has to say "maternity". If you buy high-quality swimsuits and bikinis that were designed and made to last more than one season, you'll be able to wear your swimsuit or bikini of choice without too much hassle. What you choose in the end depends on what you want from a cute maternity swimsuit or bikini. But remember, you shouldn't have to sacrifice style for the sake of comfort. With luxury swimwear brands like Hunza G, Tacoola, and Kiini, you have plenty of options to enjoy a dip in the ocean or pool and still maintain that sexy glow.