| Victoria Zurakowski
Christmas Tablescapes - Because Table Settings Are So 2020
---
Modern Christmas Table Settings Ideas
---
Gone are the days when Christmas table setting is merely setting your table and decorating it with a few random Christmas crackers - it's now an art form that goes by the name of Christmas tablescapes.
Christmas table setting is at a whole new level. But what even is a tablescape?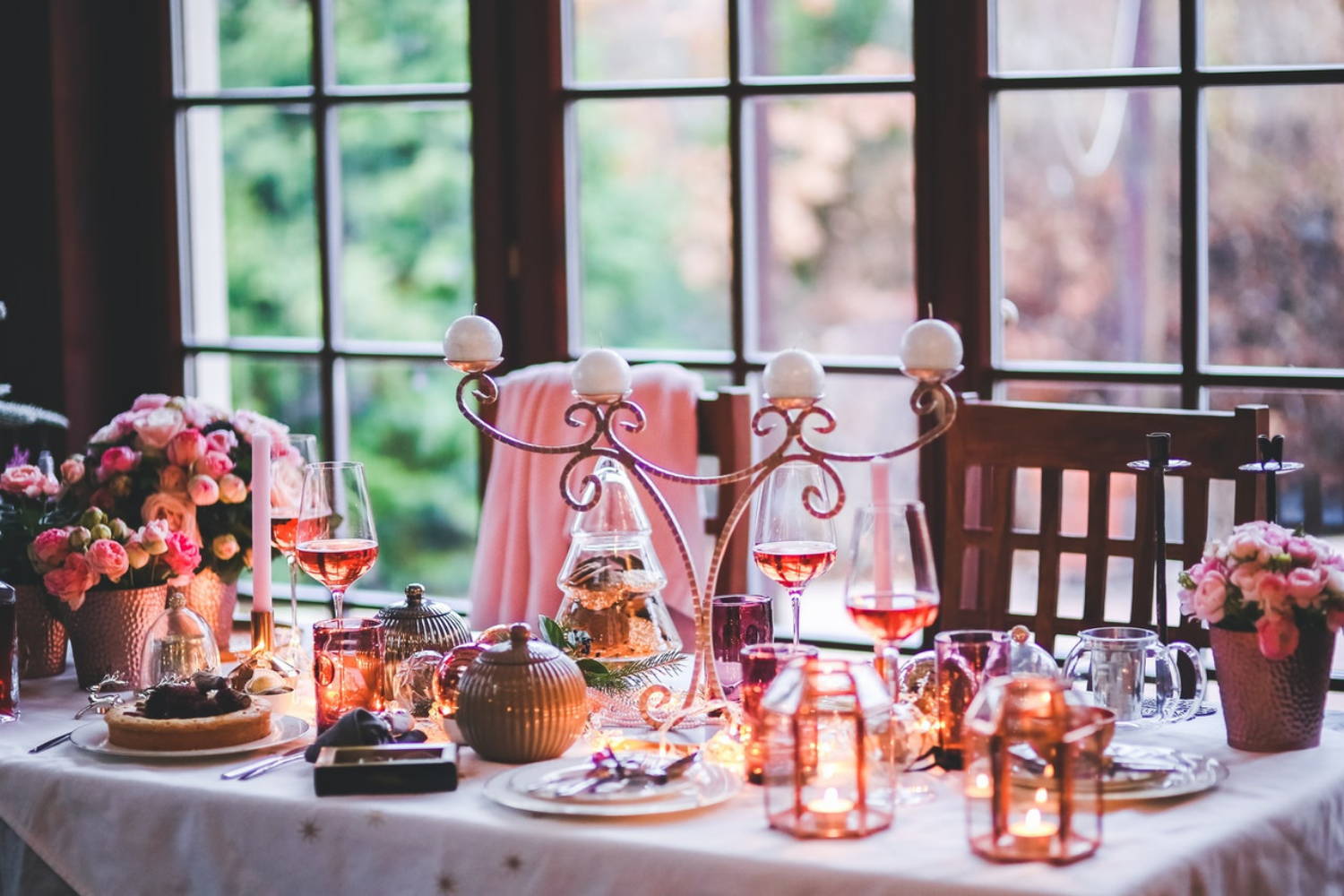 Today, the setting of tables seems to be a lost art. A tablescape has nothing to do with how many forks account for each place and where each one should go. Instead, it relates to the entire process - a process of creative and intentional thinking that allows you to design and create a mood, theme, and experience shared with others on - you guessed it - a table surface. It's a lot more than simply decorating a table.
In many cases, especially during major celebrations like Christmas, people get caught up in cooking, which often results in forgetting how to set the table for Christmas. On the other hand, some people go to the other extreme and get so worked up about the Christmas table decor that their food and cooking become an afterthought. That being said, food will always be the most important thing - your guests aren't ever going to look back at your Christmas dinner and state, "that roast joint was average, but damn, her Christmas table looked amazing!"
You should prioritize good food, but it doesn't mean that you shouldn't put some time and effort into preparing your table. With a little bit of creativity and planning, it's relatively easy to put together an impressive table. And don't let a small budget put you off; in many cases, you can create a modern Christmas table setting with objects you've already got laying about the house.
Lockdown saw more and more people getting on board with creating daily tablescapes. With nothing else to do and nowhere to go, dinnertime became an event - as it should be.
How To Create A Christmas Tablescape
The number one ingredient when it comes to Christmas table setting and creating the perfect tablescape is creativity. Knowing how to do this will give you more confidence when hosting a Christmas dinner or any other event for that matter.
The occasion often dictates the theme and colours, but it doesn't have to be a traditional Christmas tablescape - there are plenty of modern Christmas table setting ideas as well. You have a creative license, so grab a pen and write down or sketch your vision.
Next, you've got to gather your materials. While there are specific Christmassy items to make your Christmas table decor stand out, there are also some staple tablescape ingredients.
Tablecloths don't necessarily have to be of the traditional kind. Depending on the occasion, you can also consider table runners, hessian, Turkish towels, scarves, blankets, or placemats. Table centrepieces act as good talking points and can include candles, branches, flowers, plants, sculptures, mini trees... and any other decorative embellishments you can think of. Other key elements include dishes, glasses, silverware, napkins, and serving pieces.
To create a beautiful Christmas table or occasion tablescape, start with a clean slate and add the foundation. Start with placing your tablecloth and placements on the table. Do you want it to appear smooth, straight, angled, or a little ruffled? There are no rules that state a tablecloth must be perfectly straight or crumple-free.
After adding Christmas tablecloths and runners, it's time to add depth and texture to your Christmas table design. Adding additional elements such as a mixture of small and large plates, wood, greenery, platters, and trays will provide your occasion tablescape with the depth, contrast, and colour you desire.
A Christmas table centrepiece will be your focal point - it's what gets your guests talking and admiring the effort you've put into creating your Christmas table setting. Greenery and natural elements work for rustic Christmas table settings, but for more modern Christmas tablescapes, Santa centrepieces could also work. In short, your Christmas table centrepiece, whether it's a single item or many, should add even more colour, texture, and contrast to your table's theme.
Here are some of our favourite Christmas table setting ideas and tips that will help you level up.
Quite often, abundance is thought to be the key to achieving the perfect Christmas table setting. Yes, abundance can garner more interest, but there still needs to be enough room for your guests to congregate and eat without knocking elbows with their neighbours. Simple festive foilage works a treat - think conifer, ivy, holly, and eucalyptus - when combined with fruit, such as clove-adorned mandarins. To add a little drama to your Christmas meal, add an array of candles or decorative table lights, making sure not to block anyone's eye line.
When it comes to colour, forget the traditional Christmas table setting ideas. While greens and reds are always a safe bet, there's no rule stating you need to stick to them. For more modern Christmas table settings ideas, opt for colours that will make your guests ponder, such as pink. From pink placemats to a line of pink decorative accessories, such as pink flowers, nutcrackers, and cute-looking gingerbread houses - there is so much you can do with non-traditional Christmas colours. This Christmas table setting will be adored by young and old alike - they'll especially appreciate the added effort the heart-shaped candy cane favours on their plates.
Busy Christmas tablescapes also work. This Christmas table design is reminiscent of the Mad Hatter. Add fun to your traditional Christmas dinner with a pop of colour and clashing prints in the form of layered printed tablecloths, runners, and a variety of colourful plates, which don't necessarily have to match. Create a wacky Christmas centrepiece by lining up colourful Christmas nicknacks, baubles, and a naughty elf immersed in a vase full of dried flowers. Christmas dinner has never been so much fun!
If you're looking for classic Christmas table setting ideas, keep your table design simple. Subtle Christmas motifs such as stars work wonders. Opt for a colour scheme that exudes luxury. We love the silver and grey tones that make up this stunning table. Instead of placing the Christmas table runner lengthways, allow it to run through the centre of the table vertically to create the main focal point. With understated accents like crystal candle holders and a few pinecones to add a slight contrast, you'll be able to recreate a luxurious Christmas tablescape with little to no effort.
Oranges have long been a symbol of Christmas. They represent the gold that St. Nicholas tossed into chimneys. So why not learn how to set the table for Christmas based on a Christmas legend? Spend a little time carving patterns into oranges that will act as name cardholders. The bright orange tones contrast beautifully with plain white dinnerware. Compliment your orange accessories with a beautiful floral centrepiece in similar colours. Alternatively, if you struggle with mastering the carving, you could always create Pomander balls with your oranges instead.
We love Christmas, and we believe that if you have gone to the trouble of preparing a grand meal with all the trimmings, you also need to push the boat out a little and create a Christmas table setting to match. Your Christmas tablescape is also an opportunity to get on board the Christmas Instagramming trend, which is something else we love.
Merry Christmas from the SDD team!