| VICTORIA ZURAKOWSKI
The Brand That Made Men's Swim Trunks Cool – Frescobol Carioca
---
Discover How A Brazilian Beach Game Became The Embodiment Of Trendy Mens Resort Wear
---
If you're in the know with men's fashion and beachwear, you've surely heard of Frescobol Carioca – a luxury men's resort wear brand inspired by the Brazilian beach lifestyle, who specialise in men's swim trunks.
Probably best known for its beautifully handcrafted beach bats and its men's swim shorts with fun playful prints, Frescobol Carioca is one luxe label that is indefinably cool and laidback.
At Sand Dollar, this is one of our favourite luxury men's swimwear brands. It's also a firm favourite amongst celebs, including tennis ace Andy Murray, Hollywood legend Leonardo DiCaprio, and fashion photographer Mario Testino.
Frescobol Carioca – The Men's Swimwear Gurus
They say that to be successful in fashion you have to have a passion for what you do, which is exactly what the faces behind Frescobol Carioca have.
Lifelong mates, Max Leese and Harry Brantly have a lot to be thankful for, but it was their passion and vision that set them apart from the rest, which ultimately saw their men's resort wear brand go from strength to strength.
Having recognised serious gaps in the market when it comes to men's beach fashion, more specifically men's swimming trunks, the two fast-acting friends immediately got to work on the inception and brand story.
Brantly and Lesse's story isn't a typical one. With no former experience in fashion or men's swim shorts designing, the two former financiers came to be founders of this now iconic men's beachwear brand in a more unique way – on holiday.
What began as a simple idea, Frescobol Carioca first launched in 2013 selling a small collection of beach bats, which is where the brand took its name. Since 2013, the company has come a long way and has developed into a highly successful global business, which boasts some of the most aesthetically pleasing and sophisticated beachwear for men in the world.
From Beach Bats to Designer Men's Swim Shorts
The evolution of this Brazilian-inspired men's swimwear brand is something out of the ordinary. Brantly, who hails from Brazil, recently explained how he and Leese were on a surfing holiday in France when they first came up with the concept of Frescobol Carioca. He went on to say how their initial product of beach bats quickly spiralled into something much bigger.
Even though it was a surfing holiday, according to Harry, "little time was spent surfing". Instead, the two friends did what most young men did on holiday – they hung out at the beach where they spent a great part of their time messing about with beach bats that Harry had given Max for his birthday.
He went onto explain that the bats and the game they were playing roused "curiosity". Surprisingly to them, people wanted to know more about the bats themselves and the game they were playing. At first, they couldn't understand why, but then they soon realised that they'd introduced the "beach lifestyle from Rio" to the rest of the world.
The duo quickly took to handcrafting beach bats made of sustainable materials, après-beach trousers, linen shirts, and men's swim trunks, all of which took inspiration from Rio's beaches and promenades.
Bringing the spirit of Brazil to other parts of the world is what they inadvertently did. One thing led to another and they recognised there were "big opportunities" to build upon a market, which until then was relatively non-existent – luxury men's swimwear and resort wear.
Inception To Influencers – The Birth Of Carioca's Men's Swim Trunks
The sudden fame of Frescobol Carioca's swimwear for men raised eyebrows. How did this trendy men's resort wear brand see such a meteoric rise in popularity?
Harry explained that it's all about the "attitude" of Frescobol Carioca. With strong family and friendship values, the company greatly encourages spending more time with loved ones, having fun and relaxing – working round the clock is not necessary and discouraged.
The carefree attitude and work ethic at Frescobol Carioca is evident in the dress code – the more casual the better – because, at the end of the day, "you don't really know where your day is going to take you in this industry", Harry explains. This casual approach is then translated and transferred to the company's designs, which features men's swim trunks and resort wear accessories. Not only are the brand's values reflected in the pieces; the company also takes inspiration from other aspects of Brazilian life such as Rio's colonial-style botanical gardens, the works of Brazilian architect Oscar Niemeyer, and Bossa Nova.
From City Life To Beach Life and Men's Swimwear

Starting any kind of business can be daunting, but a men's resort wear brand without any prior experience is on a whole other level.
It didn't take them long to understand that running this kind of business in a highly competitive industry, despite no direct competition in the men's swimwear niche, was challenging. They soon came to understand the grit and knowledge needed to be successful in men's swimwear design, so they went on a mission to seek out the right people for the job.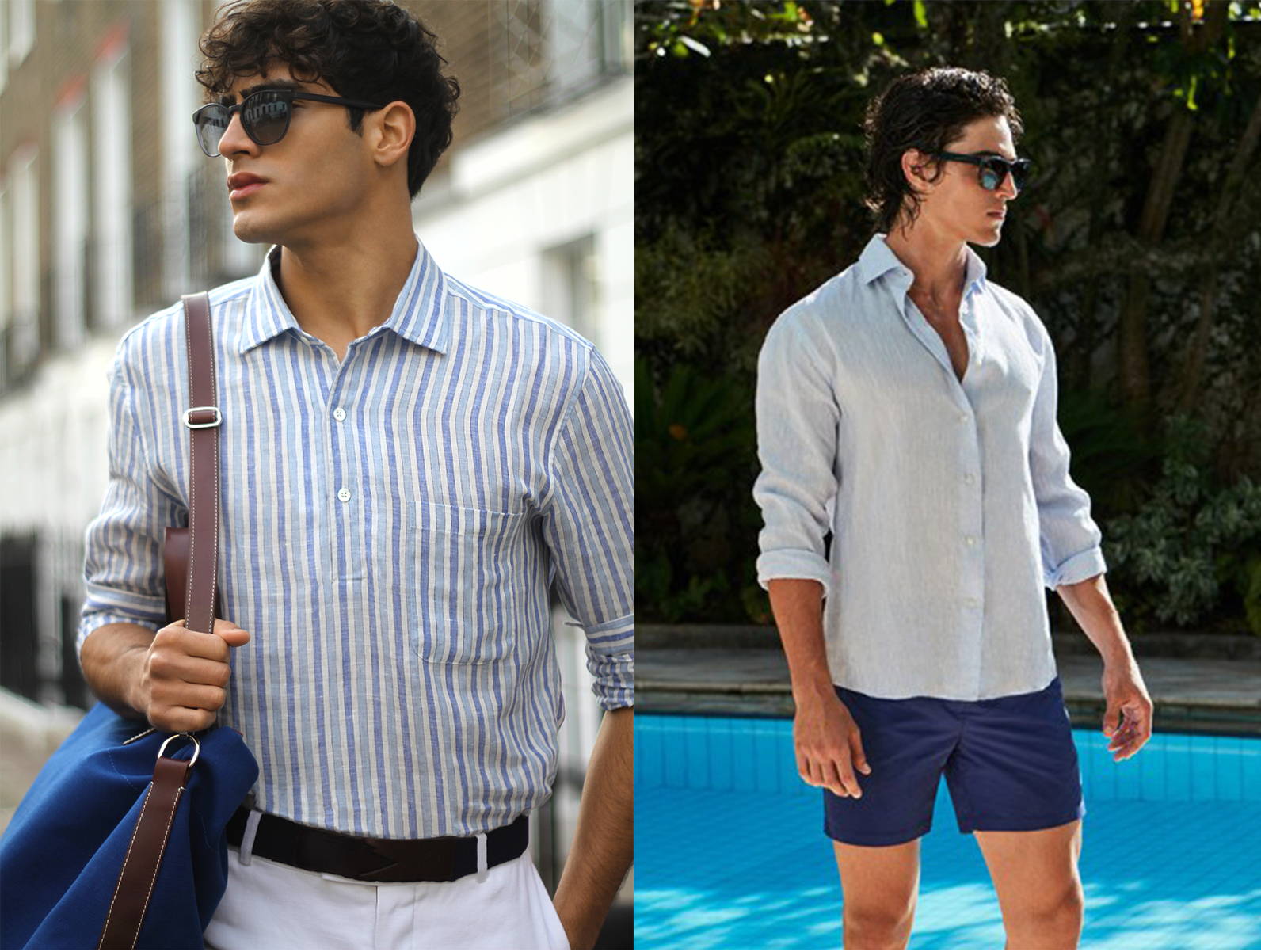 Moving Forward - A Men's Lifestyle Brand With Foresight

As Frescobol Carioca swim trunks and resort wear for men continues to grow, the friends continue to look forward. They're "excited" about developing their range of men's swim trunks further and adding to their repertoire.
Also, a great deal of their business is done online, mostly in the US. But in the near future, the brand wants to branch out and establish both pop-up and permanent stores in the States. Their ambitions don't stop there – with more collabs in the pipeline to add to their current partnerships with Bergdorf Goodman and Barneys, there's a lot more to come.
Surfing is also another major focus of Frescobol Carioca. The brand already designs and creates surf tees, men's swim shorts, and handcrafted wooden boards, so it's only natural to widen the net and develop this area since there's growing consumer interest in surfing and anything surfing related.
There's no denying that Harry and Max were able to achieve something amazing in the men's swimwear niche. To date, one of their greatest achievements would have to be that they've successfully developed an efficacious men's lifestyle brand that people aspire to. They have amazing content, imagery, stores, and staff, but most importantly they have an amazing product. Check out some of our favourite Frescobol Carioca summer outfits for men!
Whether you're taking to the surf or playing racketball on the beach, these multi-purpose designer board shorts inspired by the contoured waves of Rio's coastline are a fresh take on men's swim trunks thanks to the short sporty fit and anti-ballooning technology. Pair with a plain white tee and your favourite sliders for a casual but sophisticated beach look – this is men's resort wear at its finest.
---
As far as men's swim trunks go, these are some of the best men's swimsuits out there. With a distinct boho artsy design, these men's swim shorts are inspired by Rio's Lapa Arches. Versatile, these designer swim trunks can take you from the resort to the street in seconds. Wear a navy linen tee, a pair of dark Brasil sliders, and a classic beige Panama hat to create that laidback look.
---
---
These printed men's swim shorts in light blue boast a zestful print. Perfect for making a splash, these shorts with their colourful grid-like design draw inspiration from one of Rio's most colourful and artistic neighbourhoods, Ipanema. Throw on a coordinating baby blue t-shirt to protect yourself from Brazil's strong rays and be like a Brazilian and wear a pair of obligatory flip flops. To add an extra layer of protection and style to your look, why not don a stylish wide-brimmed hat as well?
---
Men's resort wear shouldn't just be limited to men's swim trunks, which is why these knee-length linen shorts from Frescobol Carioca are ideal for sundowners, early evening restaurant dates, and beach clubs. The epitome of comfort and luxury brought together in one, these multi-pocketed resort shorts made out of fine Italian linen look sharp when paired with a collared button up shirt. Don't forget that the art of dressing well relies upon your aptitude to accessorise – add a pair of dark sunglasses to finish off your look.