| LUCY GIBSON
Lucy's Travel Diaries – Half Term Holidays in Kuramathi, Maldives
---
Exploring Travel, Accommodations, Restaurants & Activities From My Latest Holiday in Kuramathi, Maldives!
---
Flying over the Maldives and looking down onto that crystal-clear water that looked like blue dye had been poured into it was all I needed to see to remind myself that I was on holiday. It was unbelievably magical!
Immediately, I felt the tension in my shoulders disappear. I could finally relax, and trust me, there's no better place in the world to do it than in the Maldives.
I think when anyone conjures up images of the Maldives, they ultimately envision paradise, and they're not wrong. Deserted beaches that span for miles, luxury treehouses with refreshing sea breezes, and snorkelling in some of the cleanest waters you'll ever lay your eyes on are just a few pictures that come to mind. The Maldives, to me, is idyllic, and this is where I love to get away from it all and enjoy my escapist fantasy.
I've only been back about a week or so, but as I type this up, I can't help but replay my one-week stay in Kuramathi, Maldives, and I'm already mentally planning my return!
Kuramathi, Maldives – A Holiday Suited for the Whole Family

The Maldives is made up of around 1200 islands, and approximately 200 of these are inhabited. We chose to visit Kuramathi, Maldives, which is one of the 5 intimate islands in the Rasdhoo Atoll. Kuramathi suited our needs well. It offers an authentic Maldivian holiday experience, but it also has some unique aspects that suited everyone in the family.
So many people have asked me what kind of holidaymakers should visit Kuramathi, and my answer is the same every single time – anyone! We were seeking quiet and quality family time together with plenty of activities for the kids, but I'd also highly recommend it for a romantic getaway destination.
When you visit Kuramathi, you get to discover the Maldives at its very best! You can sit back and relax, make yourself at home (which we most definitely did), and enjoy the stunning island, the welcoming hospitality that the Maldives is known for, and the diverse facilities.
Anyone who lives in Dubai can relate when I say that it's necessary to unplug and escape the hustle and bustle of Dubai life sometimes, which is why visiting the Maldives is the perfect option.
With 4 flights a day with Emirates Airlines from Dubai to the Maldives capital Malé and a flight time of only 4 hours and 10 minutes, visiting any tourist island in the Maldives is easy.
We flew into Malé International Airport, which was convenient, as Kuramathi is only 56 kilometres west of it.
Since Kuramathi is a private island resort in the Maldives, the only way to get there is by boat or seaplane – we chose the boat, after all, we had already spent several hours on a plane and we were keen to feel that wind in our hair.
When it comes to boat travel from Malé to Kuramathi, you have the choice of taking the Kuramathi resort boat or hiring a private boat, which costs approximately $800. We chose the private boat option. While it does seem a little on the steep side for just a 1 hour and 10-minute boat ride, it was, in my opinion, money well spent, as there was a two-hour wait for the Kuramathi resort boat. And because we were so eager to get our holiday started, it just seemed like the right thing.
Another bonus about hiring a private boat to Kuramathi meant that we also managed to beat the crowds and check in earlier than anticipated.
Kuramathi, at first sight, exceeded my expectations. The verdant island with its luxuriant vegetation left us all a little bit speechless. And as for those spectacular beaches that seemed to taper into one endless sandbank, I don't have enough adjectives to describe its beauty.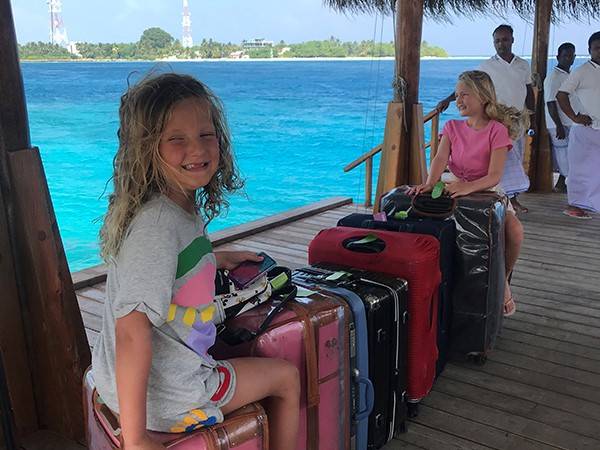 Maldives Resort Kuramathi

Kuramathi Maldives resort is an all-inclusive island that includes 360 air-conditioned rooms, which was great for us. It meant that we didn't have to think about anything the entire time and we could totally unwind.
Private guest villas and bungalows are dotted about the lush gardens and look out on to quiet sprawling beaches.
Even though we were on a remote island, it had all the mod cons, including iPod-docking stations, LCD TVs with cable, and complimentary wireless Internet. Each room also had its own private balcony or patio, which was lovely for evening cocktails.
Depending on your Kuramathi Maldives package will dictate what your private beach villa will come with. There are several villas and bungalows with some extra-added luxuries like private pools and Jacuzzis.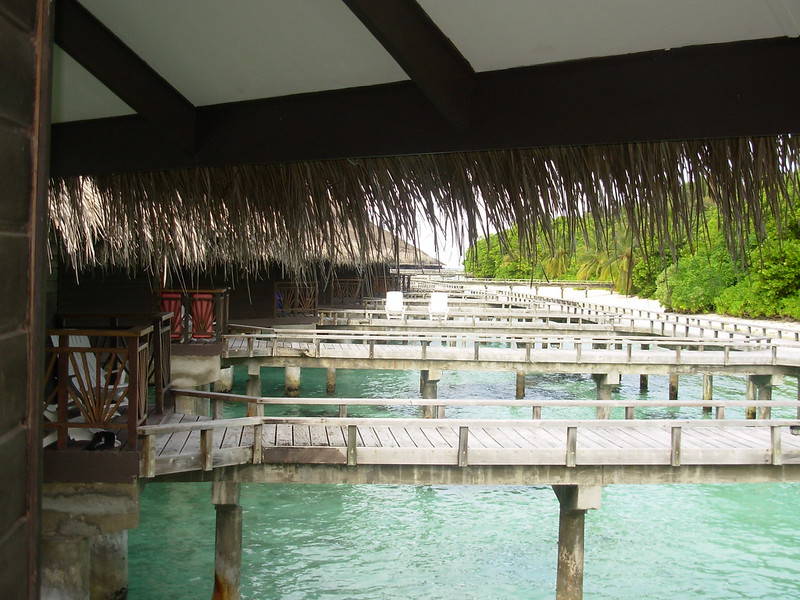 Even though the island is relatively small, Kuramathi has ten restaurants to choose from, so you can imagine we all indulged, which is what holidays are all about in my opinion.
It's really hard to say that I loved one restaurant more than the other because all of them (and we did try most) served delicious dishes using high-quality fresh produce. But if I had to choose, it would be Kobe, which offers a unique teppanyaki culinary experience and has a mind-blowing selection of sushi. The only thing about this particular restaurant is, because of the nature of cooking teppanyaki, it can't accommodate special dietary requirements due to the risk of cross-contamination. If this is the case for you, don't worry, as the other restaurants are just as amazing.
For a taste of Thai, I also recommend Siam Garden, which is an amazing restaurant hidden amongst the abundant vegetation. The wide variety of dishes, the delicious Thai fruits, and the impeccable service all make Siam Garden worth visiting at least once. And if you're a Thai novice or just love Thai food and don't want to be restricted to just a few dishes, you can always check out the "Discover Thai Food" buffet that's held once a week.
Although we didn't try it this time around, the private dining experience looked amazing, and it's something I'd definitely consider next time we go on a childfree holiday. I'm told the menus often change, but when we were there, there were options of a 5-course lobster dinner, a 4-course candle-lit romantic dinner, and a Chinese hot pot meal.
All the restaurants cater to children above the age of 6. The girls loved the Palm restaurant, which had an eclectic array of pizzas; but it wasn't the pizza that made them beg us to go back there a few times, it was the ice cream bar. I'd have to agree with them that the ice cream bar alone was worth visiting. It featured homemade ice cream and had a mix of the old classic and other more exotic flavours. We all loved building our desserts with sauces, toppings, and homemade ice-cream cones that were made then and there in front of you.
One thing Kuramathi is not is a boring island – there's so much to do. We spent a lot of our time swimming and snorkelling, which was out of this world thanks to Kuramathi's impressive house reef. We didn't have to buy any equipment either, as snorkels and masks were provided for the entire week when we checked in. One of the highlights of snorkelling in Kuramathi, after I got over my initial fear, was swimming amidst the friendly sharks. It's definitely an exhilarating experience!
Other water activities that you can take part in are boat trips, wakeboarding, deep-water diving, windsurfing, surfing, waterskiing, and kayaking. The kids also had a lot of fun on the banana rides and tubes.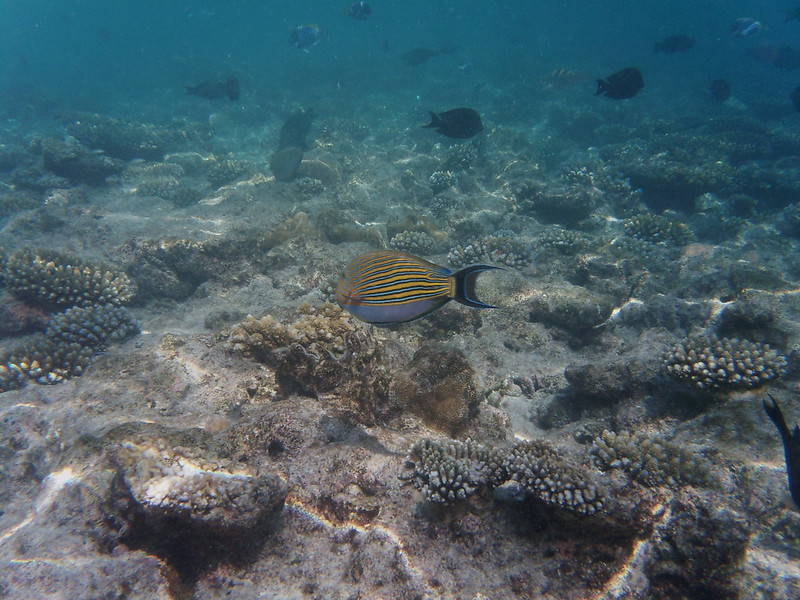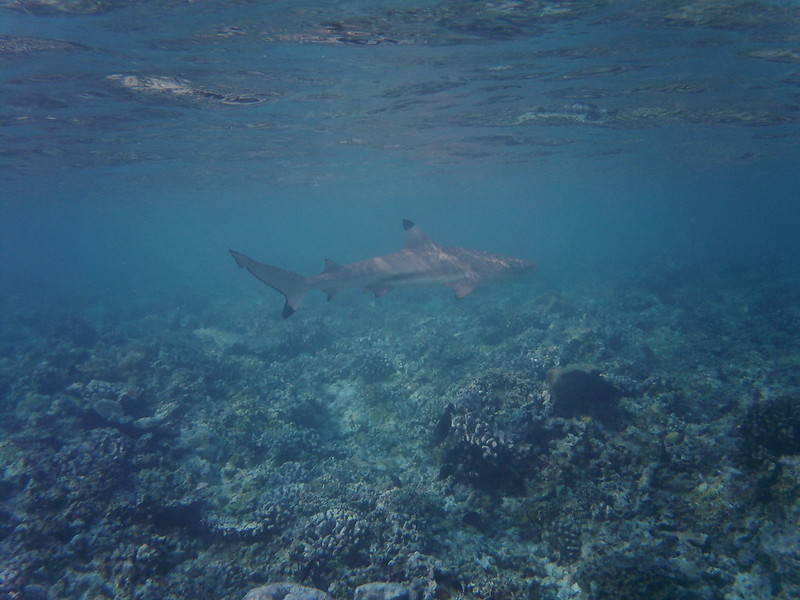 Best Time to Visit the Maldives

Visiting the Maldives is always a good idea, well I think so anyway. During our stay we had perfect weather. There were no storms, no rain, and the average daytime temperature was around 28°c, which was just right for us. The water temperature was also lovely and averaged around 25°c.  
The temperature in the Maldives is pretty consistent all-year-round and typically ranges from 25-30°c. Even though the temperature in the Maldives is gorgeous throughout the year, there is a wet season, but the peak season for visiting is between December and April when it's drier and less windy.
Being the owner of a luxury beachwear company definitely has its perks when going on these kinds of holidays. At Sand Dollar Dubai we've had so many exciting new bits arrive, and as you can imagine I was keen to try out as many as possible (basically any excuse). Here are a few pictures of some of my (many) favourite Maldives fashion moments.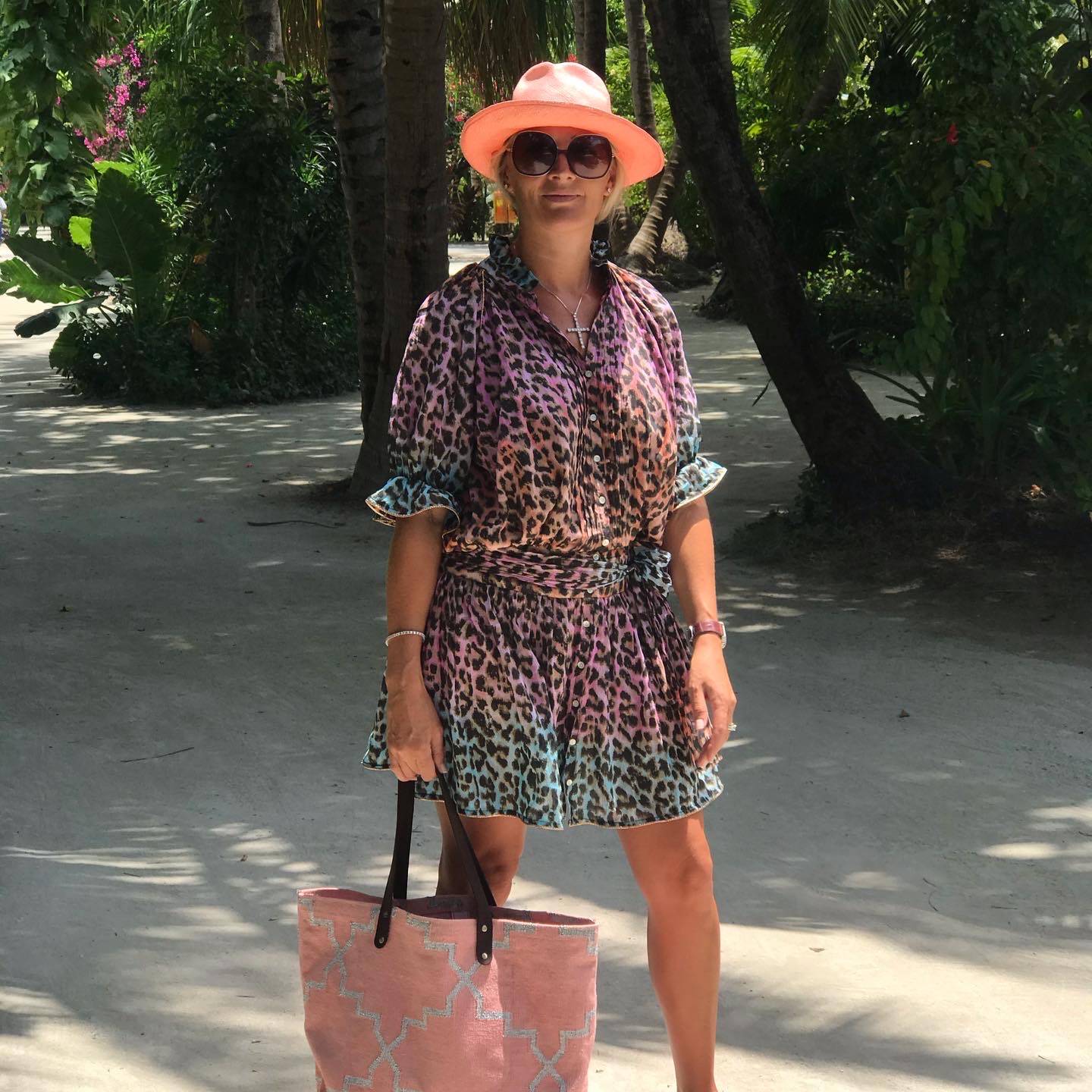 I adore this multi-coloured animal print tunic dress from Juliet Dunn. It was light and airy, perfect for the warm Maldives temperatures. It's also bang on trend with the print and bold colours. I teamed mine with a classic Panama hat in pink to complement the dress and protect my skin. My pink beach tote with silver Moroccan pattern detail from Pushpanjali has become my go-to bag thanks to its sheer size – it's also pretty stylish.
Here I am walking with my daughter, Connie, and despite not meaning to match each other, we do it quite well with these pink outfits. I'm wearing one of my favourite Pitusa beach cover ups in Tie Dye. This was so easy to throw on over a bikini and it also made for a casual resort wear dress when we had lunch and coffee breaks. Again, I'm wearing my pink Panama hat and rocking my Pushpanjali beach bag.
Even though the temperature in the Maldives is nowhere near as high as Dubai's hottest months, I still encourage my daughters to be sun smart, especially when swimming, which is why I love this long sleeve one piece swimsuit in baby pink leopard print from Tori Praver.
If you haven't already, I 100% recommend visiting the Maldives, especially Kuramathi. The photos really don't do this haven any justice, so you're going to have to go and check it out for yourself.
Be sure to sign up for our newsletter so I can share my next travel adventure with you!
xoxo
- Lucy