| Skylar Black
Step Inside The Dreamy World Of Poupette St. Barth
---
Our Favourite Summertime Dresses From Poupette St. Barth
---
Poupette St. Barth is one of the hottest luxury womenswear brands on the market, creating light, feminine pieces specifically designed to foster freedom and comfort. From flirty summer co-ords to ditsy floral summer dresses, the fun bohemian prints evoke the image of an independent, elegant woman whose beauty is truly timeless.
We wanted to get to know this dreamy brand a little better, so we're diving deep into their history and their values to get a better look into the creation of our favourite summertime staples.
Like many adventure films and cherished memories, it began with an island. Specifically, it started with Saint Barthélemy, a beautiful tropical paradise in the French Caribbean. In 1979, Monique Giraud, carrying her childhood nickname of Poupette (meaning "little girl" or "little doll"), visited the island for the first time and instantly fell in love. She would later call the island her "source of vital energy." As time went on and she got to explore more of the world's most beautiful islands, particularly Bali, these influences would show up in her work.
Poupette St. Barth became a reality in 2000 when the first shop opened in the town of Gustavia on Saint Barthélemy. Since then, the brand has enjoyed tremendous success, opening two ateliers in Bali and Java and additional boutiques in France, the United States, and Greece.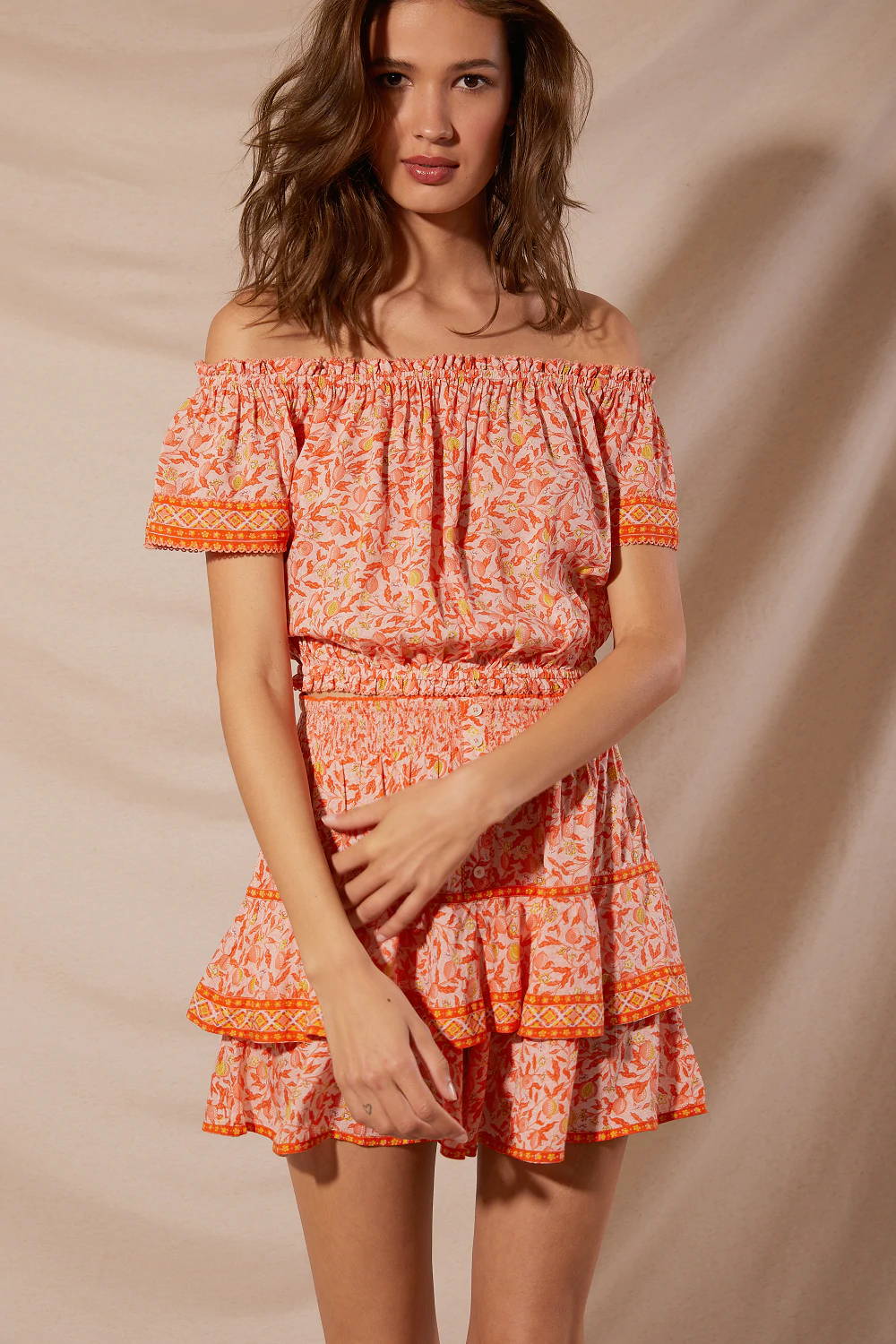 The Vibe: Feminine and Totally Free
Inspired by the lightness and purity of St. Barth and other islands worldwide, Poupette St. Barth's designs combine a sense of elegant playfulness with effortless wearability. Each of their patterns is custom-designed for the label. Each collection is anchored by four main prints that create what Poupette St. Barth refers to as "visual rhythm" - floral, geometric, conversational, and batik. No matter who you are or your aesthetic, you'll find something you can't live without in their catalogue.
Alongside their beautiful, energetic prints, each piece contains delicate details that add a unique flair. The label uses a blend of high-tech and artisanal techniques to create fun finishing details like trims, hand embroidery, tassels, and pom-poms.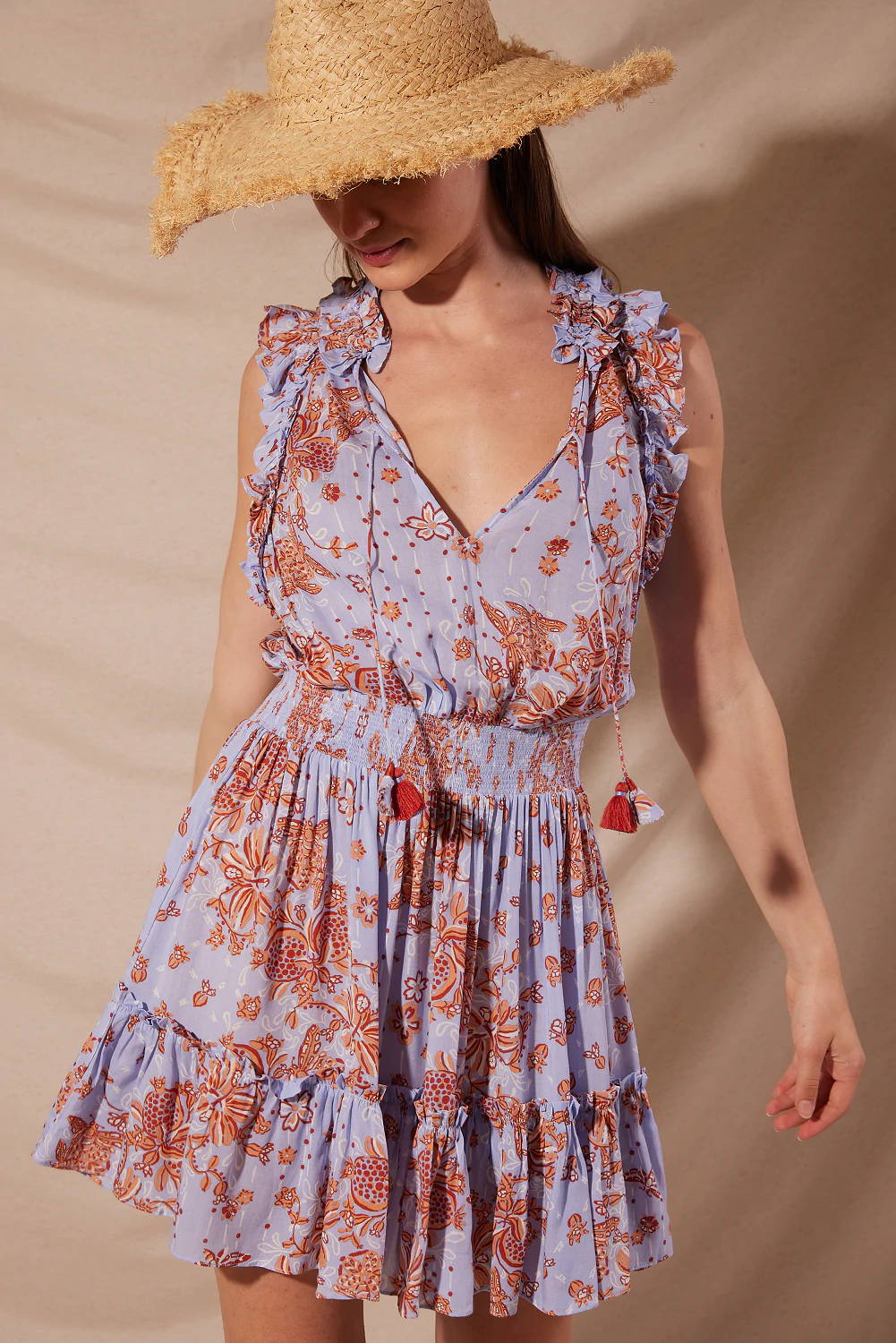 And the best part? They're all designed to be as comfortable and simple to wear as possible. No zippers or buttons, soft fabrics, and designs that allow for freedom of movement and comfort no matter where you are or what you're doing. These values also translate into Les Petites Poupettes, the Poupette St. Barth kids line for ages 4-12. These adorable pieces are Poupette St. Barth in miniature, allowing mothers and daughters or pairs of sisters to buy matching sets of the label's best pieces.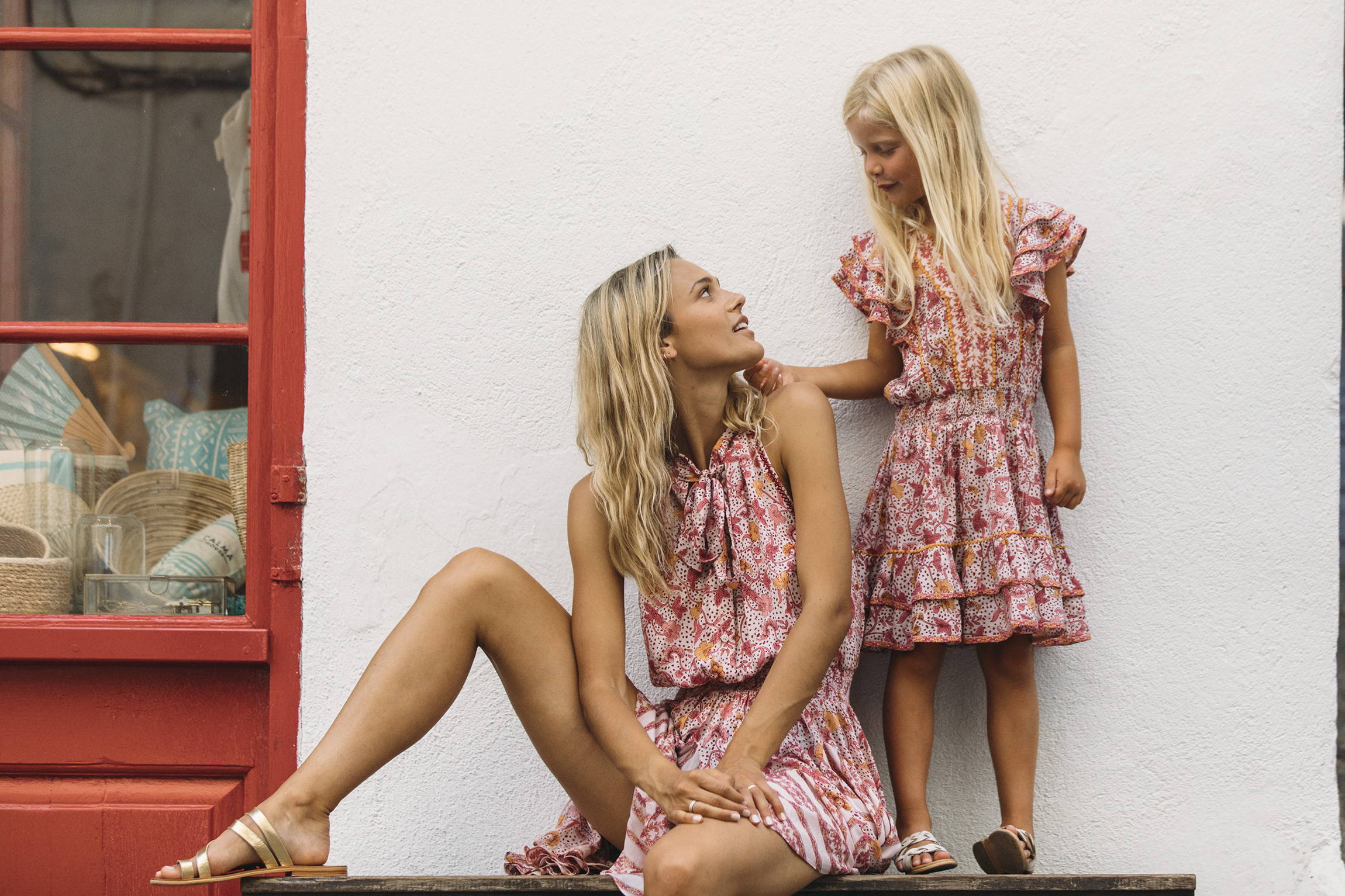 The most unique thing about Poupette St. Barth is that each and every piece is handmade. They don't just add handmade details or hand-make their showroom pieces - whether you're wearing a Poupette St. Barth dress or any one of the Poupette St. Barth sets, it's been lovingly crafted by an expert seamstress and a team of embroiderers at one of their two production sites in Indonesia.
People have always been at the heart of the brand for Poupette St. Barth. They're dedicated to creating all of their pieces in-house and providing top-notch training and opportunities for their artisans, many of whom have been with Poupette St. Barth from the very beginning.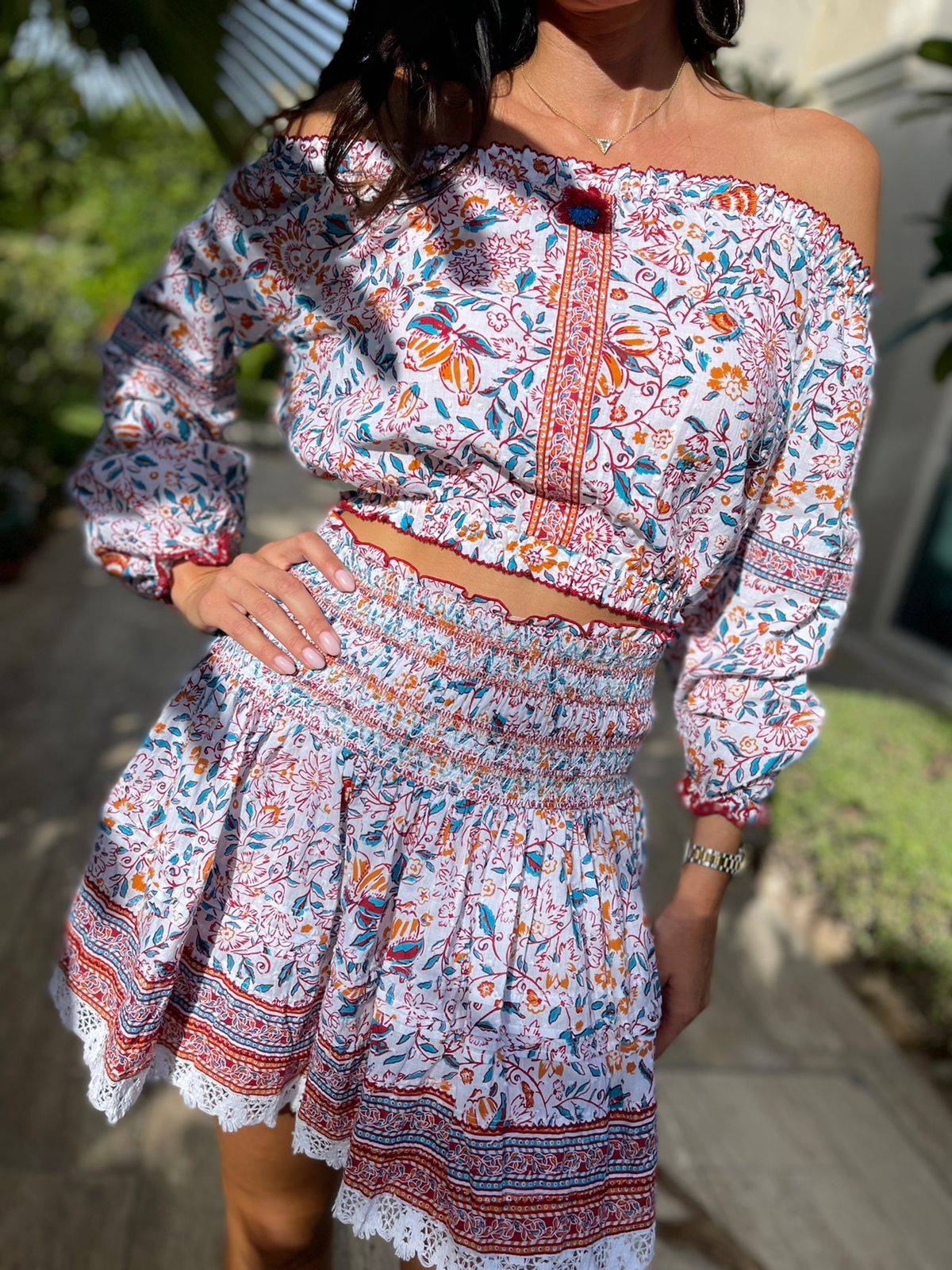 They're giving back to the communities where they operate by supporting and uplifting their employees and helping them fulfil their potential while simultaneously setting the gold standard for workplace ethics amongst fashion brands. In an industry where we can't always trust that the people who make our clothes are being treated well, Poupette St. Barth offers a comforting guarantee that the well-being of their employees and artisans comes first, no matter what.
If we weren't already madly in love with Poupette St. Barth for treating their people like gold, they also extend that same love to our planet. Many pieces in the collection are made from viscose, which is typically made from wood pulp. Poupette St. Barth exclusively uses Lenzing's EcoVero, which creates its viscose fibre from certified renewable forests and manufactures it in a process designed to minimise the environmental impact of water consumption and carbon emissions as much as possible. And the end result is still the same light-weight viscose that we all know and love.
On top of that, Poupette St. Barth has optimised the packaging they use for their e-commerce store - their boxes are reusable and eco-friendly, and their inks are plant-based. They've significantly reduced the amount of paper required for shipping, even providing a QR code to eliminate the need for return forms.
And they're not stopping there - Poupette St. Barth is constantly forging partnerships with eco-friendly projects and implementing new techniques to reduce waste and give back to the planet. They never throw out or destroy unused fabric or unsold products - they're constantly finding ways to give these things new life and reduce fabric waste in every way possible. In recent years they've established partnerships with One Tree Planted, a program focusing on the reforestation of Indonesia, and with Ocean Consistency to help protect our delicate ocean ecosystems.
Our Favourite Poupette St. Barth Pieces
We can't let you walk away from a brand feature without telling you which pieces we're loving this season, so here they are! All of Poupette St. Barth's designs are breathtaking, but a few stand out for us.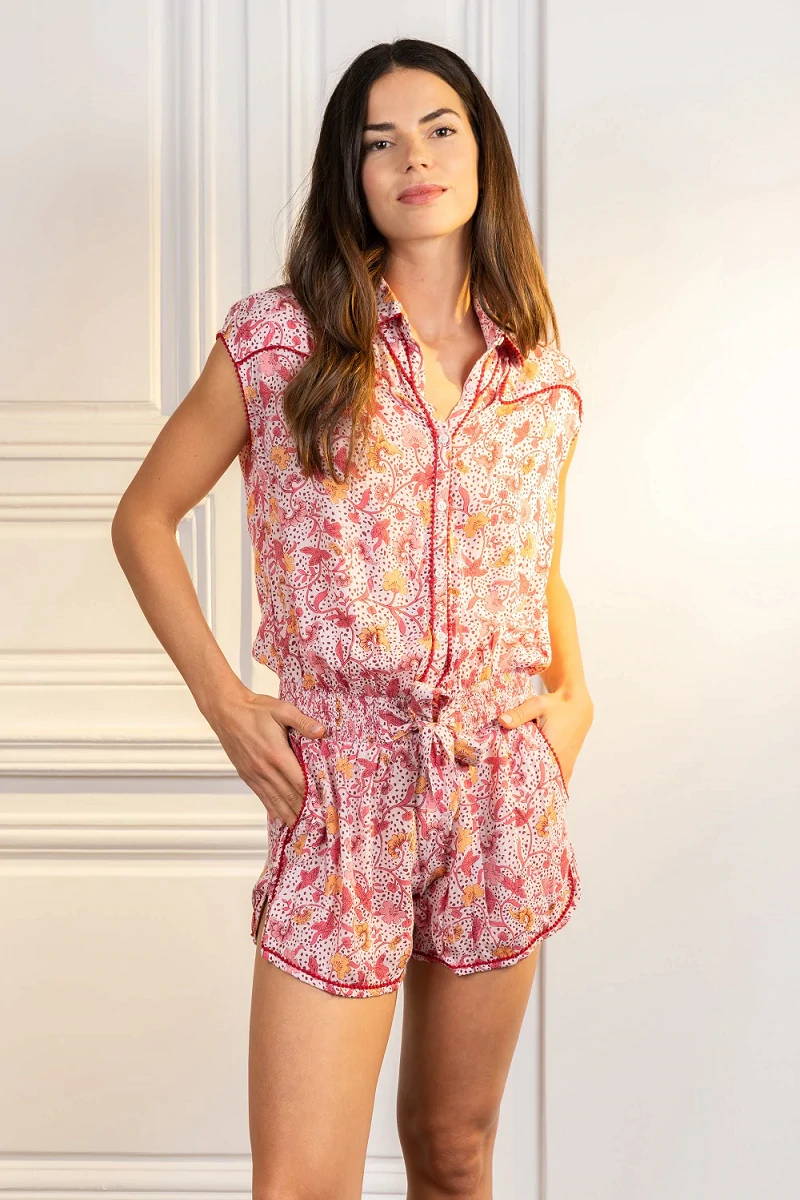 The Margot Short Jumpsuit caught our eye because of the delicate, fanciful print, but the longer we look at it, the more we're in love. The jumpsuit is cut to create a loose, relaxed silhouette without looking too slouchy, and the smocked waist adds just enough definition to keep your look refined. We love the small pom-pom details along the seams and cute bow at the waist - this jumpsuit is the perfect whimsical addition to your suitcase.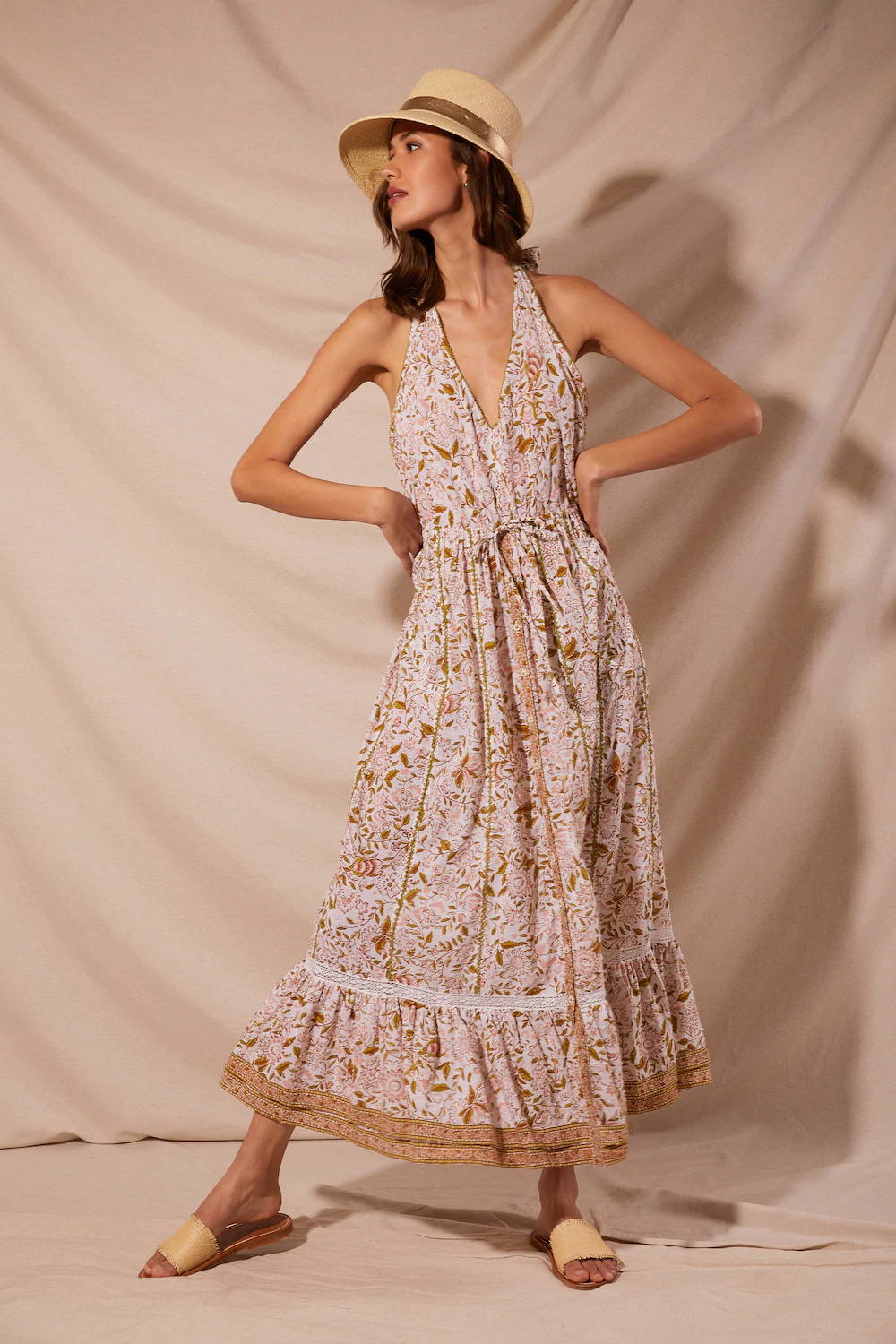 We highly recommend the Carine Long Dress if you want to add elegance to your beachside wardrobe. The print for this design is more subtle than the one on the Margot Short Jumpsuit, but the delicate botanical details and layers of colour on this Poupette St. Barth dress are absolutely breathtaking. The backless design keeps the vibe flirty while still giving you coverage and support, and this piece can easily be dressed up or down for a day at the beach or a night on the town.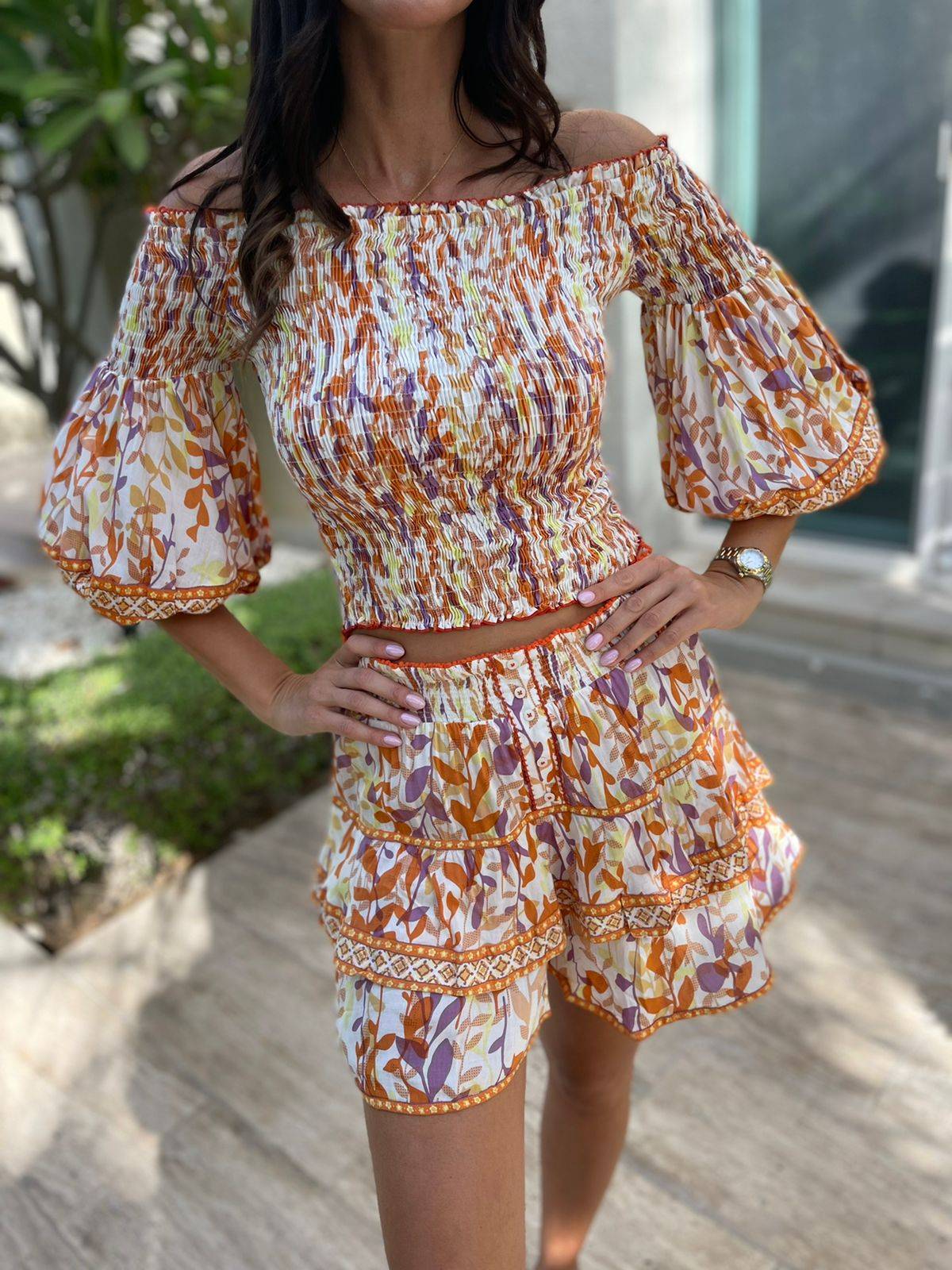 And if you're in the market for fun summer co-ords, we fell in love with the Ariel Top and Camila Skort. The set features a bright, fun print that offsets yellow and orange tones with pops of purple to create a wonderful visual contrast, and the details add in a little bit of geometric print for a truly unique feel. The Ariel Top is a trendy off-shoulder piece complete with a smocked bodice that will hug your curves without making you feel constricted or compressed. The Camila Skort is the perfect combination of form and function with built-in shorts underneath a cute ruffled Poupette St. Barth skirt. The elasticated waist makes it effortless to slip on and off. The pieces can be worn together or separately, but they're must-haves for your summer 2022 wardrobe.