| Victoria Zurakowski
How to Wear a Kaftan
---
7 Ways You Can Wear and Style Your Kaftan
---
The seemingly humble kaftan dates back centuries, and its wearability spans the world, with people either adopting the kaftan as a traditional form of dress or wearing kaftan dresses or beach kaftans simply for fashion purposes.
Today, kaftans aren't only limited to Muslim attire. They've grown in popularity in the West too. Kaftans make for the best beach and resort fashion outfits, thanks to their comfort and functionality.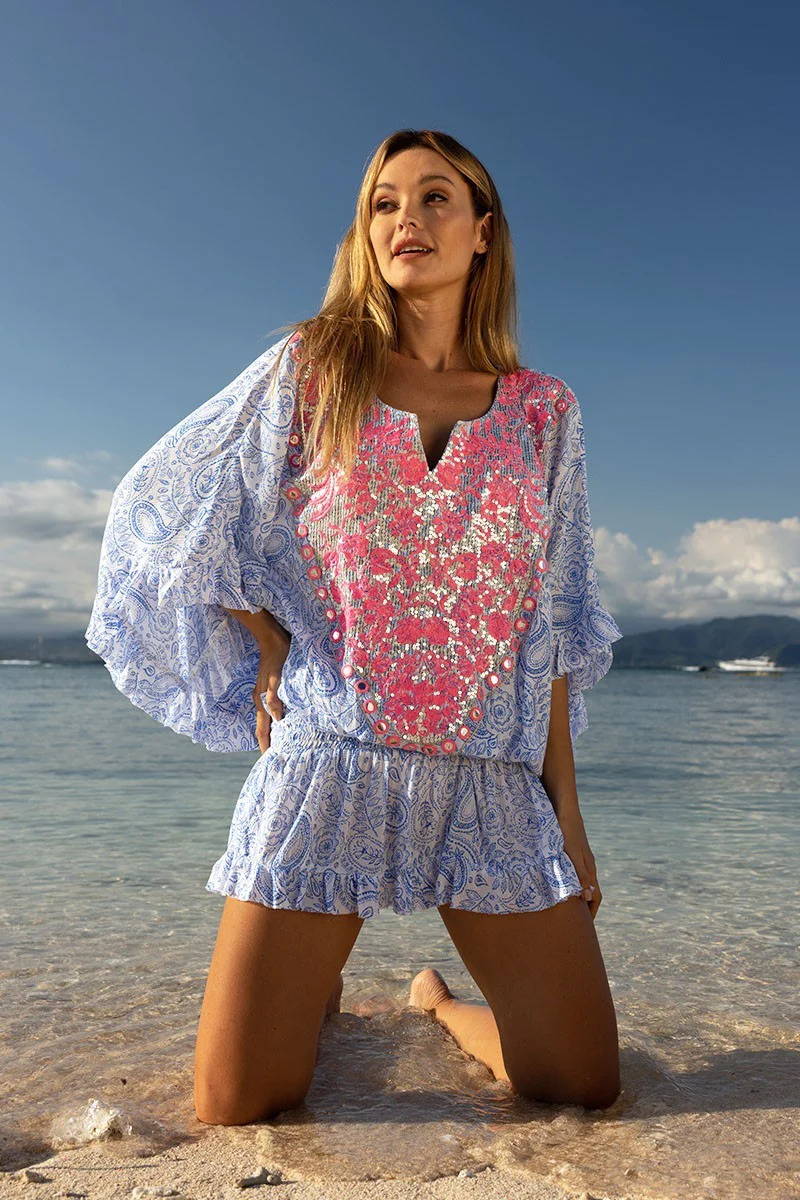 Coming in every design and colour imaginable, kaftan fabric differs depending on whether you're wearing a kaftan dress or a beach kaftan. Beach and resort kaftans are typically made of a lighter, more sheer fabric, while other occasion-kaftans tend to be slightly heavier and are often made of silk. For the most part, Kaftans are free-flowing, worn loosely, and come in varying lengths and cuts.
Women love wearing kaftan dresses and beach kaftans for many reasons. They're uber glamorous and instantly lift your style game. They're also very forgiving, concealing any lumps and bumps. When cinched in at the waist with a belt, they do wonders when it comes to emphasizing your curves.
At Sand Dollar, we can't get enough of kaftans - we just love them! We're also proud to be one of the few kaftan shops in Dubai. But how do you wear a kaftan? Is there more to the beach kaftan than meets the eye?
Here are 7 ways you can wear and style your kaftan, which will help you create unique looks each time.
Have you been wondering how you can take your beach kaftan and transform it to street cool? The answer is easy - all you need is a belt! For hourglass and straight figures, a belt creates a more defined, shapely figure. A simple belt can dress up a kaftan. And when paired with black shoes and classic black accessories like a wide-brimmed hat and a matching tote, you can create a beautifully curated look.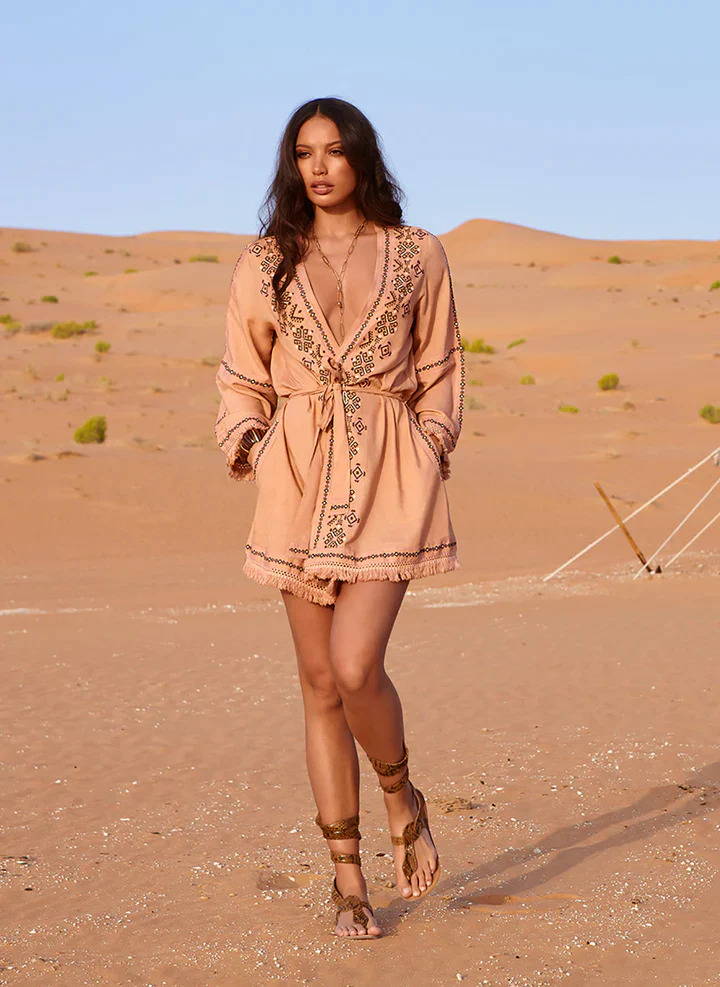 So, you want to wear a kaftan dress for a special occasion? There's nothing more comfortable. While there are embellished kaftans to choose from, we believe in dressing up a kaftan, thus allowing you to have more freedom in the future when you want to wear it again. This is where the power of jewellery comes into play. Layering multiple necklaces and breaking the jewellery 101 rule by wearing earrings, rings and necklaces all at once is what you need to do. Also, choose wedges over heels and a chic pair of dark oversized sunglasses to level up.
The beauty of a kaftan is that a kaftan dress can be dressed as formally or informally as you like. If you're looking for something in-between and want to keep it smart casual, try layering a bright-coloured kaftan over a pair of fitted white pants or jeans. Kitten heels check, tote check, and some understated jewellery check - you're all good to go! And the best thing about this outfit is that it's going to take you from the office right into the bar for evening sundowners.
Pool parties are hard - getting the right mix between formal and casual is hard. But when it comes to wearing a loose kaftan dress with oversized sleeves, you'll not only feel cool and comfortable; you'll steal the show as well! Instead of wearing a belt to cinch the garment in at the waist, take a hair tie or small rubber band and bunch the material from underneath, creating a unique ruched kaftan dress style. Nothing says a pool party more than a beautifully styled kaftan, a pair of embellished sandals, layered jewellery, and some dark sunglasses.
Is there anything more romantic than catching some sun and lounging around onboard a boat in a kaftan? Pastels, prints, open-toed sandals, and oversized bags are a match made in boat heaven, and this combination is an instant mood lifter.
There ain't anything wrong with putting some shoulder into your look by positioning your kaftan dress or top slightly to the side of your shoulder - in fact, there are some styles that are made to be worn this way. Showing off your décolleté evokes images of femininity. If this is something you want to explore further, how about taking one more step with a one-shouldered kaftan? Channel your inner J-Lo with a sleek updo and some statement earrings.
Whether it's a short or long kaftan, if you're going for a glam look, smaller clutch bags work better to juxtapose and add balance to the oversized nature of kaftan dresses. From enjoying a leisurely brunch with the girls to wearing the most exquisite kaftan to an evening charity event or hanging on a luxury yacht for the day, there's a kaftan look for every woman and occasion.
If you're looking for something special or just a beach kaftan, pop in to see us and say hi. We're one of the kaftan shops in Dubai that has what you're looking for!