| Victoria Zurakowski
Best Christmas Card Messages For Your Christmas Cards in 2021
---
Discover Our Favourite Christmas Cards & Matching Christmas Quotes
---
Can you believe that Christmas is just around the corner? We can't! But frankly speaking, we're even more excited than ever. Because after what can only be described as the year from hell, we need a reason to celebrate. It's quite possible during your lockdowns and quarantine periods you've done the bulk of your Christmas shopping online in Dubai, but what about your Christmas cards? 2021 Christmas celebrations are going to be quite different, so why not add some more Christmas cheer by sending Christmas greeting cards to your nearest and dearest?
"I heard the bells on Christmas Day / Their old familiar carols play / And wild and sweet, the words repeat / Of peace on earth, good-will to men." – Henry Wadsworth Longfellow
In the last decade or so, the amount of Christmas greeting cards being sent plummeted to record lows. People weren't sending them for a lot of reasons. The biggest reason for the drop was because e-cards took over traditional Christmas cards. 2021 has seen a massive shift. Last year the American Greeting Card Association (yes, that's a real thing) reported that approximately 1.6 billion Christmas greeting cards were sent and it's predicted even more will be this year.
Over the last twelve months, the majority of us have been separated from our loved ones. While FaceTime calls and Zoom meetings dominated our lives, it was a far cry from normalcy. Christmas 2021 is the perfect way you can reconnect with people and wish them "Merry Christmas!" in a more substantive way. Read on for our favourite Christmas messages for 2021!
2021 may see the resurgence of Christmas Cards but how did Christmas cards even come to be?
The History of the Christmas Card
The first-ever written record of "Merry Christmas" wasn't in a card, it was in a Christmas letter back in 1534.
So what about the first Christmas greeting card? Well, that can be credited to King James I of England in 1611. And what about the Christmas card message inside? It included a song and four poems!
The practice of sending Christmas greeting cards began in 1843 when a civil servant in England, Sir Henry Cole, who worked for what is now known as the Post Office wondered how the average person could access the government service and use it more.
Sir Henry came up with the idea of Christmas greeting cards. He collaborated with his artist friend and designed the first-ever Christmas card, which they sold for 1 shilling each. Their first Christmas card design did cause controversy, however, as it showed a child being served wine.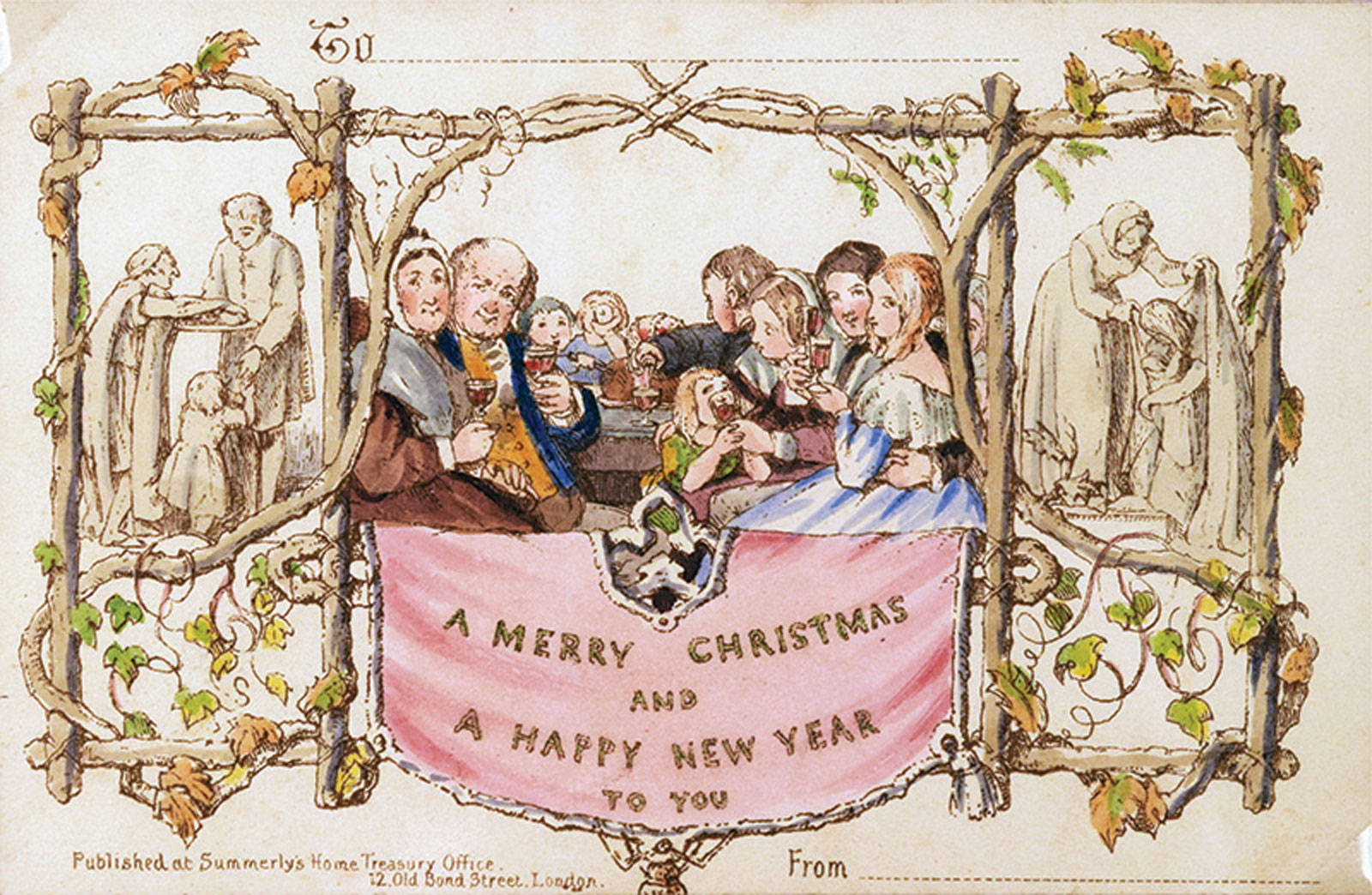 The first UK postal service for the general public began in 1840. Thus allowing friends and families to exchange letters, which of course included unique Christmas cards! And thanks to the invention of the train, this meant that loved ones were able to get their Christmas greetings sent further and faster. Across the Atlantic in the US, traditional Christmas cards were also becoming popular, but the high costs meant that sending them was still limited to the wealthy.
During the 1860s and 70s, printing methods improved, allowing many people to wish one another "Merry Christmas" via cards. It didn't take long for Christmas cards to take off across Europe. Over the next few decades, people were soon spreading their Christmas love more, which was when homemade Christmas cards first began to make an appearance.
Today, Christmas greeting cards are ubiquitous. And, there are Christmas cards for every occasion. From your traditional Christmas cards to romantic Christmas cards to personalised Christmas cards to funny Christmas cards, there is a holiday greeting card for everyone.
At Sand Dollar Dubai, we recognise the importance of connecting with family and friends over the festive period, especially this year since many of us haven't been able to see our loved ones face to face.
Quite frankly, we're over Zoom calls, emails, SMSs, and digital greeting cards. We want to bring back the personal touch of Christmas greeting cards, and there are so many reasons why.
Sure, we can send auto-generated digital Christmas cards. And, of course we can write a lengthy annual Christmas email. But who wants to do that? This is about as generic as it gets and it lacks the tangible emotion that is so palpable with the feel and smell of classic Christmas cards.
It's time to bring back that personal touch for 2021. And sending Christmas cards is the perfect way to do so - it's a way of showing that people mean something to you. Also, your Christmas cards in 2021 will allow you to share something meaningful and important.
Traditional Christmas Card & Classic Christmas Messages
Classy and elegant, simple and refined, this Noel Christmas card for 2021 in silver is a timeless Christmas greeting card for all. Here's a fun 2021 Christmas fact for you - the word 'Noël' is derived from the Latin verb 'nasci', which means "to be born". Even with its subtle religious undertones, this greeting card for Christmas can be given to anyone, including your friends and family that don't necessarily celebrate. If you're looking for the best Christmas card messages that aren't connected to religion, here are some of our favourites:
"Good tidings to you and happy Christmas for today and all the Christmases to come."
"May your Christmas be filled with the true miracles and meaning of this Merry time."
"May the magic and wonder of Christmas stay with you throughout the New Year."
"As the tree is evergreen, let the spirit of Christmas ever warm our hearts."
"Merry Christmas! Wishing you all the happiness your holiday can hold!"
---
The Perfect Christmas Card Messages for 2021 (because Covid)
Another fun 2021 Christmas fact relates to the symbol of the dove. The Christmas dove is considered to be a traditional Christmas tree decoration. Symbolising purity, peace, love, and the Holy Spirit, this dove Christmas card can help you spread the message of love, peace and reassurance. After what has been a trying year, this traditional Christmas greeting card motif will make your loved ones smile. If you're wondering, "what is the best Christmas Card Saying for 2021?" Well, we think these are some contenders:
"Sending love and holiday wishes from our bubble to yours."
"We may be spending Christmas apart, but you're always in my heart."
"Wishing you essential, socially-distanced, unprecedented, happy and healthy holidays."
"All I want for Christmas is a vaccine."
"Even though we're apart this Christmas, you're always in our hearts. Sending you warm Holiday and New Year wishes and looking forward to seeing you soon."
"Out of the silence, music. Out of the darkness, light. Out of uncertainty, Promise. Hope was born that night"
---
The Romantic Christmas Card Messages For Your Wife
If she's sentimental, we guarantee that you'll win her over with this Christmas card for wives. Wife Christmas cards in Dubai can be hard to come by, but if you want to personalise your Christmas greeting card for her a little bit more this year, why not give her a special wife Christmas greeting card? Forget the extravagant Christmas gifts for a second (just a second, guys) - what she wants, more than anything else in the world, is to know how you feel about her. Giving your wife a Christmas card is the perfect chance for you to take a moment and write down a few personal thoughts and feelings. Here's your chance to channel your inner Casanova and write a romantic Christmas message. Here's some inspiration:
"If love is the reason for the season, I have a lot to be thankful for."
"It's not what's under the tree that matters most, it's who's around it. Every year I'm so grateful to have you there."
"The most wonderful gift I can receive this Christmas is to celebrate with you."
"I wanted to wrap my love up this year, and give it to you on this special day, but I couldn't find a box big enough, so please accept this gift instead."
"I may not remember every Christmas carol, but I remember how much you mean to me on Christmas. We're like two turtle doves in a pear tree, or something like that."
---
The Funny Christmas Card For Your Husband
Say "I love you" this Christmas to your husband with this cute animated Christmas card for husbands. Not too lovey-dovey, this is the perfect Christmas greeting card for him without going OTT. Whether you're newly-weds or have been married for years, spouses should never stop showing their love for each other, especially at Christmastime. Tell him again how amazing he is with a cool Christmas card for husbands and the best Christmas card messages for him. A simple Christmas greeting message like "I love the life we've made together. Merry Christmas!" is simple but straight to the point. Your Christmas message for your husband will depend on your relationship - each couple is different, but as a rule of thumb, whatever you'd write in a Valentine's Day card can be transferred to a Christmas card for him, such as:
"You're still my favorite gift."
"You put the merry in my Christmas."
"Remember that magical feeling of waking up to presents on a Christmas morning? That's how I feel waking up with you!"
"I want to be the Christmas present wrapped around your neck. Merry Christmas, my darling hubby."
"Forget the mistletoe, you can kiss me anytime you like."
---
Christmas Cards For Friends With Funny Christmas Card Messages
This is the time of year to be merry. Christmas cards for 2021 are going to be more important for those friends you haven't seen in a while, so why not give a special Christmas card for friends? This has been a difficult year, so it's important to add a little levity, which means you have to also come up with some funny Christmas card messages. We hope you'll enjoy these as much as we do!
"You know you're getting old, when Santa starts looking younger."
"Merry Christmas! May your happiness be large and your bills small."
"There's pure joy in the discovery that the best presents are the people whose presence is solely for bringing presents."
"Santa has the right idea. Visit people only once a year."
"Wishing you a white Christmas. (And when you run out of white, just open a bottle of red)."
---
2021 Christmas greeting cards are for everyone, especially mum and dad. Young children love being able to join in the Christmas card giving tradition, so why not lend them a hand and organise a cute Christmas card for mum, dad, or both? Depending on the age of the children will depend on the special Christmas card message inside - for young children, something as simple as writing their name by themselves and drawing a little picture will delight. Older children often prefer to write their own original Christmas card quotes and poems, so give them the creative license to do so.
"Christmas is not a time nor a season, but a state of mind. To cherish peace and goodwill, to be plenteous in mercy, is to have the real spirit of Christmas." – Calvin Coolidge