| Skylar Black
Fashion In The UAE: Dress Code Tips For Tourists
---
UAE Dress Code Guide For Tourists
---
Dubai has risen to the top of many travellers' bucket lists in recent years, and for a good reason. Dubai is a glittering city of luxury and innovation and is often hailed as the Las Vegas of the UAE. However, there are markedly different laws and regulations in place in Dubai than in Vegas, and many of them have to do with the dress code.
The United Arab Emirates, much like many of its neighbours, is a Muslim country with a long history of cultural traditions and religious respect, and tourists are expected to be mindful of Dubai's culture while visiting. Clothing restrictions vary from Emirate to Emirate in the UAE, so we're doing our best to give you a snapshot of what you should be packing to ensure that your dream vacation goes off without a hitch.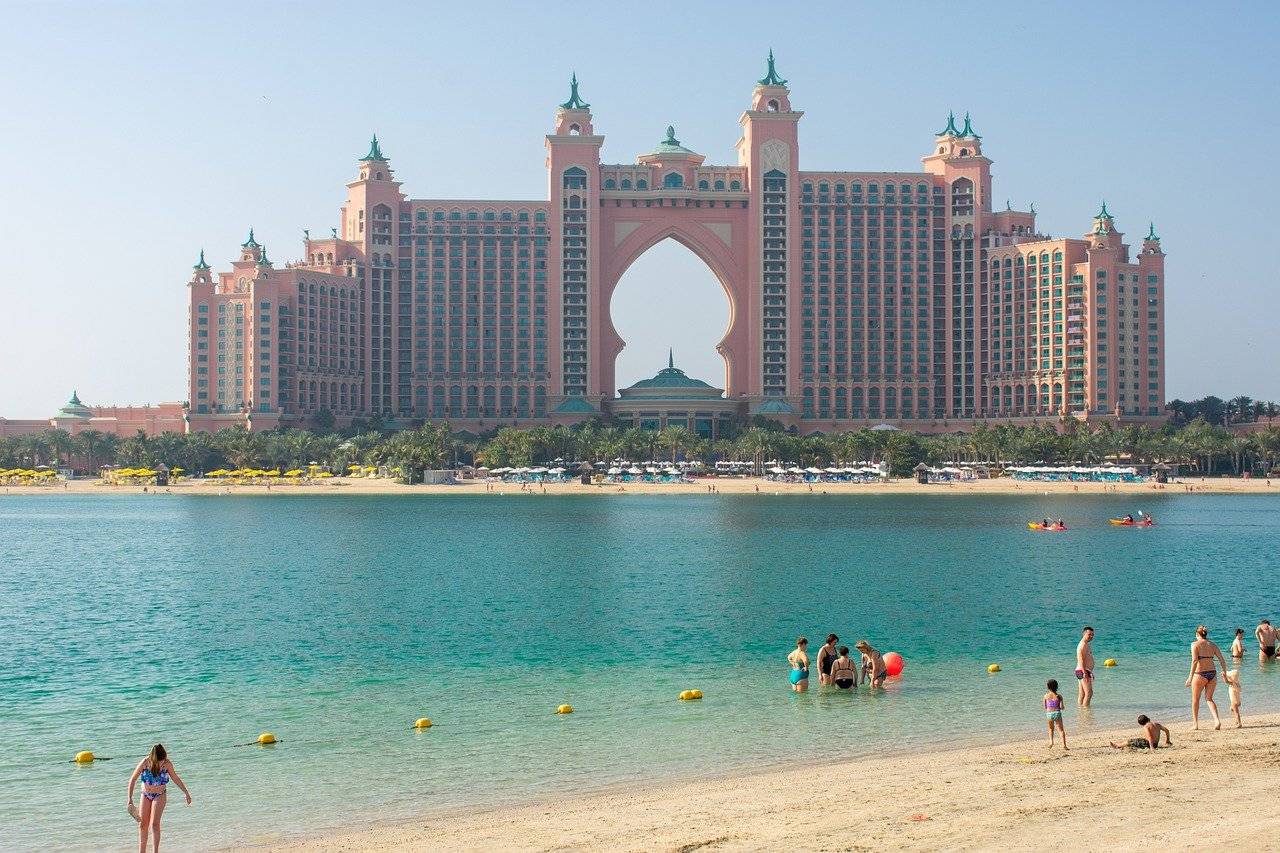 Dubai is the tourist capital of the UAE, and it's established itself as the fashion capital of the Middle East as well. As a result, dress codes for Dubai are more liberal than they are in other Emirates, particularly for female travellers. However, there are still laws and common courtesy rules to abide by while visiting.
One of the most controversial pieces of clothing that concern tourists is the bikini - many believe that two-piece bathing suits are off-limits for Dubai and the rest of the UAE. While it is banned in some more conservative regions, bikinis are perfectly acceptable in Dubai as long as you wear them at appropriate places like the beach or the pool. Wearing swimwear outside these places is considered disrespectful, so leave them in your hotel room when you decide to explore the streets.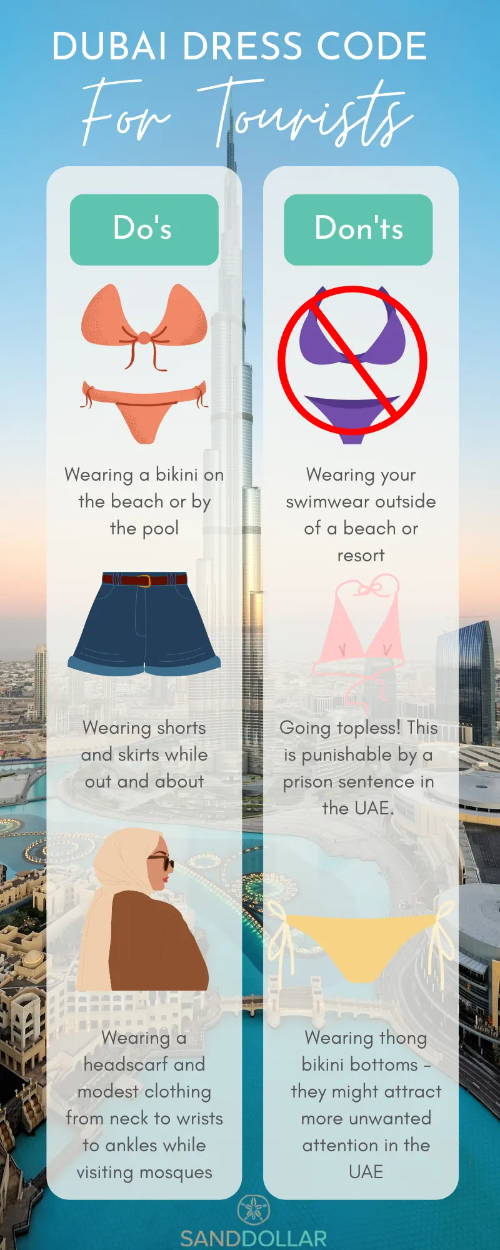 Two-piece bathing suits: Two-piece swimsuits are generally accepted in Dubai as long as they're worn at appropriate places! We generally recommend sets that provide more coverage, such as the Zadie Nile Bikini from Hunza G.
T-shirts: T-shirts are perfectly fine for going around Dubai, provided they don't feature any expletives or inappropriate art on them.
Shorts: Showing some of your legs is also acceptable in Dubai, but most public venues prefer that your upper legs (your hips to the tops of your knee) be covered. If you're concerned about the length of shorts, try a pair of capri pants like the Nyla Joggers from Love Shack Fancy. This same rule generally applies to skirts.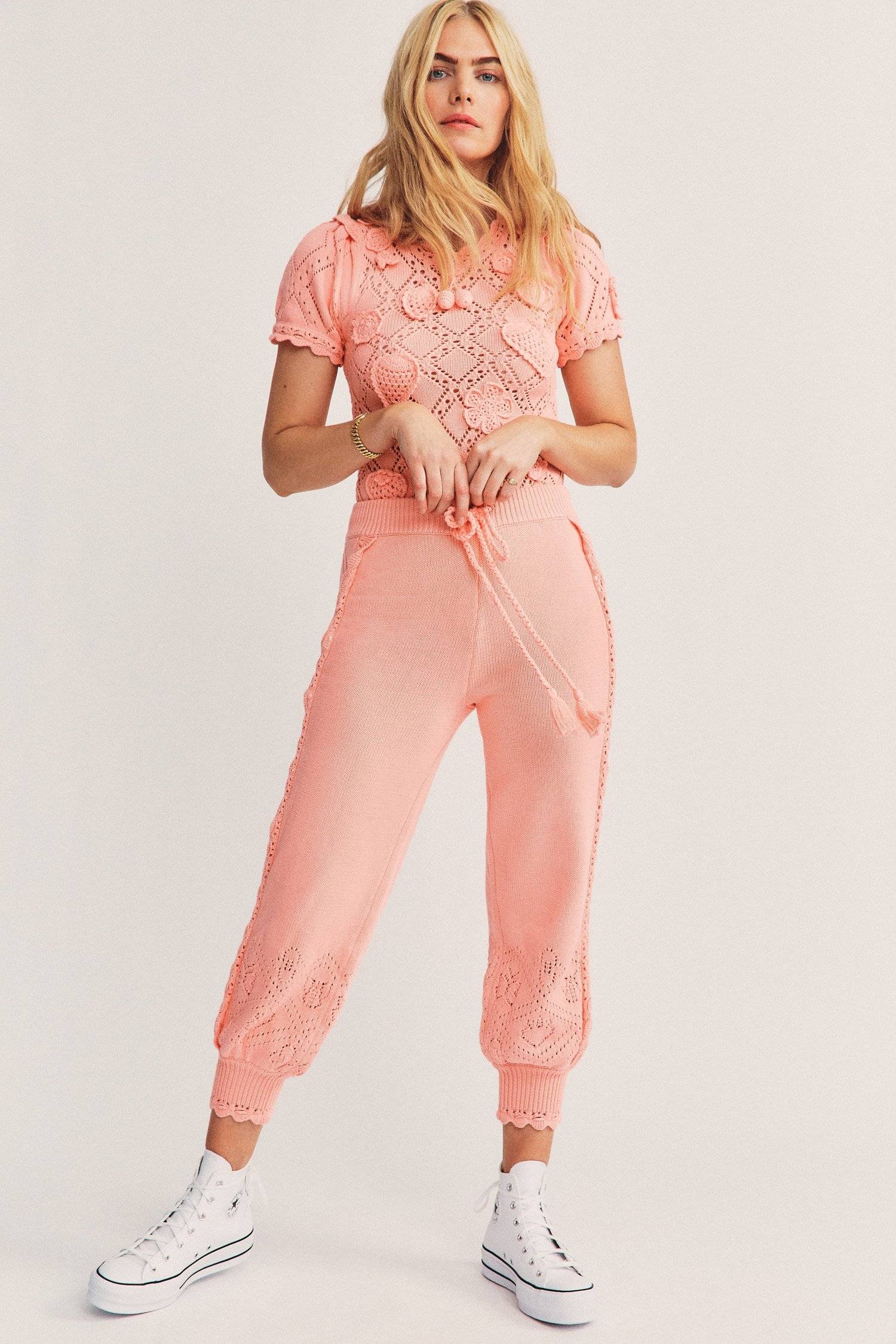 Thong bikini bottoms: While these aren't expressly forbidden in Dubai, they are generally frowned upon. Opt for a bottom with more coverage like the Valentine Boyshort Bottom by Kiini.
Bra tops and crop tops: Much like swimwear, tops that are more revealing tend to be frowned upon on the streets of Dubai and may even deny you access to certain public places. Opt for t-shirts and blouses that cover your midriff and shoulders, like the Eliana Top by Cleobella.
Booty shorts and mini skirts: Any bottom that reveals your thighs or buttocks is a big no in Dubai - leave your Daisy Dukes at home.
Plunging necklines: Much like the thighs and buttocks, make sure you cover most of your cleavage while walking around Dubai. Square necklines and scoop necks are the way to go!
Going topless: Going topless, even on a beach, is forbidden in Dubai and could even result in a jail sentence!
Dressing like the opposite gender: Often referred to as "cross-dressing", this practice remains illegal in Dubai and could result in a jail sentence.
Special Notes: Mosques and Religious Sites
While most of Dubai and the other Emirates follow fairly modern dress codes, certain places require special care. The UAE is home to breathtaking mosques and religious sites that attract many tourists. Still, it's important to remember that these places are first and foremost places of worship and should be treated with the utmost respect and dignity.
What to Wear To a Mosque in UAE:
A Headscarf: Women must cover their hair while visiting a mosque, typically with a scarf. If you're not sure how to wear a headscarf (often referred to as a hijab), here's a tutorial video to get you started!
Long-sleeved tops with high necklines: Most mosques require that women be covered from the neck to the wrists - long blouses made from linen or cotton are great options to ensure that you won't overheat!
Long skirts or dresses: Women are not permitted to wear trousers while visiting a mosque, so make sure that you pack an ankle-length skirt or maxi dress to wear when you go.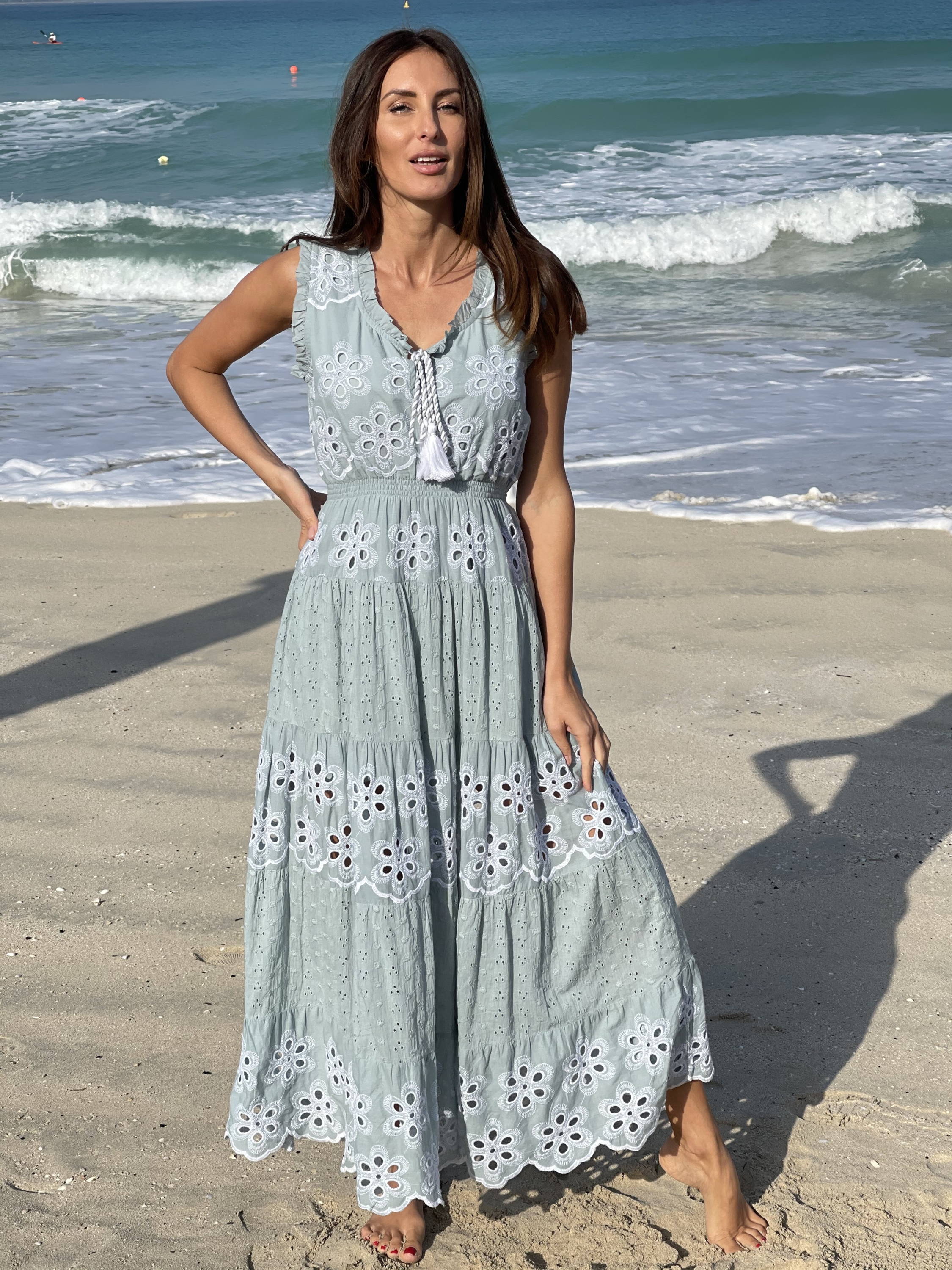 While many of these rules apply specifically to women, there's also a dress code for men who visit mosques: wear long trousers and a long-sleeved shirt that are clean and don't feature any offensive imagery or language.
Some mosques have even more specialised clothing requirements, such as the Sheikh Zayed Grand Mosque in Abu Dhabi. Here, women are required to wear an abaya, a traditional robe that you can borrow from the mosque before you enter.
The UAE is a culturally rich country full of adventures and surprises, and many travellers flock to its beautiful shores for an amazing vacation. As long as you respect the local culture and traditions and pack appropriate clothing, your Dubai adventure will be one to remember!
If you visit Dubai wearing one of our favourite pieces, make sure you let us know with #SawItOnSandDollar!