| Polly Sheppard
How To Choose The Best Bikini For A Small Bust
---
The Best Swimsuit and Bikini Styles for a Small Chest
---
Original work by Skylar Black, last revised by Polly Sheppard.
In swimwear, the size of your bust is one of the most important factors in determining how your swimsuit will fit. All busts are beautiful, but some styles are more flattering for certain body types.
If you have a smaller chest, you might feel like your chosen swimsuit flattens you even more or does nothing to flatter your figure, or wonder whether you need padded swimsuits for small busts. We're diving deep into the best figure flattering flat chested bikini tops and swimsuits, as well as our top shopping tips for finding bikinis for small bust women.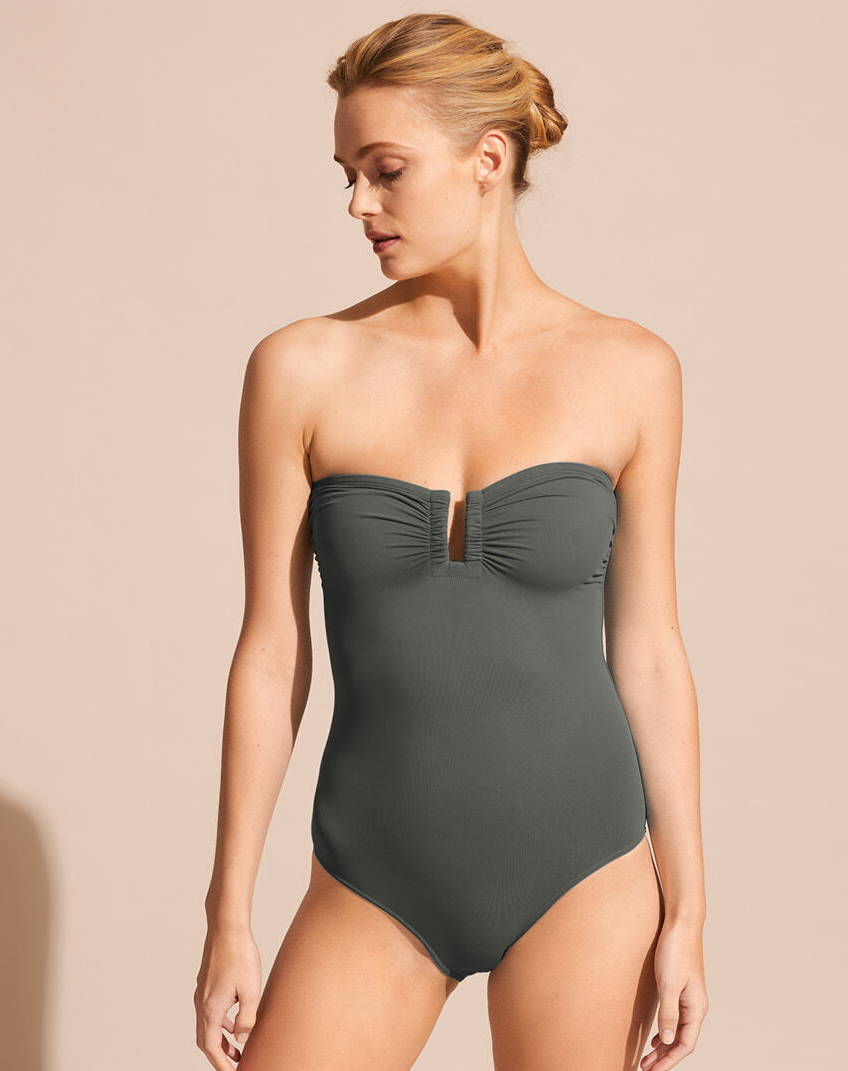 Best Bikini For A Small Chest
Most of the time, women with smaller busts don't have as much to worry about in terms of support, so there is a wide range of options available to you! Whether you want a little extra padding, some definition, or want to keep it natural, there's a style that's perfect for you. Here are tips for finding the best swimsuit for a small bust.
The Do's
Triangle Cups:

Triangle cups are the best small bust swimwear top for creating the illusion of a fuller bust without any added padding. They add defined lines, and most have stitching in the centre that makes them fold slightly outward, adding a little oomph while still sitting close to the skin.

Tie-Front Tops:

Beyond being super cute, tie-front tops are a fantastic way to attract attention to your top and present the illusion of a fuller bust. Tie-front tops help push your breasts together and create a small amount of cleavage without padding

, making it a great choice of bikini for small bust.

Unlined Styles:

There's very little need for extra wiring or boning in bikinis for a small bust; it's more likely to be uncomfortable and a nuisance than to serve any function. Feel free to explore options like string bikinis!

Light Padding: If you want a little more oomph, plenty of padded bikinis are available for a small bust.
Bandeau Tops:

If you're looking for something simple, bandeau tops can be some of the best bikinis for a small bust. They offer a wide range of styles and patterns, and they're the best if you want to get an even tan with no awkward tan lines!

Shirred Tops:

Also called ruched or gathered tops, these are perfect for creating the illusion of fullness. The style is also trendy and feminine and can often be found on tankini tops

.
Sporty Tops:

Sports-bra style tops look amazing on women with smaller busts. The simple, structured look is very chic, and the style is the best for athletes and adventurers.
The Don'ts
Loose Cups:

Loose cups can cause many issues for those with small busts. They may not stay in place and can often lay incorrectly against your chest. The result is a suit that isn't flattering and might come off during watersports or other activities.

Too Much Padding:

While we do recommend padded bikinis for a small bust, there is such a thing as too much padding. Too much padding can sit unnaturally on your chest or weigh your top down to the point that it can fall off, both of which aren't desirable for beach vacations.

Underwire:

Underwire is a huge benefit for women who need support, but it's often more nuisance in flat chested bikini tops. Tops that are too structured can be uncomfortable and may not sit right on a smaller bust.
Our Fave Bikinis for Flat Chested Women
Best One-Piece Swimsuits For A Small Bust
We aren't just talking about the best bikini for a small chest - a one-piece can be an equally comfortable and flattering choice of swimwear for a small bust. Much like bikinis, there are a wide variety of options to choose from, but some styles are more flattering for you than others.
The Do's
Backless Styles:

Backless one-pieces are endlessly trendy, and they're the perfect flat chest bikini. They pose no risk of slipping off and require little adjustment, and the backless style allows you to still show some skin if you choose.

Plunge Necklines:

Plunge necklines are flattering for many different body types, and they're especially flattering swimwear for small busts. They show off some skin and create the illusion of fullness without padding.

Zip-Up Styles:

Zip-up styles allow you to choose how structured you want to be. Whether you want to zip all the way up and create a lift or leave it open and show some skin, there are a ton of options!

Empire Waistlines:

An empire waistline adds definition right below the bust, and it's perfect for adding fullness and definition for women with smaller busts.

Strapless Styles:

Strapless styles are universally chic, and they take the guesswork out of ensuring that a swimsuit will sit correctly against your chest. They're more likely to stay in place while you enjoy the sun and won't leave tan lines, either!
The Don'ts
Padding:

Just like in our tips about bikinis for a small bust, there is such a thing as too much padding for a one-piece swimsuit. Avoid styles that are over-padded or that don't have removable padding.

Boning:

Boning is when thin metal or plastic rods are inserted into a swimsuit to give it more structure. Much like underwire, it offers few benefits to women with smaller busts and can end up being uncomfortable.
Our Fave One-Piece Swimsuits For Small Busted Women