| Skylar Black
How To Shop For The Best Fuller Bust Swimwear
---
Best Tips for Shopping for Stylish Supportive Swimsuits

---
It's time to talk about fuller bust swimwear. Fashion gets more inclusive every year, but swimwear is still a bit behind when it comes to creating pieces for women with big busts. And while we fully endorse loving your body exactly how it is, we know it can be really discouraging to try on swimsuit after swimsuit in a fitting room and find that none of them fit the way you wanted them to.
It's not hopeless, however - there are swimsuits that can help support and flatter your large bust, making you feel just as beautiful as you deserve. Whether you're looking for a supportive bikini or opting for a one-piece, here are our best tips for shopping for a fuller bust swimsuit.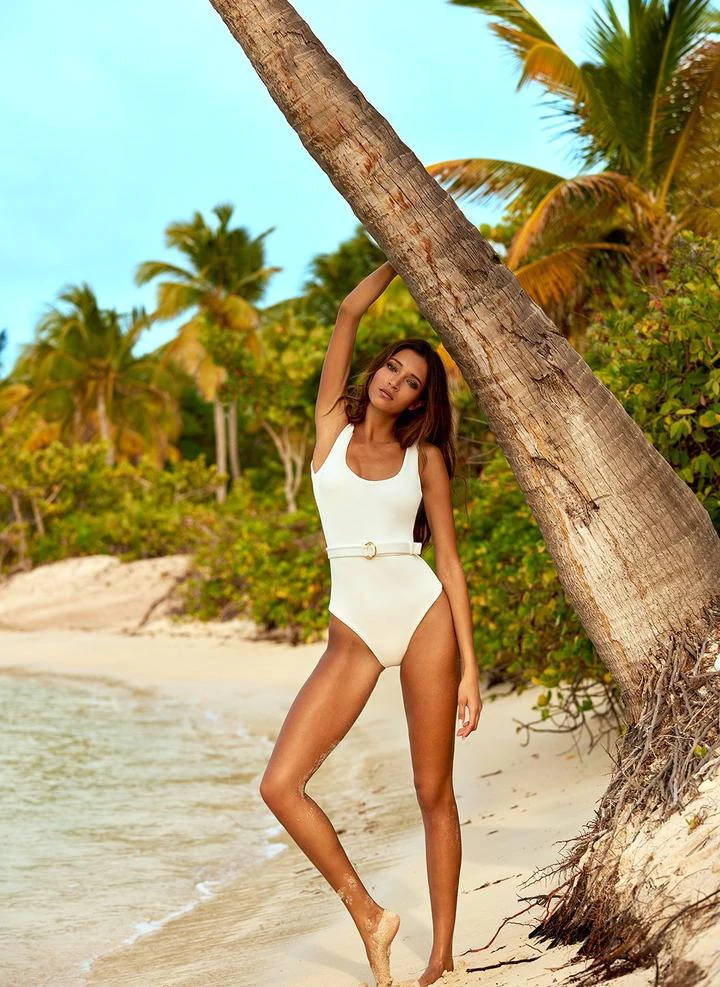 Bikinis have been a huge trend in swimwear since the late 40s, but shopping for big bust swimwear in this style can be a little touch and go. Bikinis are often made for form rather than function, and an unsupportive piece can spell disaster for fuller busts.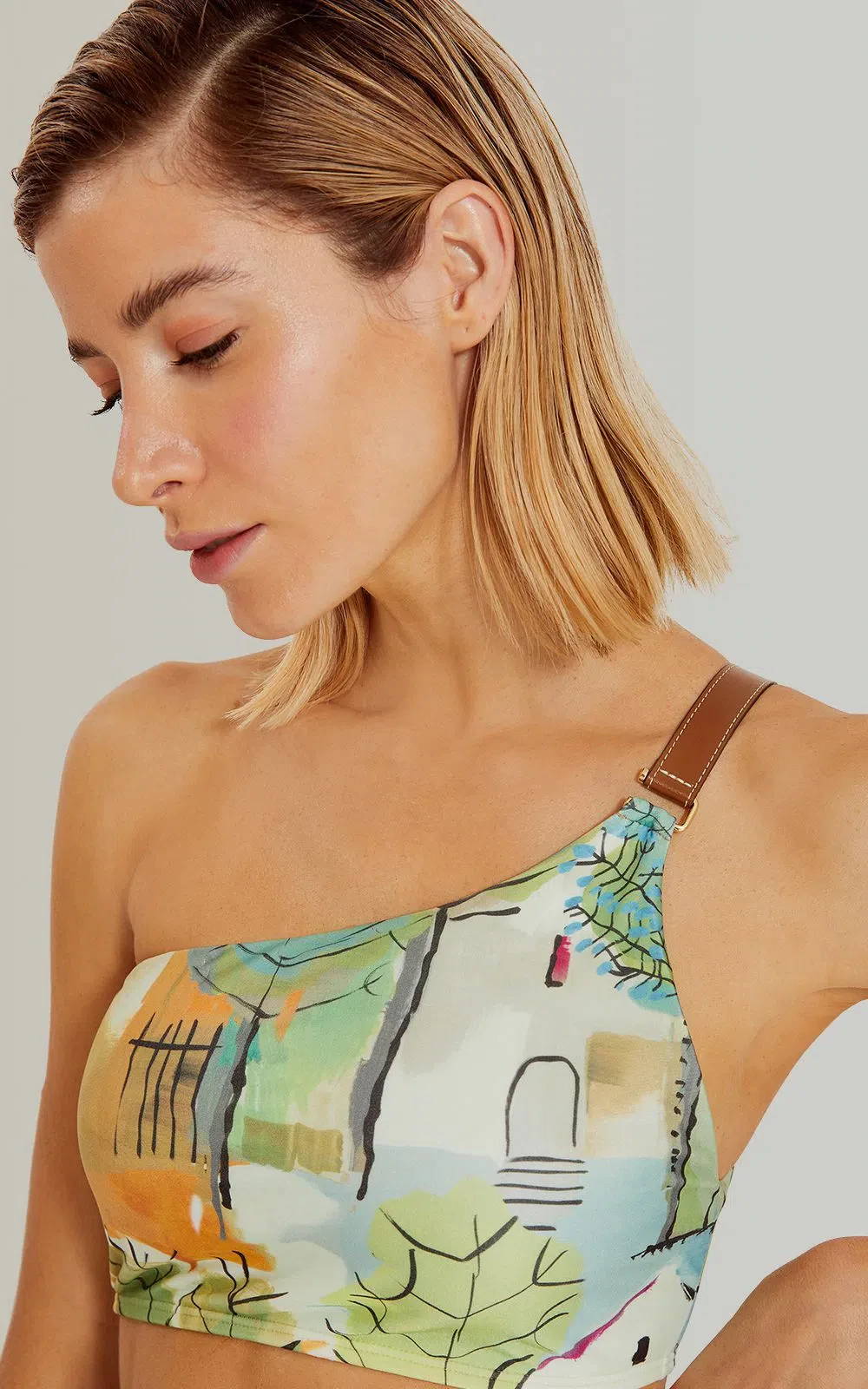 The features that you should be looking out for when you're shopping for bikinis for big busts are:
Underwire:

Underwire is a girl's best friend when it comes to big bust swimwear. It offers structure and supports your bust in the same way your favourite bras do. Additionally, many swimsuits with included underwire are sold using standard cup sizes, making it easier to find the fuller bust swimsuit that will fit you correctly.

Thick Straps:

Another major trend in DD+ swimwear is thick straps, both on the shoulders and around the bustline. Wider straps offer more structure and support for your bust, and they also give off an elegant vibe that we love!

One-Shoulder Pieces:

This sounds like a bad idea, but one-shoulder bikini tops can actually be hugely flattering as a big boobs bikini. They often feature a higher neckline than other styles, which creates more coverage and helps keep your bust contained.

Boning:

Like underwire, boning is a huge blessing for a structured fuller bust swimsuit. Boning is thin pieces of metal or plastic running vertically within a piece to keep its shape, much like a corset. If you find underwire uncomfortable, a bikini with boning might be the perfect piece for you!

Halter Necks:

Halters are really popular this season, and they're perfect for larger busts as well. Halter necks offer a wide range of adjustability and support your breasts from the bottom, helping you keep your shape and prevent slip-ups. Just make sure that the straps are wide enough to be secure!
There are certain features that you should avoid altogether when you're shopping for bikinis for big busts:
Padding:

Padding takes up room in your swimsuit that should be reserved for your bust. It can also make a suit less supportive, adding extra weight that can drag your bust down.

"One Size Fits All":

Most women with fuller busts have already come to this conclusion, but this rule especially applies to DD+ swimwear. Avoid pieces that don't offer any room for adjustment around the neck and back. Lycra/ seerseeker swimwear is the exception here.

Wrap Style:

As trendy as this swimwear style is, not all trends are made for all body types. Wrap-style tops rarely include features that can support your bust, making them a terrible choice if you're in the market for supportive swimwear.

Lots of Straps:

This might seem like a good idea in theory - more straps means more support, right? However, pieces with many decorative straps can actually push your bust upwards, which can over-accentuate it or make it spill out of the cups if you aren't careful. Additionally, they can segment the sides of your body in ways that might not always be flattering.

Triangle Tops: Triangle bikinis are probably the least supportive bikini type in the market. Due to their minimalist style and emphasis on cleavage, they offer zero support and many opportunities for mishaps for women with fuller busts.
High Necks With Little Side Support:

High necked pieces are an excellent option for fuller bust swimwear, but you need to pay attention to the coverage that they offer around your bust. Many high-neck bikinis cut in on the sides, which will cause your bust to spill out and offer very little support.

Strapless Tops:

Unfortunately, strapless bikini tops rarely work for larger busts. They lack the support of any kind, and they can sag and slip when they get wet. Additionally, they tend to draw a lot of attention to your bust and nowhere else - while you should never feel ashamed of your breasts, it can get uncomfortable if people are always staring.
Our Fave Supportive Bikini Tops
Now that we've given you the major do's and don'ts of shopping for fuller bust bikinis, we recommend a few pieces that will help you feel supported, secure, and absolutely fabulous on your next beach day!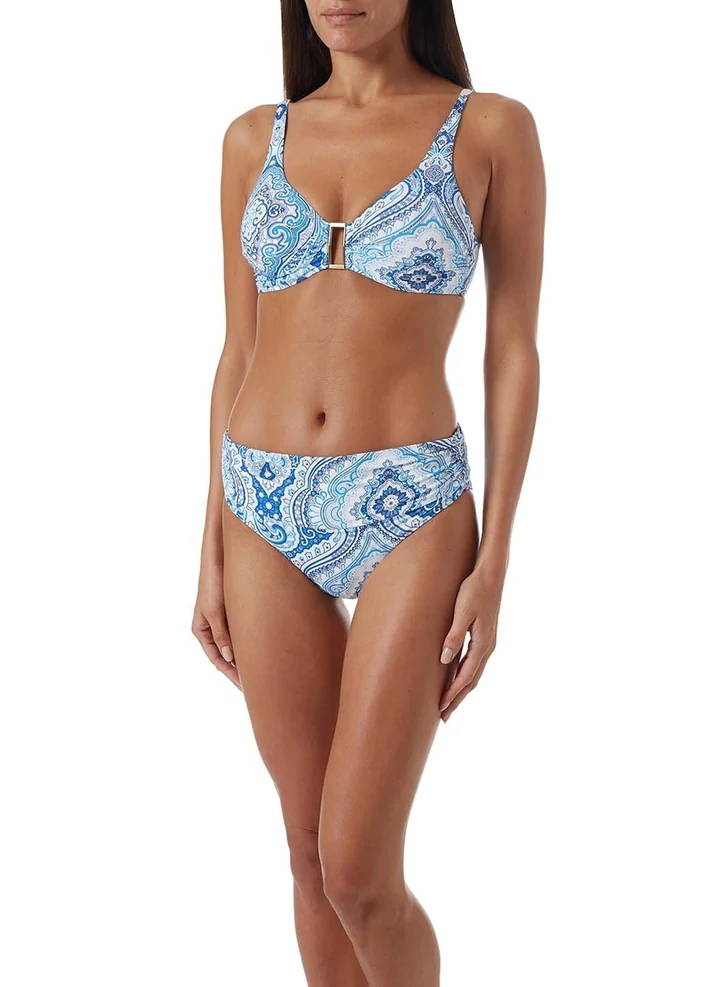 The Bel Air Bikini Top from Melissa Obadash is one of the most supportive bikini tops we've ever come across - there's no padding in its underwired cups, and its thick straps are adjustable so that you can find your perfect fit. We're also madly in love with the chic front embellishment that offers a little extra structure in the front of the piece - who says support has to be boring?
If you're looking for a piece with a little more edge, look no further than the Mister Back Bikini Top from Eres. We know we told you to shy away from triangle cups, but the Mister Back is different - it features sturdy side boning and darts in the bust that create a ton of structure and support for your bust while still being fun and flattering. The cups are full-coverage to avoid any side spillage, and the halter-style neck lets you adjust the straps as you need. We love the dark, moody stripes and flattering notch in the bust line for an edgy, powerful look.
And for a touch of woodland whimsy, try the Wide Strap Bikini Top from Lenny Niemeyer. The wide straps and structured cups provide full coverage without being restrictive, and the darts in the bust help it keep its shape. The ties in the back give you a little breathing room and help you keep your sides contained, and the deep green colour is flattering on a wide variety of skin tones.
One-Piece Suits for Big Busts
One-piece swimsuits might feel like the antithesis of supportive swimwear - after all, many one-pieces don't take the wearer's bust into account as much as they should. However, certain styles can actually support your full bust really well!
Many of the rules for shopping for a one-piece supportive swimsuit are the same as buying bikinis for big busts - it's all about support. Thicker straps, one-shoulder styles, and halter necklines are all as good for full busts in a one-piece as they are in DD bikini tops. But there are a few other things to look for when looking for a one-piece with a fuller bust:
High Necklines:

While high necklines can be a bit of a problem on bikinis for big busts, they're a huge advantage for one-pieces. Higher necklines offer a lot more support than plunging or strapless styles, and they can keep larger busts contained without feeling like they're compressed.

Full Backs:

Beyond creating a beautifully sleek silhouette, a full-backed swimsuit adds a lot of support for your chest, much like a high neckline. Additionally, they prevent any sort of sideboob, so you can enjoy your beach days without worry.

Empire Waistlines:

Any woman with a full bust knows that supporting your chest from the bottom is a lot more comfortable than supporting it from your shoulders or neck. A one-piece swimsuit with a structured empire waistline (a waistline that falls right below your bust) is perfect for adding extra support from the bottom and taking the strain off your shoulders.
Like fuller bust bikinis, there are certain styles of one-piece swimsuits that aren't as good for fuller busts. Triangle styles, strapless tops, or styles with padding can cause the same issues that they do in bikinis, and we suggest avoiding them if you can.
Open Sides:

Open-sided one-piece swimsuits often lack the structure that women with larger busts need - they're more likely to just lay on top of your bust rather than contain and support it. Additionally, they leave you open to side spillage or sliding out of them entirely if you're not careful.

Plunging Necklines:

A plunging neckline can be flattering for larger busts if it has the right support, but DD+ swimwear often lacks this support. Like an open-sided one-piece, plunging necklines may just sit on top of your bust rather than supporting it, especially in pieces that also lack back support.

Backless Styles:

A backless bathing suit can be super chic, but they often offer nothing in the support department. Even with more structured styles like a halter neck, there's a lot left up to chance for a larger bust in a backless bathing suit.
Our Fave One-Pieces For Fuller Busts
Now that we've shown you what to look for in a one-piece, here are some of our favourite one-pieces in DD+ swimwear this season.