---
UAE Dress Code Guide For Tourists
---
Dubai has long been dubbed as the fashion capital of the Middle East. The fashionable Emirate has done well to position itself as the hub for fashion in the Arab world. It continues to shape the industry and attract fashion-conscious visitors from around the world. Dress codes in Dubai for women are more liberal than the rest of the UAE, where there are different degrees of tolerance, particularly when it comes to wearing swimwear in the UAE.
Dress codes in the UAE come with some legal and/or cultural guidelines about what's deemed acceptable and what's not, but when travelling in Dubai, almost anything goes (within reason, of course). While slightly more conservative, Abu Dhabi is also more lenient when it comes to Western clothing, such as the swimsuit.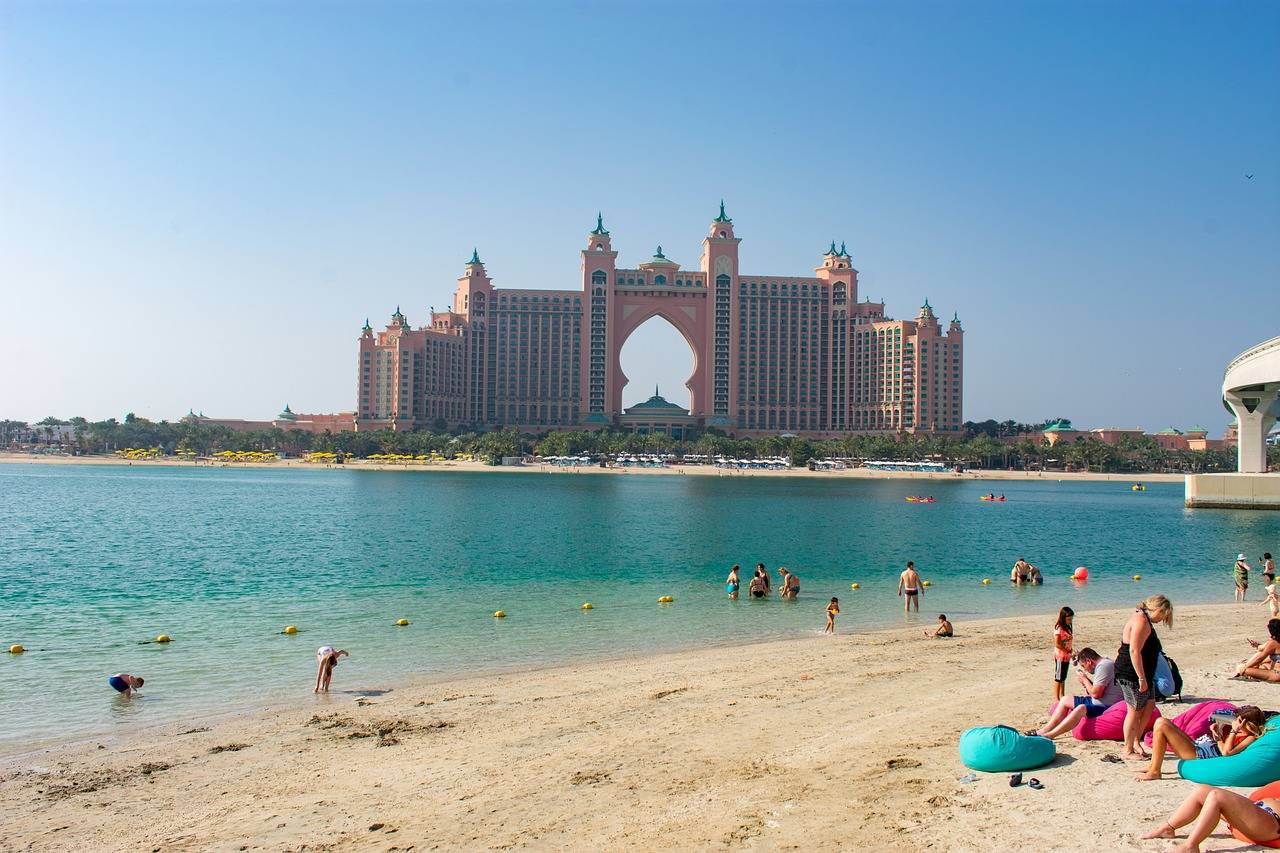 The UAE, in general, where there's a more significant number of nationals or Emiratis, is a different story. So, when venturing outside of Dubai and Abu Dhabi, it's wise to tone down your outfits.
The big debate surrounding swimwear in the UAE is one example of the varying degrees of conservatism in the area; what's acceptable in one Emirate may be completely unacceptable in another. So, what's the low down? Where can you comfortably be yourself and not worry about revealing too much skin with your choice of swimsuit?
UAE dress code rules can be confusing (and sometimes strict) depending on your location. There have been recent cases where tourists have been heavily fined for simply wearing a bikini.
"UAE beach to impose fines on tourists for wearing bikinis" is just one example of the many news headlines coming out of the Arab state. Police in Ras al-Khaimah and other more conservative areas have announced that fines will be imposed for wearing revealing swimwear.
UAE hotel and resort pools and beaches in Dubai and Abu Dhabi are freer when it comes to wearing skimpier bathing suits and bikinis. However, going topless, of course, is forbidden and is punishable by a prison sentence.
One thing to always remember is that Dubai is very, very different from the rest of the United Arab Emirates.
A quick scour of Dubai travel forums will instantly tell you that there's still some confusion about what you can and can't wear, with one of the most common questions being, "Can I wear a bikini on the beach?"
Dubai is the most tolerant of the seven emirates of the UAE, so swimwear choices aren't an issue. As a tourist hub, which receives millions of tourists each year, Dubai is more open, and in short, wearing a bikini in this UAE hotspot is acceptable; the same goes for speedos for men. Imagine an Arab state with stores that will deliver a bikini to your door in less than 24 hours!
However, it is important to remember that while Dubai is more "open", it is still a Muslim state, so it's essential not to take your liberties too far and remain respectful of the culture and religion.
Wearing a bikini in Dubai on the beach or poolside is perfectly fine. Still, you're not at Venice Beach, and it's considered disrespectful to wear it anywhere else, which includes walking down the street in a pair of shorts and a bikini top. And while more revealing swimwear in this UAE emirate will draw less attention, thong bikini bottoms may still get you some unwanted attention, so save these for private resorts.
The streets and souks of Dubai are slightly different. If you remember the golden rule, "if you wouldn't dare wear it in your home city's supermarkets, don't wear it outside of Dubai's resorts", you'll be fine. Showing some leg is fine, and it's not uncommon to see women wearing short shorts and skirts on Dubai's streets. Once you hit the shopping malls, you might want to consider the malls' fierce air-con, so carrying something to cover your shoulders, such as a scarf or wrap, is always a good idea.
Dubai's nightlife scene is happening and glamorous. Dressing up is the norm, and this is where you'll see women taking fashion to the next level and being creative with their outfits, which includes wearing their swimsuits as outwear like bodysuits.
One popular touristy thing in Dubai is to go on a desert safari. There's nothing quite like saddling up on a camel and ambling through the vast sandy plains and rolling dunes.The Rub al Khali, otherwise known as the Empty Quarter, is the world's largest sand desert. During a desert safari, you're very exposed, which means you need to be mindful of your desert outfit in terms of protection from the elements.
You also won't meet any Emiratis on a desert safari, so you have the freedom to wear what you want. If you want to wear swimwear in a UAE desert as a tank top with shorts, so be it - no one will judge. Just remember to cover your head to protect yourself from the sun with something like a traditional ghutra.
While slightly more conservative, the Abu Dhabi dress code is also relaxed.
Like Dubai, the same rules apply when wearing swimwear in this UAE emirate. The only thing you might notice that's different is there will be more women wearing burkinis.
While a bikini in this UAE spot isn't forbidden, you'll likely receive a few looks if they're super skimpy.
UAE Dress Code for Mosques
Headscarves are also part of the general tourist dress code in Dubai (and the rest of the UAE, for that matter) when visiting mosques. No matter where you are in the world, all mosques are a place of worship, which is why it's important to dress respectfully. Women should be covered - long-sleeved, modest-cut tops and maxi dresses or skirts are necessary. It's also compulsory to cover the hair with a scarf - the easiest way to remember this is to cover yourself from the neck to wrists to ankles. The mosque dress code for men isn't much different; they too should wear long trousers and a long-sleeved shirt or top.
To experience one of the most stunning mosques in the world, check out Sheikh Zayed Grand Mosque in Abu Dhabi. Here, you'll find the dress code for tourists stricter, as all women are required to wear an abaya, which is a long black dress and can be borrowed from the mosque before entering.
The UAE is undoubtedly a fascinating place to visit. Dubai may be the "Las Vegas" of the Middle East, but there's more to the UAE. Unlike its sister countries, the United Arab Emirates is generally known to have less strict rules.
However, it's important to remember that the rules for wearing swimwear in the UAE differ from emirate to emirate. This is where common sense prevails and research matters, but as a rule of thumb, wearing a bikini in the UAE's most popular states - Dubai and Abu Dhabi - is the norm. And the best thing is every season in the UAE is swimsuit season.