| Victoria Zurakowski
How To Tell If Your Swimsuit Is High Quality
---
How to Find the Right High-Quality Swimwear
---
There are two types of swimwear when it comes to quality - high-quality swimwear and cheap swimwear. When selecting swimwear that looks amazing, there are several things to consider, and it's not just the premium swimwear brands you need to keep in mind - there are other factors involved.
Most people, who aren't familiar with what constitutes high-quality swimwear, typically choose their new swimsuits based purely on aesthetics. Although this fast fashion "beautiful looking" swimwear will look great now, it won't take long for you to notice the effects of the elements, such as salt, sun, sand, chlorine, and sun cream. Such things have harsh effects on swimwear, especially if the swimsuit is cheap and of poor quality.
As the adage goes - "you get what you pay for", investing in high-quality swimwear brands will save you money in the long run, because let's face it - no bathing suit, no matter how "fashionable" it is, looks good with faded colours.
From high-quality swimwear fabric to the construction of your swimsuit, there are a few things that you should never compromise on when searching for swimming costumes that last.
High-Quality Swimwear Fabric
When examining swimsuits, it's usually easy to tell whether it's high-quality or not just by touching them.
Poor quality swimsuits often feel rough, cheap, and like plastic. Also, unlike premium swimwear brands, the swimwear material is considerably thinner.
The above may be a bit of a challenge to the untrained eye, but one way in which you can tell whether your swimsuit is made of high-quality swimwear fabric or not is by a simple stretch test. Pull the swimsuit fabric in all directions to check how well it recovers.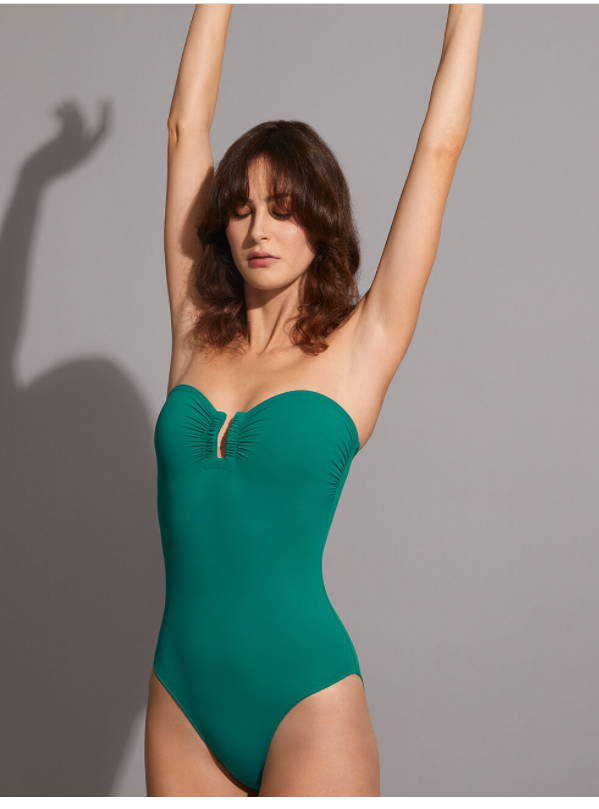 The best high-quality swimwear fabric is a blend of polyester and elastane. Elastane is what gives your swimwear its necessary stretch. It also goes by the names Spandex and Lycra. Polyester and nylon (otherwise known as polyamide) are often preferred for swimsuit fabrics because they are colourfast and chlorine resistant. Both swimwear fabrics are easy to care for and super durable, especially when blended with elastane, making them fully functional and resilient pieces of clothing perfect for hitting the pool or beach.
What's more, a blend of either polyester or nylon with elastane means that the item has quick-drying properties and longevity. It's not just the high-quality bikini and swimwear brands opting for such fabrics; swimwear manufacturers for competitive swimming also prefer this optimal blend.
High-Quality Swimwear Lining
Premium swimwear brands don't compromise on quality, including everything from the high-quality swimwear fabric to the lining. Poor quality swimwear is either just partially lined or, in some cases, not at all.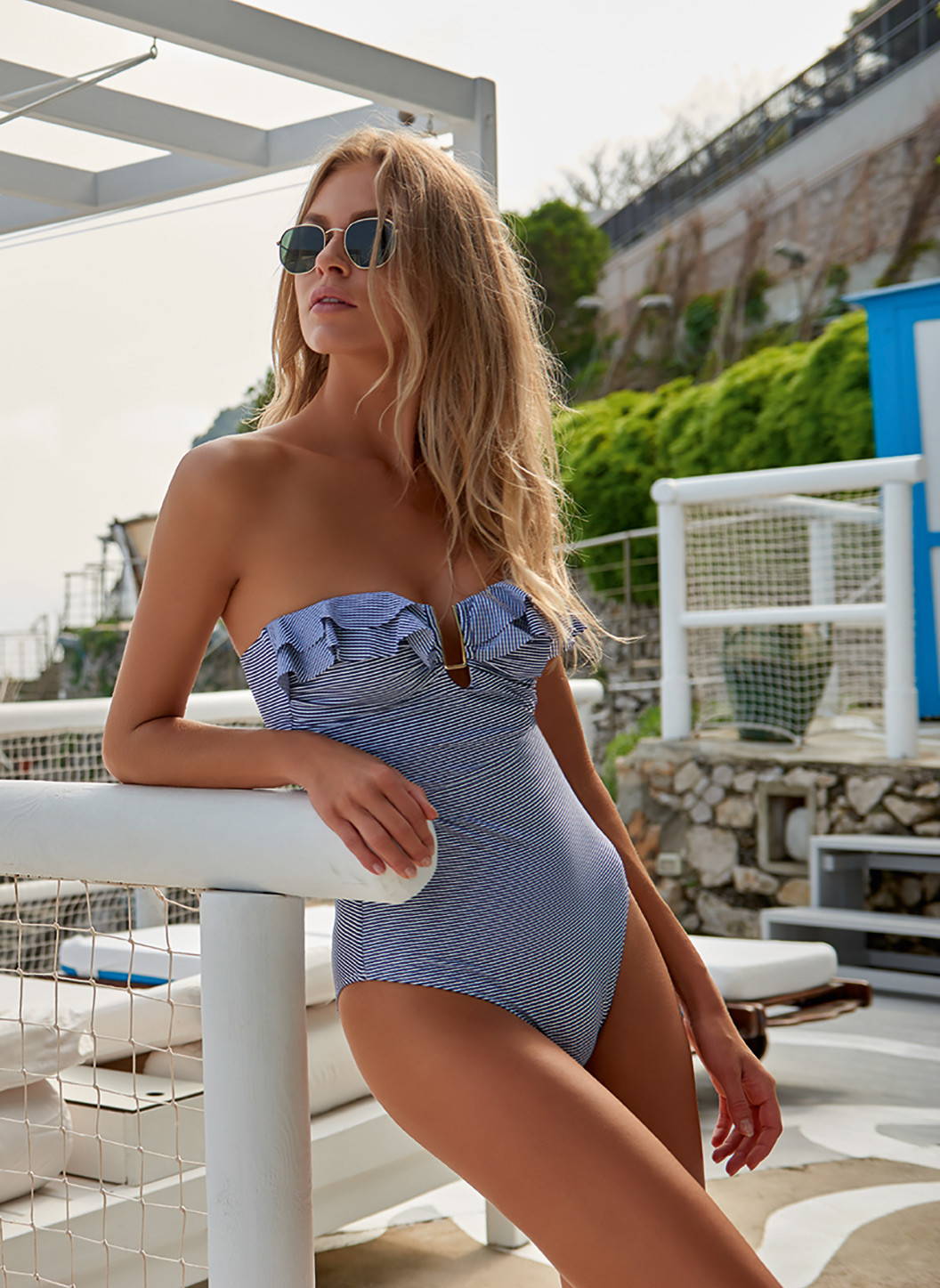 High-quality, fully lined suits provide better support and make the suit last longer. One of the main reasons for high-quality swimwear brands incorporating lining into their designs is to ensure the final product is not see-through - because - let's face it; there's nothing worse than seeing people baring all in cheap swimsuits, or worse, you revealing more than what you had planned to.
Also, when high-quality swimwear fabric blends are used in conjunction with lining, the swimsuit or bikini is less likely to lose its shape.
High-Quality Swimwear Construction
Swimsuit construction is just as important. Anything from poor stitching to loose lining can cause the swimsuit to look terrible. To avoid unnecessary bunching, crookedness, lopsidedness, and sagginess, carefully take a look at the seams and stitching.
Does it have single or double-stitched seams? Mediocre swimsuits and bikinis often have just one row of stitching that can break easily, whereas your premium swimwear brands are going to have double-stitch detail.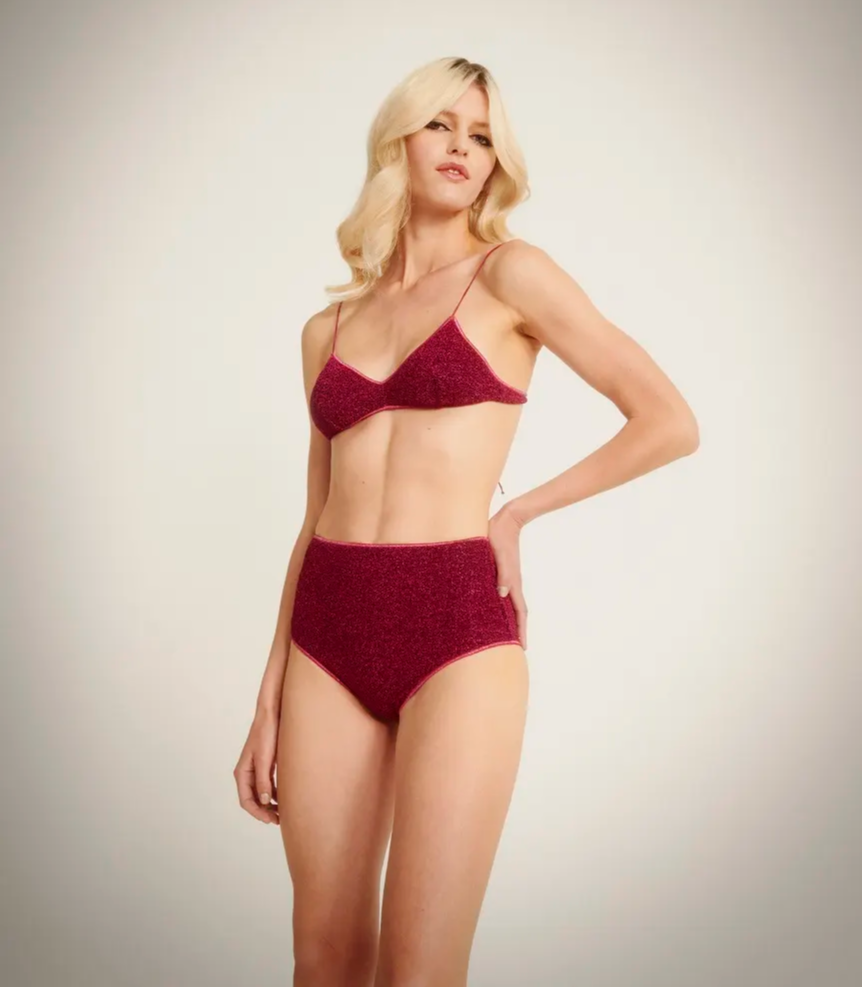 When you're doing your fabric stretch test, pay attention to the seams to ensure they don't break or crack.
If you have a penchant for ruffles, beading, or any other kind of swimwear detail, look closely at how they're stitched on or attached. In other words, make sure they're affixed properly and solidly and that they don't cause any unsightliness - the same goes for any kind of wiring, boning, and padding.
Distinctive Swimwear Details
We love the saying, "life isn't perfect, but your swimsuit and bikini can be"
Forget those that say details aren't important - they're wrong - we're all about the detail! It's these details, whether it's the swimsuit or bikini's cut, fabric texture, tie-side strings, or intricate beadwork, that can separate high-quality swimwear from their cheaper counterparts.
Some indicators of poor swimwear detailing could include non-adjustable ties and cheap embellishments that fall off at a mere touch.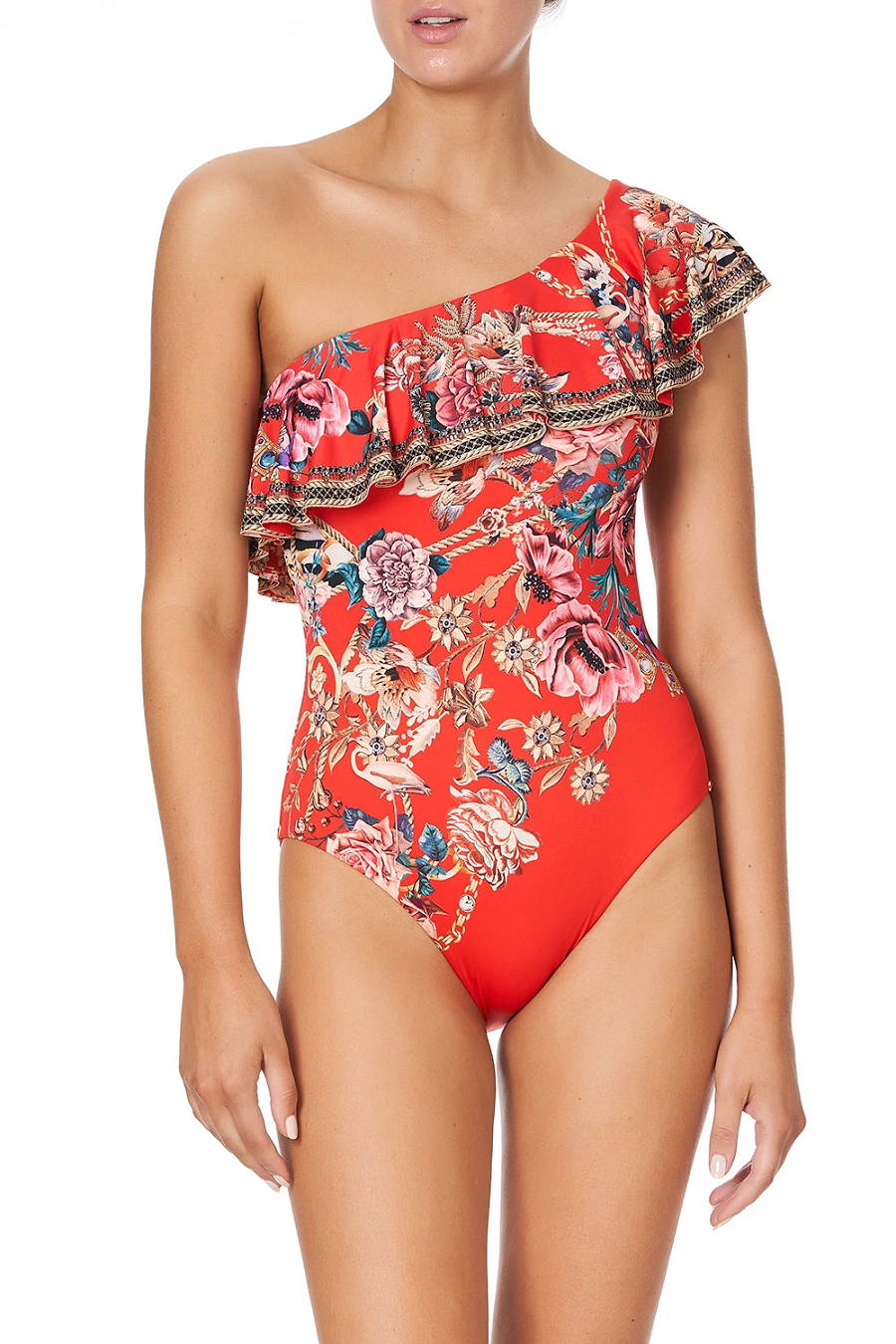 Yes, premium swimwear brands come at a cost, but so does having to replace your swimsuit each year. Instead of buying into even more fashion swimwear brands, invest in high-quality swimwear brands that create thoughtfully crafted swimsuits and bikinis that will remain not only fashionable over time but also intact.
Here are some of our favourite premium swimwear brands that check all the right boxes.
Melissa Odabash is a key player in the world of high-quality swimwear brands. Whether it's a one-piece or a cute bikini you're looking for, this is one premium swimwear brand that develops and creates its pieces using high-quality swimwear fabric, with flattering cuts and just the right amount of detail to sculpt and enhance every body.
One of the leading premium swimwear brands globally is the Australian brand Seafolly. As well its eye-catching statement prints and injections of colour, Seafolly has carved a name for itself with its swimwear among resort goers thanks to its durable and fashionable pieces that stand the test of time and its sustainability pledge.
Eres is one of the high-quality swimwear brands that help make active life fashionable. Having been in the swimwear industry for 40+ years and being French, it's no wonder that Eres is renowned for producing elegant swimwear that lasts. Eres swimwear is made to flatter thanks to its quality swimwear fabric and precision, which has helped it position itself among some of the world's best high-couture swimwear brands.
One of our newest high-quality bikini brands is Oséree, and we love it! If you're looking to make a statement at the pool or beach, this Italian brand is for you. Staying true to their Italian roots, Oséree designs its pieces using high-quality swimwear fabrics in flattering high-leg, high waist cuts.
Curated especially for the sun chasers and beach lovers, one high-quality swimwear name not to be missed is Camilla. Whether you choose to wear yours lazing around the pool or with salty skin while frolicking in the sea, this well-known swimwear brand for women will surely turn heads with its fascinating designs and colours inspired by exotic locations.
Finding the right high-quality swimwear for you feels like love at first sight. But the truth is when it comes to buying a swimsuit, it can be super stressful. If you want to feel comfortable and confident, make sure you cover the basics and invest in premium swimwear brands that last.