| Victoria Zurakowski
Caroline Svedbom and the Story of the Swarovski Crystal
---
Everything that glitters is not gold, but sweetheart, it can be Swarovski.
---
Crystals go with the name Swarovski as the sun goes with sand and champagne with caviar, and this has been the case for some 120 years. Yes, Swarovski crystals are tantamount with the notions of timeless beauty and elegance.
For the last 12 decades, the celebrated Swarovski name has been at the forefront when it comes to cutting edge and timeless jewellery trends, especially crystal jewellery.
But who is behind the face of Swarovski crystals, and how did Swarovski crystals become instant stars in the jewellery world?
The Swarovski Crystal Beginnings
Daniel Swarovski was born in Bohemia, now the Czech Republic, in 1862 into a crystal-cutting family. Some twenty years later, Daniel established a jewellery company, and just three years later after the company had opened, he had well over 70 employees.
To say that Swarovski found fame immediately is an understatement. With a large workforce behind him in just a matter of years and a lineup of celebrity clients, including Queen Victoria, Daniel Swarovski's name soon became synonymous with crystals. Every time someone mentioned these semi-precious stones, it was always as "Swarovski crystals".
A few years later, he created a crystal-cutting machine and registered a patent for it, prompting him to move production from Bohemia to Austria.
Keeping up with the Trends
Like any good businessperson, Swarovski was able to spot emerging trends. In 1911, the family built a premium glassworks factory to cater to the aristocratic demands of Europe. A decade later, "flapper fashion" and short severe women's haircuts inspired the Swarovski crystal-embellished headband that still remains iconic to the era.
Post-WWII, Daniel Swarovski recognised a niche in the market for better precision optics; this ultimately led to the family founding Swarovski Optik, which specialised in glass manufacturing, creating lenses, telescopes, and binoculars.
It didn't take long after WWII for fashion to come to the forefront once again. It was during that period that some of the greatest names in fashion emerged, including some of our favourites like Chanel and Dior, all of whom were eager to snap up Swarovski crystals for its designs.
And as fashion houses skirmished to get their hands on Swarovski crystal designs en masse, Swarovski crystals were being worn by some of Hollywood's leading ladies both on and off-screen.
Marilyn Monroe wore Swarovski crystals in the Hollywood hit "Gentlemen Prefer Blondes". The late bombshell then was later seen wearing them while famously singing "Happy Birthday" to JFK. The iconic ruby slippers in the Wizard of Oz were decorated with Swarovski jewels and the crystals also made appearances in "Breakfast at Tiffany's" and "Sabrina" and were rumoured to be Audrey Hepburn's favourite jewels to wear.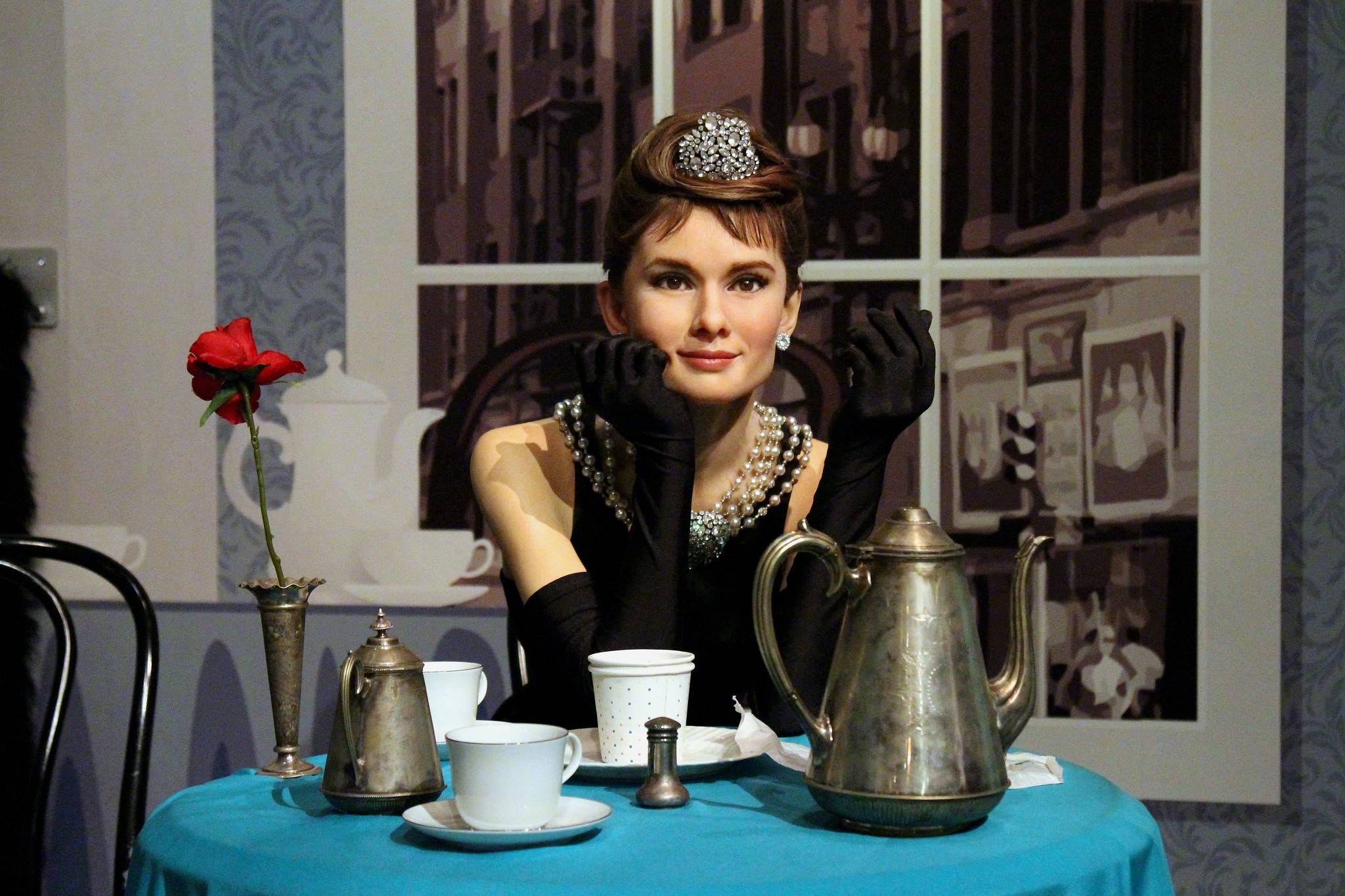 Swarovski Crystals and the new Millennium
Come 2000, Swarovski gave the traditional Swarovski crystal a makeover, introducing a pearl with a crystal core. This provided the jewel with the elements of a natural pearl, such as weight, texture and shine and the excellent quality of the crystals.
Today, Swarovski crystals are well known and are still very much coveted. The brand permeated the jewellery market over a century ago and continues to partner with some of the world's most established fashion and jewellery designers to push the boundaries of crystal design. Swarovski trainers anyone?
Therefore, it's no surprise that esteemed jewellery designers, such as Caroline Svedbom, have chosen to partner up with Swarovski crystals and incorporate these semi-precious stones into their own pieces.
Caroline Svedbom X Swarovski
With a love for everything colourful and sparkly, it's hardly surprising that Swedish jewellery designer, Caroline Svedbom, chose to incorporate shimmering Swarovski stones into her elegant jewellery range along with pearls and fine stones.
Being a fourth-generation jewellery designer, Caroline Svedbom, has always been surrounded by the industry, and her lifelong passion for designing Swarovski crystal-encrusted pieces is evident.
Caroline Svedbom believes in femininity – she also believes in adding a touch of sparkle to every outfit. Whether it's a casual day outfit or something a little more glamorous, it's safe to say that her artistic jewellery vision has, and continues to, bring happiness and colour to women in all contexts and of all ages around the world.
We believe that Caroline Svedbom Jewelry highlights a woman's individual beauty and makes them feel unique through wearing it.
It doesn't matter whether you're dressed in a pair of jeans and a hoodie, your workwear, or a cocktail dress, you can guarantee that this handmade jewellery with Swarovski crystals will enhance your look.
Add Caroline Svedbom Jewelry to Your Wish List
Who doesn't love Caroline Svedbom jewellery with Swarovski crystals? And which woman doesn't like receiving beautiful Swarovski bracelets and rings as a gift? There's just something special about jewellery as a gift, especially when it's from your significant other.
Sometimes they don't get that women, by nature, are romantic creatures. They also don't seem to get that women love being surprised with thoughtful gifts, such as rings, especially when they're Swarovski rings.
But sometimes, despite all your ogling at that Caroline Svedbom jewellery online and openly lusting after those Swarovski crystals, he still doesn't get it.
Do you want some Caroline Svedbom jewellery? What about some Swarovski? Our Dubai online store has two features that could help you out if he's not picking up on your subtle hint dropping.
To get your hands on those Swarovski bracelets you've been eyeing up, why not put Swarovski crystals and some Caroline Svedbom jewelry on your wish list?
It's easy, and it might just help you get that beautiful new Swarovski jewellery from Caroline Svedbom that you want.
Simply click on the items you love and save them for a later date and if you enter your email, you can even receive notifications when your wishlist items go on sale!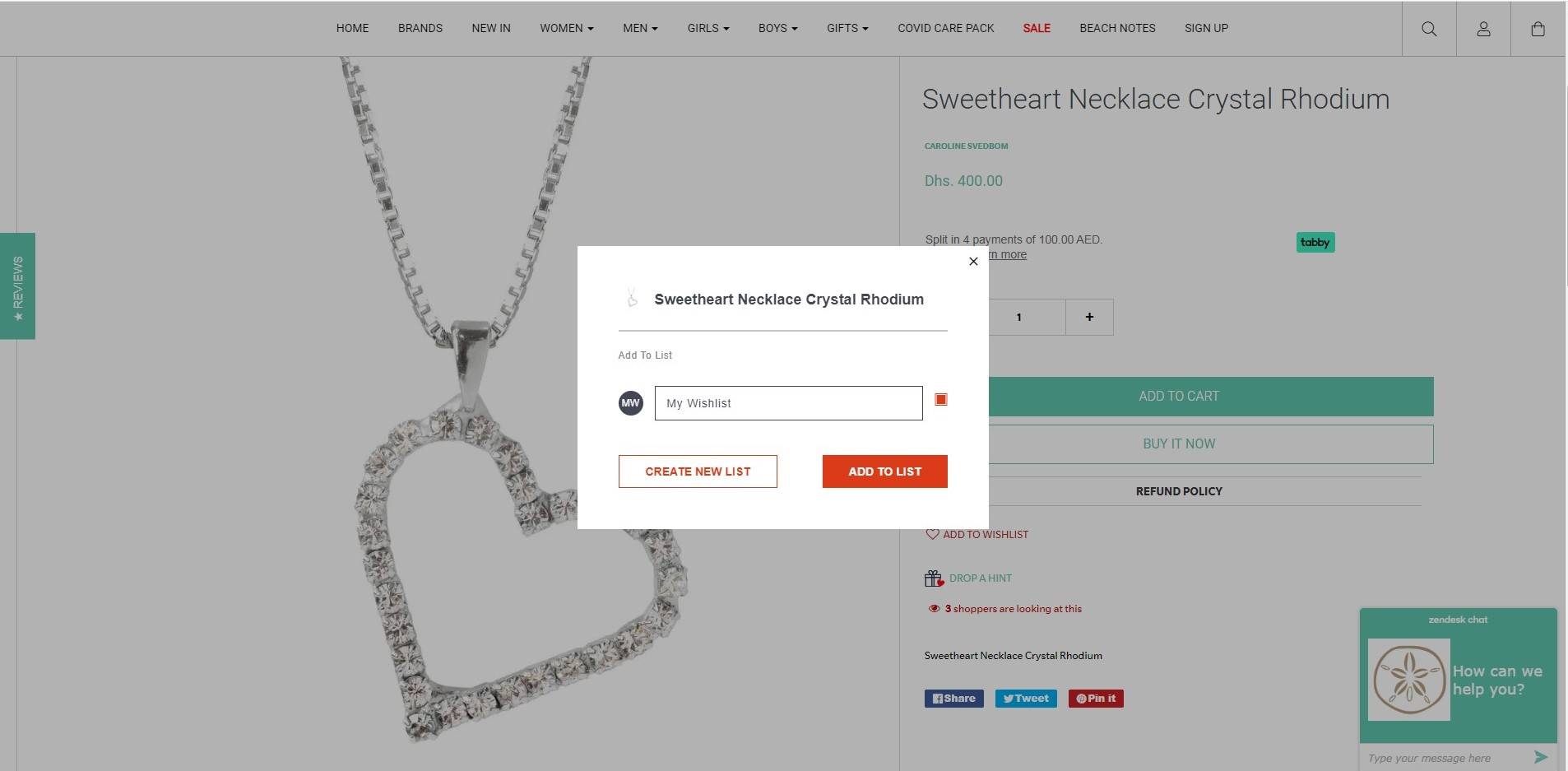 Drop A Not-So-Subtle Hint
Our Drop a Hint feature allows you to add something to your Sand Dollar Dubai cart, such as that cute Swarovski crystal initial necklace or Caroline Svedbom X Swarovski bracelet. From there, our site automatically generates an email and sends it to your loved one. Basically, you're telling them straight up (with a little help from us), "I love this Swarovski bracelet, please buy it for me!"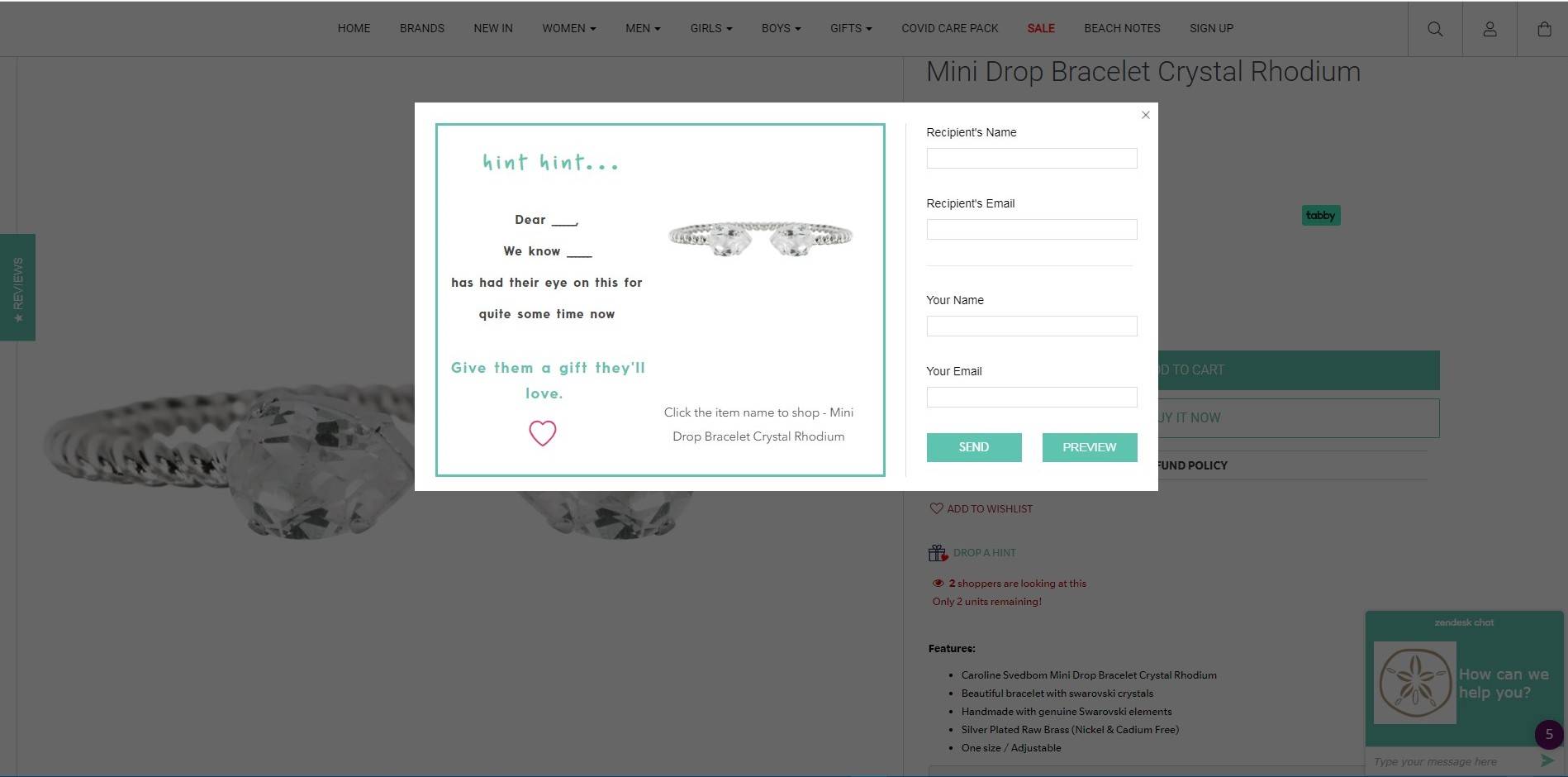 Sometimes we just have to forgive them. Let's face it sometimes they can be blind to all our obvious advancements, and it's OK to drop that hint. After all, it's better to get a gift you want than something you don't like, right?
And who doesn't want some Caroline Svedbom jewelry and Swarovski crystals? As much as we love chocolate and flowers, chocolates get eaten quickly, flowers eventually die, but jewelry with Swarovski crystals lasts forever.