| VICTORIA ZURAKOWSKI
5 S/S 2020 Color Trends In Fashion To Get Summer Ready
The runways have given us a sneak peek about the 2020 trending colors and we're excited and utterly charmed. These 2020 color trends will no doubt be plastered all over Instagram in the coming months, and unquestionably, every woman, who appreciates fashion and art, will be seen wearing these latest colors in some way, shape or form.
The Pantone Color Institute perfectly summed up the 2020 spring-summer colors. Described as both "relatable" and "friendly", it's clear that the latest color trends will be fun and easy to wear. The 2020 spring-summer color palette brings together tradition and youthfulness, creating strong and energising color combos.
The S/S 20 color trends include vibrant fiery shades of red, classic blues, and unanticipated shades of aqua. We've pulled together the latest 2020 trending colors so you can look forward and prepare for the spring and summer months ahead.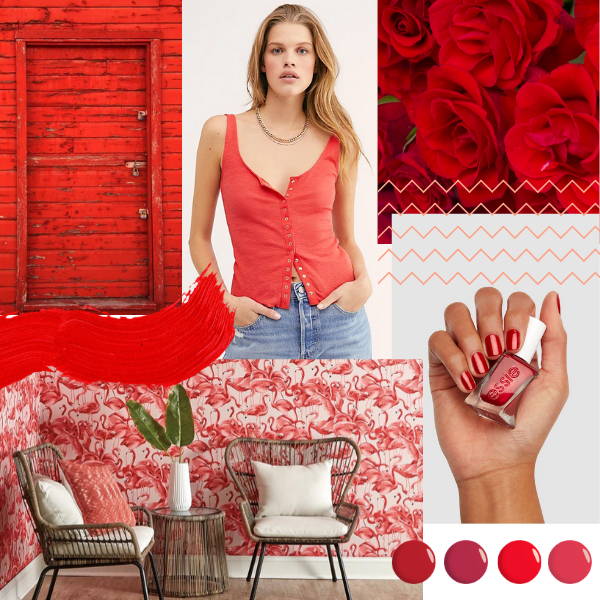 If you're looking to make a massive sartorial statement next season, introducing one of the biggest trending colors into your wardrobe is a must. Scarlet is going to be everywhere, and we can't wait. It's bright, it's bold, it's warm, and it's full of energy. This 2020 color is a mix somewhere between red and orange and will soon become the color du jour.
Another great thing about this fiery hue is that it goes perfectly with any shade of blue denim you might own, just like this simple tank top from Free People does. Adding other scarlet accents is also a must, and we adore these Feather & Find slides.
Scarlet lipstick is also a stalwart color for your lips, so add this to your spring and summer shopping list as well.
---
It's not just any denim color, it's faded denim, and we guarantee that this shade of blue is going to be as reliable as your favourite go-to jeans. This shade of blue is also dominating the 2020 spring-summer color charts, as it's approachable, calming, easy, and chic, especially when teamed with bolder more vibrant colors. Or if you want to give the double denim look a go, perhaps try pairing it with vintage or shades of off-white denim to create a fresh contrast.
At Sand Dollar Dubai we've brightened up the faded denim 2020 color trend with sky blue. Why? Because this color reminds us of those beautiful, clear blue summer skies.
Boho babes will love this maxi dress from Pitusa, and we believe that both the color and style should become a staple in every woman's wardrobe. The faded denim colored Tricia skirt from Miss June will add a bit of fantasy to your summer wardrobe thanks to its adorable ruffles and pompoms. Or if you want to go down the subtler route, adding a touch of blue to your outfit with blue accented shoes would also work – we love these cute shoes from Casa de Vera.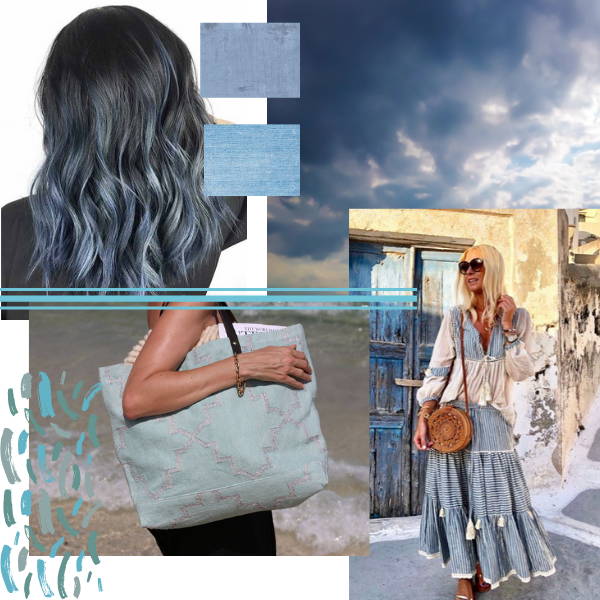 ---
---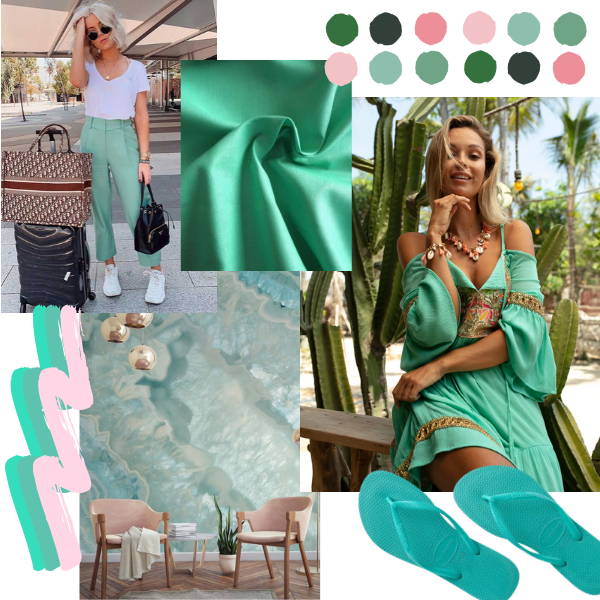 Biscay green, AKA aqua green, is a hot color trend for spring and summer this year. Last year, it was all about shades of lime green and pistachio, but now it's all about the cool and refreshing Biscay green, which we love.
While it was a surprise to many at the S/S 20 runway shows, aqua green was a dominant color. Aqua green is a positive color. It also has an innovative and almost futuristic feel to it and provokes feelings of transparency and clarity. Considered to be trend-forward and sporty, we predict this spring-summer color trend for 2020 lasting a lot longer than people think.
Aqua is the epitome of spring, and it looks great when worn with shades of pink. From mixed print maxi dresses in Biscay green to summery wide-legged Cecilie Copenhagen trousers to your trusty Havaianas to fun tasselled bracelets, aqua green will be ubiquitous.
---
At Sand Dollar, we adore everything pink. To us, it's what embodies the summer feels. This is why we were thrilled to see coral pink being added to the S/S 20 color trends list.
A combination of the gracefulness of pink and the warmth of coral, coral pink is a soothing and feminine shade that can be worn anywhere at any time of the day. Coral pink is also a perfect hue for summer evening soirees, especially when it comes in textured fabrics like silk, tulle, and sequins.
As far as 2020 fashion color trends go, coral pink is going to be on top, and it can be worn in many colors. Coral colored tops look great with white jeans and metallic colored accessories. Or if you want to be a bit more daring, try pairing it with navy, teal, brighter shades of pink, and blue denim. One of our favourite beach maxi dress styles from Pitusa looks simply stunning in coral. You can also buy into the coral 2020 color trend with a coral colored swimsuit like this Melissa Odabash bikini. Even adding hints of coral to your 2020 spring–summer look will help you stay on trend – we're all over this cute beaded clutch and coral colored pineapple tasselled necklace.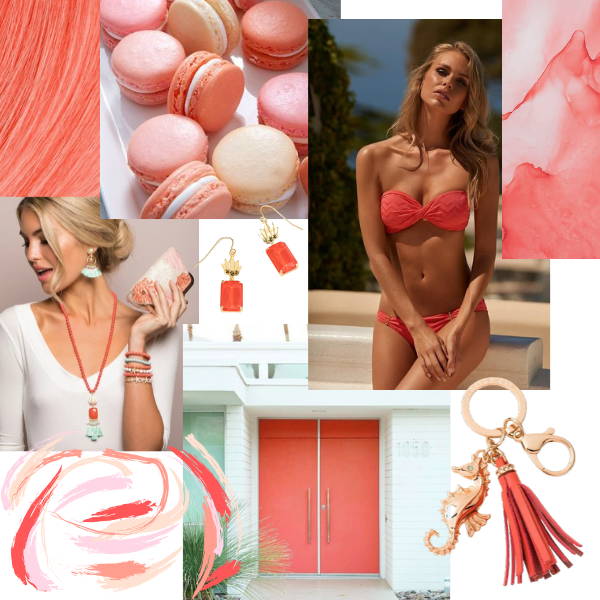 ---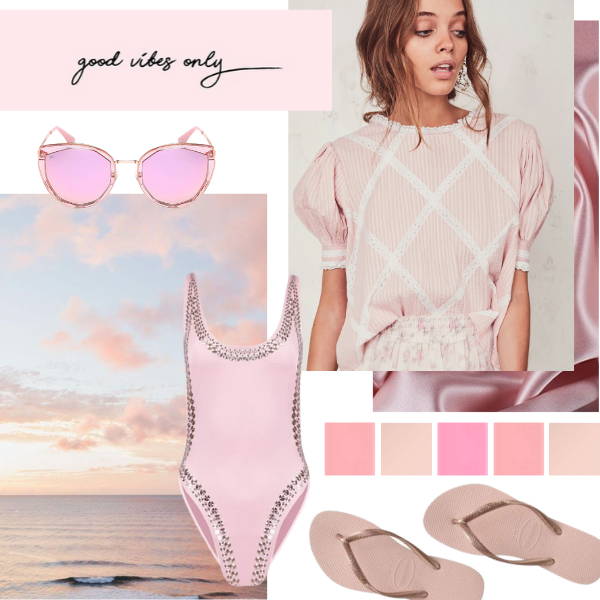 Coral pink isn't the only pink in town this coming season. Ballet pink, formerly known as baby pink is also another trending color. Feminine and delicate, we guarantee your Instagram feeds will be full of gorgeous ensembles in dusky and pale pink hues.
Ballet pink looks beautiful with any kind of denim wash, from white to faded grey. Try layering with a brighter pink for a happy and colorful combination.
Stay on trend this 2020 spring and summer and add a plethora of pink to your wardrobe. This Love Shack Fancy top with short puffed sleeves in ballet pink will pair beautifully with distressed blue denim jeans. And for a serious summer chic beach look, this cute romper from My Beachy Side will certainly get you noticed as will this stunning studded one piece swimsuit from Norma Kamali. These pink sunglasses will also help you add a pop of color to your everyday look.
With spring and summer just around the corner (we can't believe it either) it's time to start getting your wardrobe ready. Knowing what to expect early is a great way of getting ahead of the game and becoming summer-ready.
For more S/S 2020 fashion color trends inspiration and outfit ideas, sign up for our e-newsletter today.