| VICTORIA ZURAKOWSKI
2020 Trousers Trend – How To Style Printed Pants
2020 sees the return of printed pants. Once reserved for flower wearing hippies, this is no longer the case – printed pants are back, and they're more daring than ever.
This season's biggest trouser trend comes in a variety of styles. There are printed tapered trousers, printed culottes, printed jeans, printed palazzo trousers, printed chinos…you name it, and there's pretty much a printed pair of pants in every trouser variety imaginable.  
While many people shy away from this popular trouser trend out of the fear of not knowing how to style printed pants or the fear of looking too loud or busy, there is indeed a pair for everyone – you just need to find the cut and print that complements your style and personality.
At Sand Dollar Dubai, we're huge fans of the printed trouser trend. To us, it conjures up of balmy summer evenings, long champagne brunches and barbeques with friends, which is why we're ditching our boring old jeans and embracing the printed pants trend because this is one 2020 trouser trend we can't ignore.
Come spring and summer, you'll see printed trousers everywhere. Some of the coolest fashion influencers will be sporting them, curating unique looks – yes, that's right, we're going to see these pants worn in a way we've never seen them worn before.
But at the end of the day, knowing how to style printed pants is key. If you haven't already embraced this 2020 fashion trend, now is the time, because when paired with the right clothes and accessories, you can have a lot of fun with printed trousers.
Ditch the jeans and embrace the 2020 spring/summer trend by adding a few pairs of patterned pants to your wardrobe.  
From Aztec prints to animal prints to floral prints to tribal prints to polka dots – you can wear them all with the right knowledge about styling printed trousers.
Patterned Pants For The Win – How To Find The Right Printed Pants For You
Truthfully speaking, this 2020 trouser trend can be tricky to pull off, but we're certain that soon you too will be adding at least one pair of printed trousers to your virtual baskets.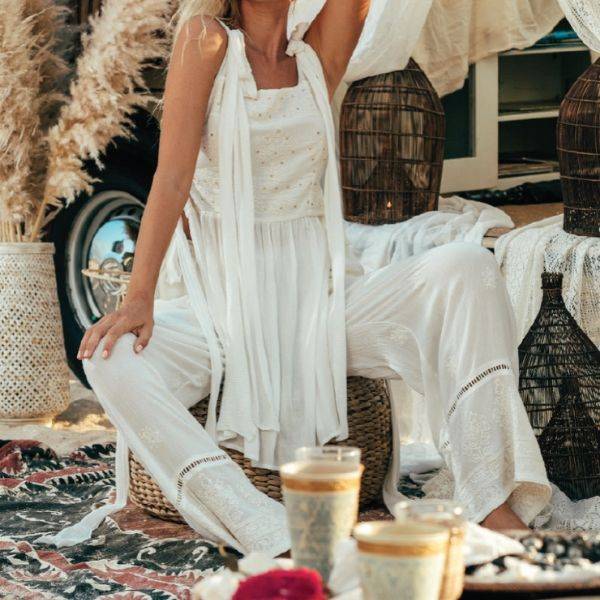 What do you love?
Many people look for styles to suit their body shapes or height but forget to consider their personality when choosing key fashion pieces. For example, if you're a hopeless romantic and you love anything floral, opt for floral patterned pants, whereas if you consider your style and personality to be more classic, patterns like polka dots and stripes are always a safe bet. Perhaps you're more contemporary when it comes to your fashion choices, so you might think about choosing a print that is a little edgier, like a geometric one. Or if you're feeling wild and are fashion-forward, perhaps animal print pants will be your go-to for this 2020 fashion trend.
Perhaps golfer chic (is that even a thing?) and the colder months come to mind when you think about wearing plaid pants. But actually, plaid pants aren't just limited to autumn and winter – there are also a plethora of cute summer options too. When wearing plaid patterned pants in summer, opt for lighter fabrics, such as cotton instead of the heavy wool blends of winter. Steer away from those rustic autumnal colours and look for softer pastel colours. The Gingham check print is also technically a plaid variation, which also happens to be a ubiquitous summer print.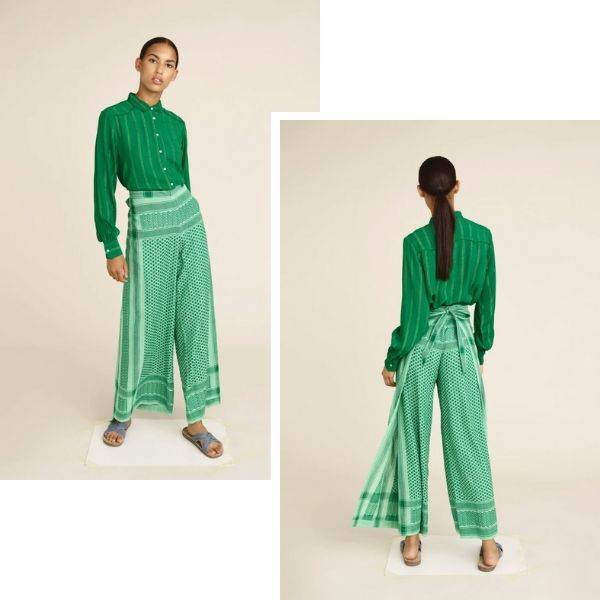 How To Style Striped Pants
We can't get enough of this 2020 trouser trend – we adore stripes. Stripes are making a fashion comeback, but at the end of the day, they'll never really go out of style – they're one of those timeless prints that can seamlessly be transitioned from one season to the next. Wearing striped pants is a way of making a subtle statement, but the beauty about this particular print is that it can be worn anywhere from the beach to the office – it all depends on what you pair it with. Pairing your striped pants with a cotton t-shirt is all you need to pull off this 2020 trouser trend. To dress them up, add a tailored blazer and a pair of kitten heels or choose to keep it casual with a pair of your trusty flip flops.
If you want to add a bit more of an edge to your striped pants, how about going stripe on stripe? It's often the case that striped pants have a top in the same print, and bringing the two together is viable, especially since co-ord sets are another huge 2020 fashion trend. – think of it like creating your jumpsuit or co-ord set.
How To Style Floral Print Pants
Floral print pants are what summer vacations are made of. You simply cannot go on a beach holiday abroad without a pair of breezy floral print pants in your luggage. Probably the easiest way to wear floral printed trousers is to style them with a plain t-shirt in a neutral colour. Doing this will create a relaxed look worthy of some serious style points. Add a pair of flats or comfortable wedged shoes, and you've created a cool summer look that won't look out of place walking down a beach promenade. But in saying this, there's no rule to say you can't wear your floral print pants to work. If your floral pants are more tailored, they'll look great with a plain coloured shirt, like a blue chambray button down. Add a pair of peep-toed shoes and a leather clutch, and you've created a fun work outfit.
How To Style Animal Print Pants
And before you ask, yes, it's totally fine to wear animal prints in summer. Thankfully our favourite print of 2019 is back with a vengeance, so expect to see a lot of animal print around this summer. The key to wearing animal print pants in summer is to keep the rest of the outfit as simple as possible and allow the pants to be the main focus. To create an enviable street style with your fashion-forward printed trousers team them with a dark coloured tank top, or if you're feeling brave, a crop top. This chic look will give you some serious street cred, especially when teamed with a cute Panama style hat and a pair of oversized sunglasses. In the spring months, when evenings are cooler, throw on a denim jacket or a cropped faux leather one to add even more edge.
How To Style Tribal Print Pants
Although they may seem busy at first, tribal print pants are some of the easiest when it comes to learning how to style printed pants. And the great thing about them is that with a little bit of foresight, they can be dressed either up or down. When teamed with slogan tees and trainers, you'll create a cool coveted street look. Switch the slogan tee and trainers for a tank top and a pair of flat sandals to create a boho beach vibe. And if you want to dress your tribal print pants up a little, wear them with a white blouse and a pair of kitten heels.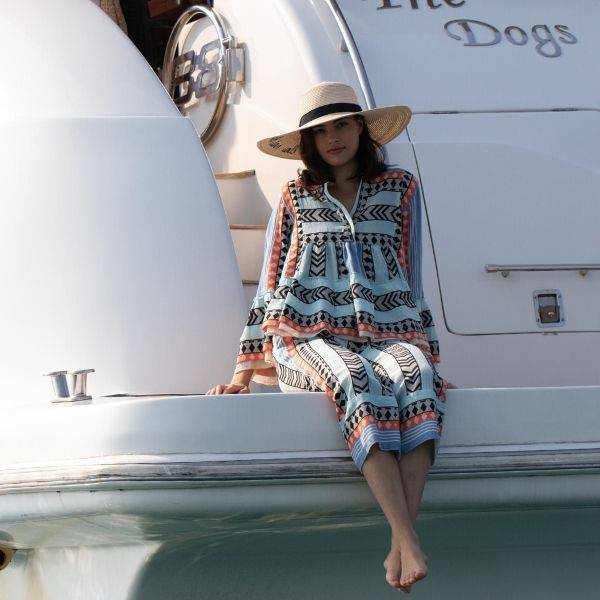 How To Style Tie-Dye Pants
Last year we saw tie-dye printed jeans as a major fashion trend, which of course can still be transitioned into the warmer months with slogan tees and oversized tunic style tops. If you're thinking of recycling your tie-dyed jeans, choose a pair of heels to complement the dominant colour in the trousers. But according to the S/S 20 runways, tie-dye loose-fitting pants are even trendier than their denim counterparts. For a complete hippie laidback look, opt for harem style tie-dye pants that look amazing with slightly oversized t-shirts knotted at the side or front. Wear comfy flats and add a bit more of an edge to the outfit with your accessories, such as stacked bracelets and layered necklaces or chokers.
How To Style Printed Jeans
If you're a real jeans girl and you hate the idea of not being able to wear them, invest in a pair of printed jeans. There are plenty of printed jeans options such as floral printed jeans, leopard printed jeans, pinstriped printed jeans, and even polka dot printed jeans. Opt for a slim fit style that flatters your body shape and play around with different types of fabrics on top.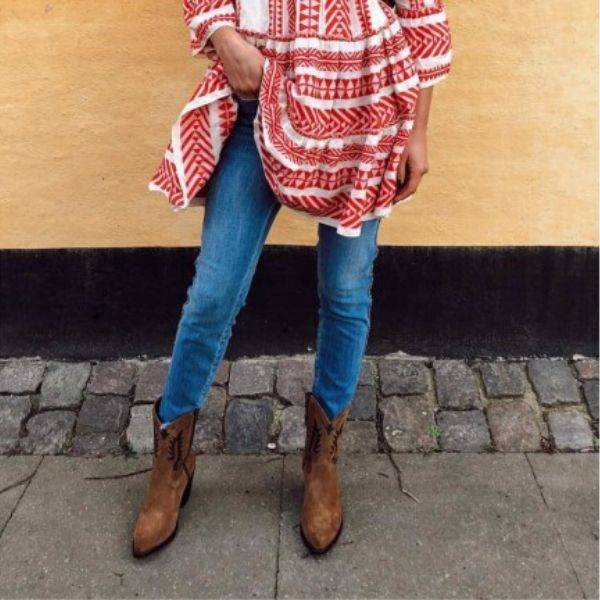 How To Style Printed Palazzo Pants
Breezy and chic, printed palazzo pants are the number one 2020 trouser trend this summer. If you're wondering how to style these printed pants this coming season, stick with the fashion rule of pairing them with a plain-coloured top, which could be anything from a boho blouse to a fitted tank top. At Sand Dollar Dubai, we love printed palazzo pants for the fact they're so versatile – they're also a great vacation staple, as they can be worn casually or dressed up by adding a pair of heels and a stylish blazer.
---
At Sand Dollar Dubai, we know how to style printed pants and make them look amazing, which is why we stock a wide range to match every personality – get yours today to keep up with this 2020 trouser trend.