| Sarah Estelle Puleston
Christmas in Dubai: Gift Ideas for Stylish Men
Planning to celebrate Christmas in style in Dubai this year? If you own a second home here (or are lucky enough to live here year-round!), then you already know what a wonderful place it is to spend the festive season.
But if it's just a visit you're planning, we can promise you won't regret it. Dubai is the perfect destination for anyone who appreciates lavish décor, incredible skylines, luxury shopping, and some of the finest dining you'll find worldwide.
Of course, it's also a great place to be for anyone looking to escape the winter chill and seek out some sunshine instead. Even in December, you can expect temperatures in the mid-twenties Celsius, and there's a whole 1,000km of sandy beaches to enjoy that weather on. So you'll definitely want to pack your swimwear!
Planning to pack a present too, or buy one on arrival? (Good to know info: we deliver within Dubai in a matter of hours, if you order by 3pm). Below are our top gifts for guys who travel, especially if that travel is to Dubai.
Christmas gift ideas for men in Dubai
Whether you are still looking for the perfect gift for him, or Dubai itself is the gift and you simply want a little something extra to present alongside the plane tickets, we have plenty of ideas to help you out.
Here are nine Christmas gift ideas for style-conscious, jet-setting men, which are sure to come in handy both here and for their future travels.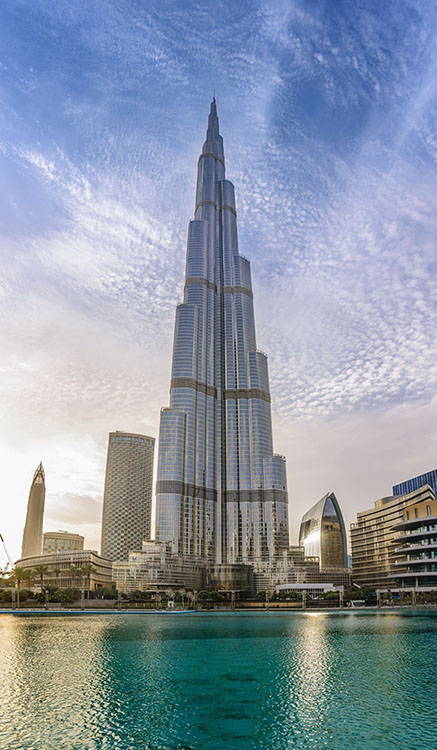 The Perfect Pair of Swim Shorts
Naturally, top of the list of luxury gifts for men who travel is some well-made swimwear. Sometimes with gifts, you can't be sure if they'll actually get used all that frequently. But when you're in Dubai, the city of enormous rooftop pools and endless coastline, you know these swim shorts will see lots of wear!
For the modern gent, this chic swim short design offers a polished-yet-sporty look. The classic colour palette of navy and white will appeal to anyone, and the geometric print is quietly cool. The design includes neat metal caps on the drawstring and a smart rear pocket for a tailored look, while the quick-dry fabric will make sun-lounger breaks between pool dips that much more comfortable.
For the man who likes to stand out in a crowd, these swim trunks are sure to make a statement! The vibrant colours feel fun and tropical, and like the pair above, they're made to a premium standard from quick-dry fabric.
For the minimalist, a classic Breton stripe never goes out of style. This swim short is also perfect for a man who's eco-conscious, since the fabric is made from recycled plastic bottles – every pair saves 8 bottles from entering our oceans or landfill. They come with both a waterproof pouch for when you're heading back from the pool or beach, and a drawstring pouch to store them in.
Must-Have Poolside Accessories
Does he already have a favourite pair of swim trunks, or are you perhaps looking for a smaller 'stocking filler' type gift? Whether it's on the sand, at the pool, or on the deck of a chartered yacht, you can expect to spend plenty of time swimming and sunbathing in Dubai. So any of these high-quality, by-the-water essentials will go down a treat…
He might have a tough time fitting two beach towels into his luggage, but no matter, you can just give him this two-in-one towel instead! Measuring a sizeable 40" x 67" and made from super-soft and absorbent cotton, he can change up the print to match his swimwear or mood.
No one does flip flops like Havaianas! Simple yet iconic, they're designed for comfort and secure grip on those slippery poolside tiles. Made from durable rubber, these will last for many, many holidays to come.
There are must-haves and then there are must-haves, such as sunscreen. We're huge fans of this paraben-free cream by Sunshine & Glitter, which does double duty as a high-SPF sunscreen and a bug repellent to keep the mosquitos and sandflies away. It's scented with cedar and peppermint oil, for a fresh, masculine scent he'll love to wear.
As stunning as the beaches here are, you can't spend all of your time in the water in Dubai. There's too much other good stuff to see and do, from visiting the souks to dining underwater at Atlantis The Palm's Ossiano restaurant. So here are a few more classy gifts for men that will work beyond the beach or poolside…
Although Dubai is gloriously warm all year round, he may appreciate something long-sleeved to protect against the sun, especially if you are planning a trip out into the desert. This tailored shirt is made from fine Italian linen that's wonderfully lightweight, so he can cover up without overheating.
Also made from breezy linen, these shorts offer the perfect blend of elegant tailoring and a relaxed, slightly sporty cut. So they'll work whether you're headed to the beach or out for lunch followed by some sightseeing.
Haven't quite seen the perfect gift in the list above? Check out our full range of products and gift ideas for men – there's sure to be something he'd love!
---